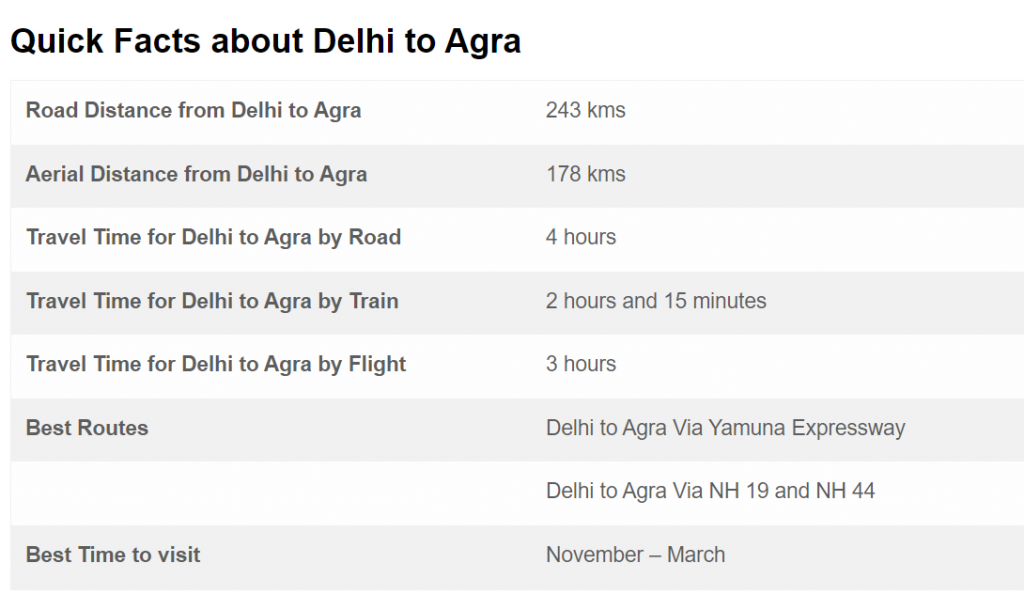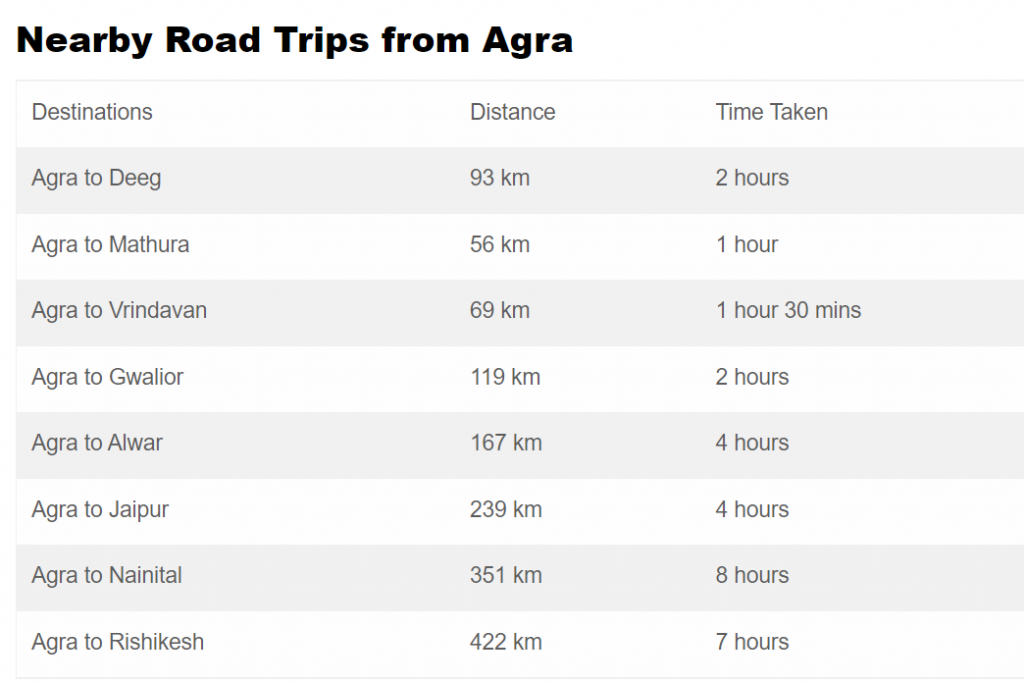 How to Plan for Itinerary for this trip?
Number of Days – 1 – We can cover Agra, Vrindavan and Fatehpur Skihri in 1 day
Number of Days – 2 – We can cover Vrindavan and Fatehpur Skihri in 1 day and Agra and Taj Mahal on Day 2.
Vrindavan
We can start our day early morning at 6am as after 7am traffic will take more time. 1st we can visit Vrindavan to "banke behari madir", the oldest temple of lord Krishna.
Fatehpur Sikhri
Then we can directly visit Fatehpur Sikhri. It takes 2 hours for complete Fatehpur Sikhri tour. We find some government guides who charged us ₹450 with complete explanation of the area.
Fatehpur Sikri is a small city in northern India, just west of Agra, founded by a 16th-century Mughal emperor. Red sandstone buildings cluster at its center. Buland Darwaza gate is the entrance to Jama Masjid mosque. Nearby is the marble Tomb of Salim Chishti. Diwan-E-Khas hall has a carved central pillar. Jodha Bais Palace is a mix of Hindu and Mughal styles, next to the 5-story Panch Mahal that overlooks the site.
Taj Mahal & Agra
Visit Agra Fort 1st then visit Taj Mahal
How to Travel from Delhi to Agra via Road
You can book the bus from redbus and it will take around 4 hours and do confirm that the bus takes the yamuna expressway route.
You will find plenty of trains from Hazrat Nizamuddin and New Delhi Railway Station to Agra.
From New Delhi, You can get the buses to Agra from Sarai Kale Khan, KAhsmere gate and Anand Vihar ISBT. There are lots of bust tickets websites like redbus, paytm, makemytrip etc.
From Gurgaon, You can go by the Volvo which runs from Gurgaon Bus stand at 7:00 AM and normal bus at 12:30 PM to Agra.
From Noida, you can find many AC/Non AC buses from Noida Depot Bus Stand which is close to Noida City Center.
Go to noida city centre by metro. Then take a bus to agra from bus stand.
Go to kaale sarai bus stand at nijamuddin,new delhi and take a bus from there.
Go to new delhi railway station and pick a train to agra.
How to Travel from Delhi to Agra via Rail

Tips to Save Money in Agra
If you are low on budget and can take care of yourself and your belongings, then you should simply come out of the station though the gate on platform no. 1, (ignore the autorickshaw drivers). You have to move out of the main gate of the station where day to day community passenger autorickshaw's would be lined up and they would offer you a ride to Bijlighar Crossing only for ₹10 and then cross the road and board another passenger autorickshaw bound to the west gate of Taj Mahal, this would further cost another ₹10
How to Travel from Delhi to Agra via Air
There are many Delhi to Agra fligt options. The nearest airport is Kheria Airport (AGR). But, you can also take a flight to Lucknow and further travel to Agra. For a smooth and hassle-free experience, book your Delhi Airport to Agra taxi here. And if you wish to book a pick or drop from Lucknow Airport, you can book your Lucknow Airport cab here. 
What is the best months to visit Agra?
ovember to March is the best time to visit Delhi to Agra by car as you will be able to escape the unbearable heat of summers.
Some of the best routes by which you can reach Agra from Delhi and at the same time explore some popular places along the way are:
Best stop over & Restaurants while travelling from Delhi to Agra via Road?
Buddh International Circuit – Buddh International Circuit makes for an unmissable stopover for car racing enthusiasts.
Worlds of Wonder, Noida – Worlds of Wonder will make for a perfect stop for some fun and games along the way
Okla Bird Sanctuary, Noida- Okla Bird Sanctuary is a perfect place to spot different species of birds and explore nature.
Madame Tussauds, Delhi – Visit India's very own version of Madame Tussauds in the national capital.
Popular places to visit on this route –
Badkhal Lake, Faridabad – The lake is nestled in the Aravalli Hills, and therefore, should be visited for the scenic beauty it is surrounded with.
Raja Nahar Singh Palace – About 15 km from South Delhi, Raja Nahar Singh Palace is an enormous palace with huge arches, beautifully embellished rooms and magnificent courtyards.
Forts of Pawai, Mali and Chandangarh – Belonging to the migrants from Rajasthan during the medieval period, the forts of Pawai are the major attractions for archaeology and photography buffs.
ISKCON Temple, Vrindavan – One of the most beautiful temples in Vrindavan, Hare Rama Hare Krishna temple is a place to experience peace and tranquility in the midst of a chaotic city.
Keshi Ghat, Vrindavan – Watch the most beautiful sunset at Keshi Ghat which is situated on the banks of the River Yamuna.
Kusum Sarovar, Mathura – Visit Kusum Sarovar for the evening aarti. This is quite a famous attraction among photography buffs.
Kans Qila, Mathura – Named after Lord Krishna's maternal uncle, Kans Qila is the finest example of the fusion of Hindu and Mughal architecture.
Best time to Visit Taj Mahal?
Tourist Time Table during Agra and Taj Mahal Trip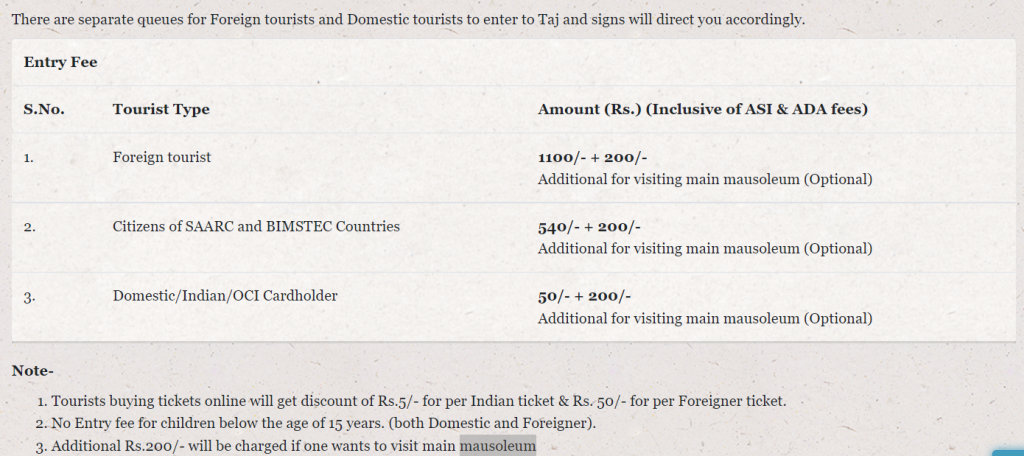 Buying a Taj Mahal Ticket Online
Official Website asi.payumoney.com & www.asiagracircle.in offers information and ticketing service for Taj Mahal tickets. Both foreign and domestic visitors may use the e-ticket booking for the ASI Taj Mahal and other monuments.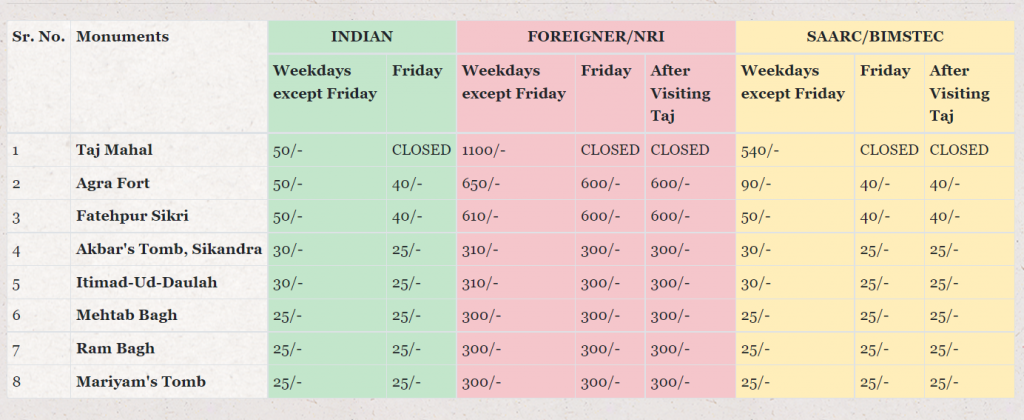 List of Activities during Taj Mahal visit?
Bowling/Billiards
If you want to have some fun activity I would suggest you go to JayPee Hotel as they have a bowling alley and you can even play billiards there.
Mehtab Bagh
Its is a park built opposite to Taj Mahal. Its good for photography.
Theatre
Visit a theatre and see the Taj Mahal on a full moon night. And seeing the Taj Mahal on a full moon night is one hell of an experience.
Mughal-e-azam Show at kalakriti
There is a new play that has begun on Shahjahan and Mumtaz Mahal at Kalakriti which is near the Taj Mahal. If you like plays you can go there. You can buy tickets from the ASI office at Mall road and I think you can now book tickets online too
Kinari Bazar area
Visit old Agra Markets(Kinari Bazar area). These markets are centuries old and some lanes are so narrow that only one person can pass at a time. There are spice markets, sweet markets, wholesale markets and what not in these narrow lanes. It looks like Chandni Chowk of Delhi and is heavily crowded.
List of Places to Visit in Agra city?
Agra is a small city and is a laid back urban area. The entire city goes to bed at around 10 in the night so don't expect anything radical in the evening. I am assuming you are a tourist and not a native of Agra.
| | |
| --- | --- |
| 1 | Taj Mahal |
| 2 | Agra Fort |
| 3 | Fatehpur Sikri |
| 4 | Akbar's Tomb, Sikandra |
| 5 | Itimad-Ud-Daulah |
| 6 | Mehtab Bagh |
| 7 | Ram Bagh |
| 8 | Mariyam's Tomb |
Go to Sadar Bazar
You can do is roam in Sadar Bazar which sort of is the centre of entertainment and hanging out for the people of Agra. There you can try out Aloo ki Chaat(A speciality of Agra) and Gol Gappe(Again an Indian delicacy). Women can buy footwear and you can shop if you want as it is the main market with branded showrooms. There are good and cheap restaurants present in the market just in case you get hungry.
List of Popular Restaurants to experience fo food in Agra city?
Best Street Foods to try in Agra?
Bhagat Halwai – Bhagat Halwai for snacks which is in Sanjay Place
Chaat Gali – Chaat Gali which is in Sadar Bazar.
Ram Babu Paranthe Wala – You can go to the Historical Ram Babu Paranthe Wala which is known for it's humongous and extremely heavy Desi Gheeparanthas.
Seth Gali- Seth Gali at Kinari Bazar for lip smacking sweets
Chimmanlal Puri wala – The region also hasChimmanlal Puri wala which serves puris.
Dauji Sweets – Delicious breakfast of Bedai Jalebi at Dauji Sweets.
Some good restaurants for Lunch and Dinner
Pinch of Spice – For good Dinners and Lunch, its good restaurants.
Park Restaraunt – For good Dinners and Lunch, its good restaurants.
Sai Khandela Restaurant – For good Dinners and Lunch, its good restaurants.
Charcoal Chimney – For good Dinners and Lunch, its good restaurants.
Pind Balluchi – For good Dinners and Lunch, its good restaurants.
Some Delicious Agra Food to try
Tandoori Chicken – Mama Chicken Mama Franky at Gopi Chand Shivhare Road, Sadar Bazaar, and Agra Cantt.
Mughlai Cuisine – Pinch of Spice at 23/453, Mahatma Gandhi Rd, Wazirpura Road
Petha – Panchhi Petha at Hari Parvat Crossing
Paranthe – Ram Babu Parantha Bhandar at Civil Lines
Sweets – Deviram Sweets and Restaurant
List of cheap Shopping items to buy in Agra?
Petha- A kind of sweets. Popularly known as Agra Ka petha.
Leather Products – If u like leather goods, then Agra is the place famous for leather industry. People usually by Leather jacket, Footwears from there
Buy a piece of momento from the road side shops near Tajmahal, which is made of marble.