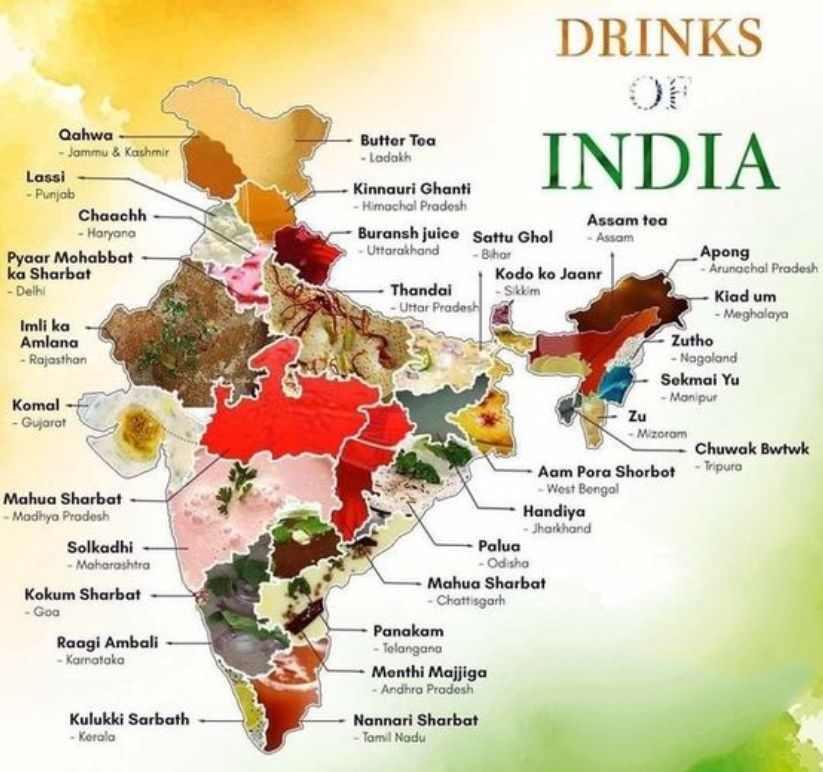 India is known for its diverse range of beverages, both alcoholic and non-alcoholic, that vary from state to state. Here's a list of some popular drinks from different states in India:
Chai (Tea) – Nationwide:

Chai is a ubiquitous drink across India, prepared with black tea leaves, milk, sugar, and spices like cardamom, ginger, and cloves. Variations exist in every state.

Lassi – Punjab:

A yogurt-based drink, often sweet (sweet lassi) or savory (salty lassi). Mango lassi is a popular variation.

Filter Coffee – Tamil Nadu:

Strong, aromatic coffee made from dark roasted coffee beans and chicory, typically served with milk.

Solkadhi – Goa:

A refreshing and tangy drink made from kokum fruit and coconut milk.

Thandai – Rajasthan/Uttar Pradesh:

A cool, spiced milk drink made with almonds, fennel seeds, and saffron, often associated with the Holi festival.

Nimbu Pani (Lemonade) – Maharashtra:

A simple, homemade drink made with lemon juice, sugar, and water, often flavored with a pinch of salt and mint.

Aam Panna – Haryana:

A sweet and tangy drink made from raw mangoes, sugar, and spices.

Bhang – Uttar Pradesh/Rajasthan:

A traditional Indian cannabis-infused drink often consumed during the Holi festival.

Feni – Goa:

A spirit made from cashew apples (Cashew Feni) or coconut sap (Coconut Feni).

Chhang – Himachal Pradesh/Ladakh:

A traditional fermented barley or rice beer, served warm.

Kala Khatta – Maharashtra:

A sweet and tangy syrup often used to make a flavored drink, similar to a slushie.

Chaang – Sikkim:

A millet-based alcoholic beverage, similar to beer, popular among the local communities.

Nannari Sherbat – Tamil Nadu:

A sweet, cooling drink made from the root of the nannari plant, often served in summer.

Sugarcane Juice – Uttar Pradesh/Gujarat:

Freshly extracted sugarcane juice is a popular street drink, sometimes served with a dash of lime and ginger.

Kesar Badam Milk – Kashmir:

A rich and creamy drink made with saffron and almonds.

Bael Sherbet – Uttar Pradesh/Bihar:

A cooling drink made from the pulp of the bael fruit, known for its digestive properties.

Kokum Juice – Maharashtra:

A tart and refreshing drink made from kokum fruit, often enjoyed in the coastal regions.