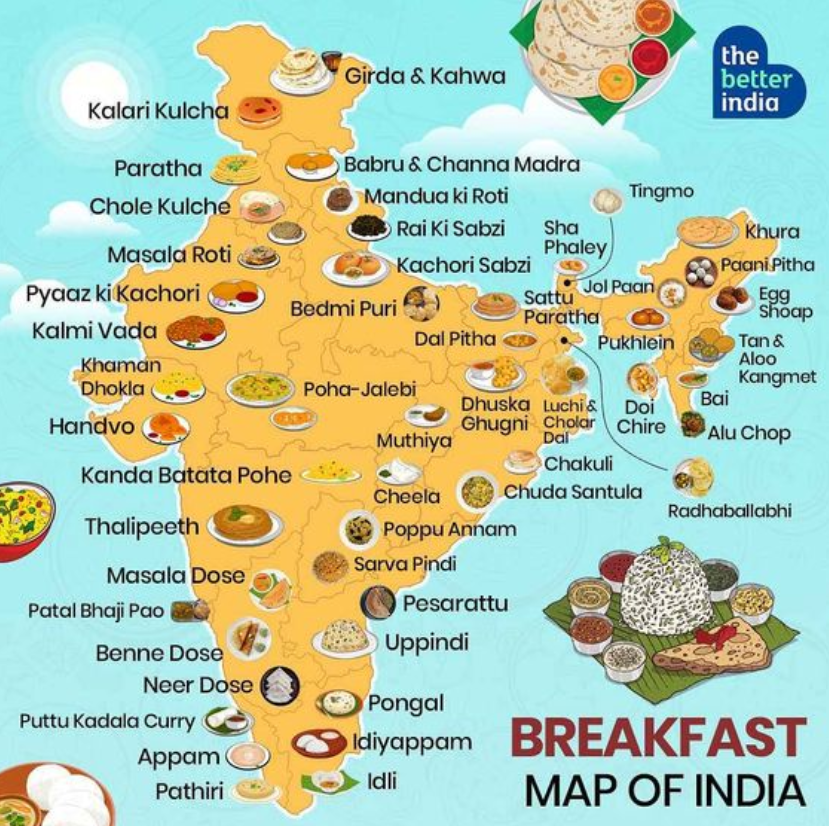 India's breakfast options are as diverse as its culture, and each state has its own traditional breakfast dishes. While it's challenging to list the most popular breakfast dish from each of India's 30 states and union territories, here are some well-known breakfast choices from various regions:
Andhra Pradesh: Pesarattu (Green Gram Dosa) with Upma or Allam Pachadi (Ginger Chutney).
Arunachal Pradesh: Thukpa (Noodle Soup) or Momos (Dumplings).
Assam: Assam Tea with Poha or Aloo Paratha.
Bihar: Litti Chokha or Chana Masala with Puri.
Chhattisgarh: Chana Samosa or Fara (Steamed Rice Dumplings).
Goa: Bread-Pao with Xacuti (Spicy Curry) or Bebinca (Dessert).
Gujarat: Dhokla with Chai or Poha.
Haryana: Aloo Paratha with Lassi or Churma.
Himachal Pradesh: Chana Madra or Pahadi Aloo Ke Gutke with Makki Ki Roti.
Jharkhand: Thekua (Deep-fried Wheat Flour Snack) or Chana Ghugni.
Karnataka: Masala Dosa with Filter Coffee or Rava Upma.
Kerala: Appam with Stew or Puttu with Kadala Curry.
Madhya Pradesh: Poha or Sabudana Khichdi.
Maharashtra: Misal Pav or Vada Pav with Chai.
Manipur: Eromba (Vegetable Stew) or Iromba (Fermented Fish).
Meghalaya: Jadoh (Meat and Rice Dish) or Akki Roti.
Mizoram: Zawlaidi (Meat Stew) or Chhangban (Bread with Spicy Chutney).
Nagaland: Thukpa or Smoked Pork with Bamboo Shoot.
Odisha: Dalma (Lentil and Vegetable Curry) or Chuda Kadamba.
Punjab: Aloo Paratha with Lassi or Chole Bhature.
Rajasthan: Poha or Dal Baati Churma.
Sikkim: Phagshapa (Pork Stew) or Noodle Soup.
Tamil Nadu: Idli with Sambar or Pongal.
Telangana: Hyderabadi Biryani or Uttapam with Coconut Chutney.
Tripura: Mui Borok (Pork with Bamboo Shoot) or Bangui Rice.
Uttar Pradesh: Bedmi Puri with Aloo Sabzi or Kachori.
Uttarakhand: Aloo Ke Gutke or Gahat Ki Dal.
West Bengal: Luchi with Aloo Dum or Pitha (Rice Cake).
Delhi: Paratha with Chai or Chole Bhature.
Jammu and Kashmir: Gushtaba or Sheermal (Sweet Bread).