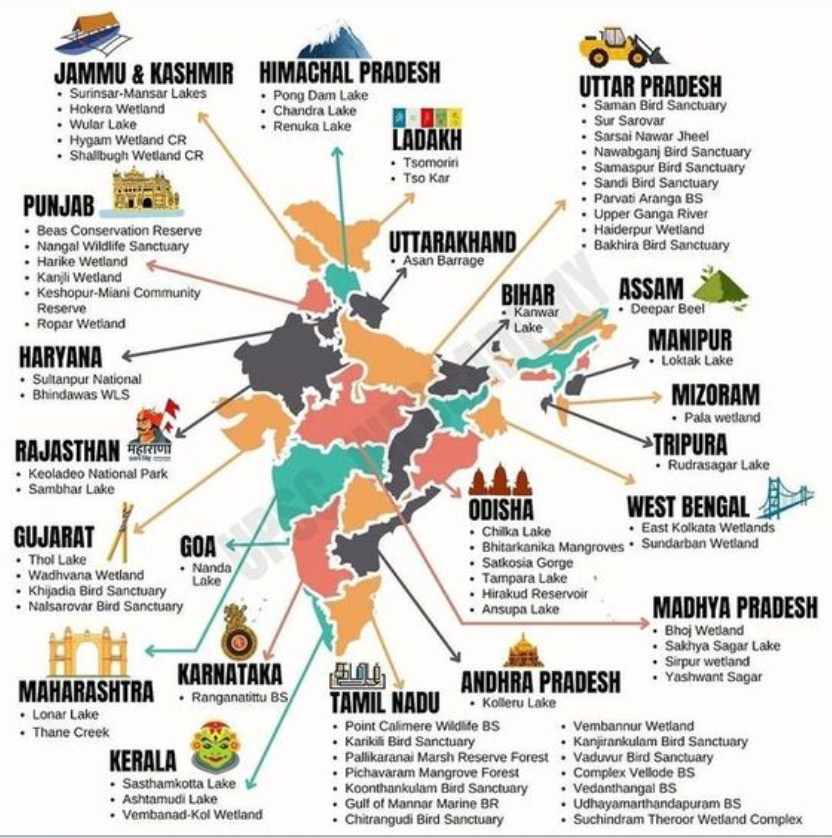 India is home to a diverse range of lakes, both natural and man-made, spread across the country. Here is a list of some of the most popular and well-known lakes in India:
Dal Lake, Jammu and Kashmir: Located in Srinagar, Dal Lake is famous for its serene beauty, houseboats, and floating gardens.
Pangong Lake, Ladakh: Known for its breathtaking blue waters and stunning mountain backdrop, it gained popularity after featuring in the movie "3 Idiots."
Vembanad, Kerala: India's longest lake, known for its backwater cruises and houseboat stays in the picturesque Kerala backwaters.
Chilika Lake, Odisha: The largest coastal lagoon in India, famous for its rich biodiversity, including numerous migratory birds.
Lake Pichola, Rajasthan: Located in Udaipur, it is known for the stunning Lake Palace and the City Palace on its banks.
Loktak Lake, Manipur: Known for its floating phumdis (vegetation) and the Keibul Lamjao National Park, home to the endangered Sangai deer.
Wular Lake, Jammu and Kashmir: The largest freshwater lake in India, surrounded by beautiful scenic views.
Hussain Sagar Lake, Hyderabad: A man-made lake with a large Buddha statue in the middle and a prominent landmark in Hyderabad.
Lonar Lake, Maharashtra: A unique crater lake formed by a meteorite impact and known for its saline water and unusual ecosystem.
Gurudongmar Lake, Sikkim: Situated at high altitude, it's one of the highest lakes in the world and holds religious significance for Buddhists and Sikhs.
Nainital Lake, Uttarakhand: A picturesque lake surrounded by hills in the town of Nainital, popular for boating.
Bhimtal Lake, Uttarakhand: Another beautiful lake in the Kumaon region, known for its island in the middle.
Pushkar Lake, Rajasthan: A sacred lake in Pushkar, known for its ghats and the Brahma Temple.
Manasbal Lake, Jammu and Kashmir: Often referred to as the 'supreme gem of all Kashmir lakes,' it's known for its natural beauty and birdlife.
Sambhar Lake, Rajasthan: India's largest saltwater lake, famous for its salt production and birdwatching.
Chembarambakkam Lake, Tamil Nadu: A rain-fed reservoir near Chennai, known for its role in water supply and recreational activities.
Bhojtal (Upper Lake), Madhya Pradesh: An artificial lake in Bhopal, used for boating and surrounded by parks.
Fateh Sagar Lake, Rajasthan: Located in Udaipur, it's an artificial lake known for its scenic beauty and Nehru Park.
Hemis High Altitude National Park, Jammu and Kashmir: This park includes high-altitude lakes such as Tso Kar and Tso Moriri, known for their pristine beauty.
Ward's Lake, Meghalaya: Located in Shillong, it's known for its well-maintained gardens and boating facilities.