| # | Beaches | Location | Famous For |
| --- | --- | --- | --- |
| 1. | Querim Beach | Click Here | The ancient turquoise-and-white Ajoba Temple along the beach |
| 2. | Candolim Beach | Click Here | Wild nightlife and thrilling water sports |
| 3. | Baga Beach | Click Here | Thrilling water sports in Goa like jet skiing, speed boating, and Bumpy Ride |
| 4. | Anjuna Beach | Click Here | Markets for shopping in Goa and nightlife |
| 5. | Calangute Beach | Click Here | Adventurous water sports including surfing, water skiing, and parasailing in Goa |
| 6. | Dona Paula Beach | Click Here | Magnificent view of the Mormugao harbour |
| 7. | Chapora Beach | Click Here | Chapora Fort |
| 8. | Morjim Beach | Click Here | Being a habitat to Olive Ridley sea turtles |
| 9. | Aguada Beach | Click Here | The Aguada Fort constructed by Portugese |
| 10. | Ashwem Beach | Click Here | Beachside dining at La Plage |
Querim Beach
One of the best beach in North Goa. Less crowded and very clear sea. Shacks are very good specially with the name of Sea Face.
Watching sunset is breathtaking.
One of the cleanest beaches. Extreme left of the beach is deadly beautiful and also dangerous. Keep this beach clean.
This beach are Serene, calm and peaceful with only few people at beach.
Things to do here: Famous Portuguese Terekhol Fort, adventure sports such as paragliding and jet skiing, Terekhol River Crossing, and the centuries-old Goan houses just off the beach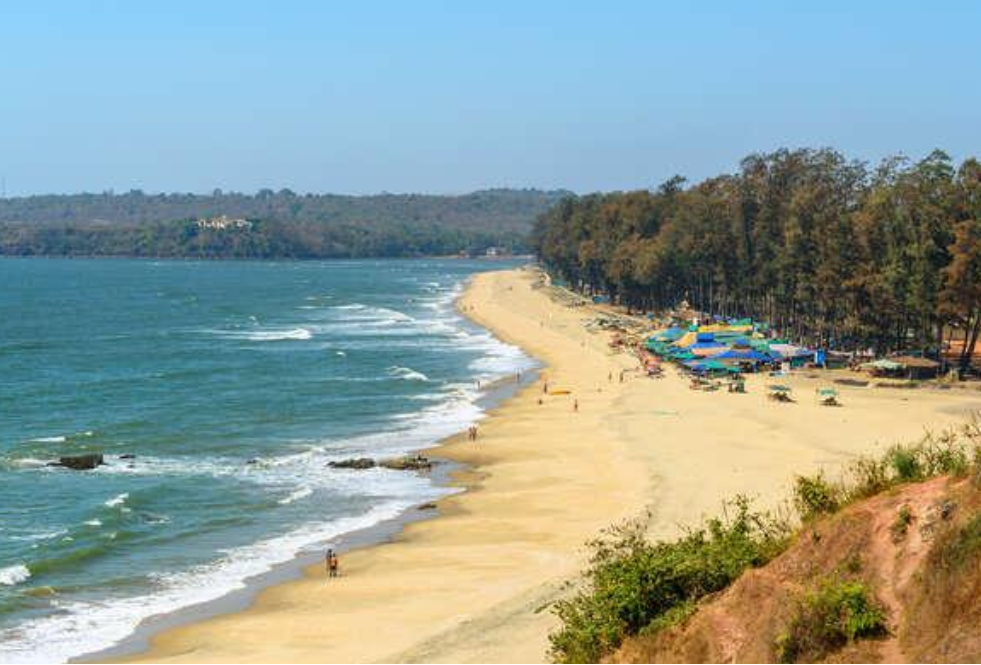 Candolim Beach
Candolim Beach offers that classic stretch of sand lined by beach shacks and cafés that every tourist in Goa is looking for. Nearby Baga Beach tends to attract more crowds, which leaves Candolim Beach delightfully less boisterous, and spectacularly beautiful.
It's an inviting place with just the right amount of development to keep visitors comfortable and entertained. Plan to spend one full day at Candolim Beach.
It'll give you time to see the ocean fade into different shades of blue, gray, and white throughout the day. Plus, it's one of the best places to watch the sunset in Goa. Snag your perfect spot and watch as the sky explodes into a rainbow of colors.
Things to do here: The beautiful Aguada Fort and the Chapel of St. Lawrence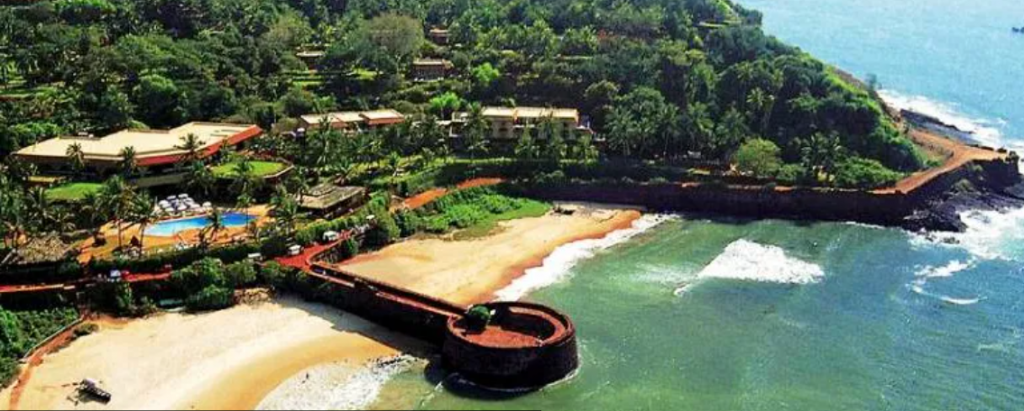 Baga Beach
Beautiful beach, with water sports activities. One of the best beach in Goa. beach and shacks are fully crowded.
One of the most happening beaches in Goa, Baga Beach is where you will find water sports, fine dining restaurants, bars, and clubs. Situated in North Goa, Baga Beach is bordered by Calangute and Anjuna Beaches.
One can also go for dolphin spotting tours and island trips from the beach. Baga also boasts one of the best nightlife scenes in Goa, the famous Tito's Lane has some of the best bars and clubs.
One unique attraction at Baga Beach is an indoor snow park that has a play area, sledding area, and ice bar.
For shopaholics, there is a Tibetan Market on the Baga Road.
Things to do here: The wild nightlife of the Beach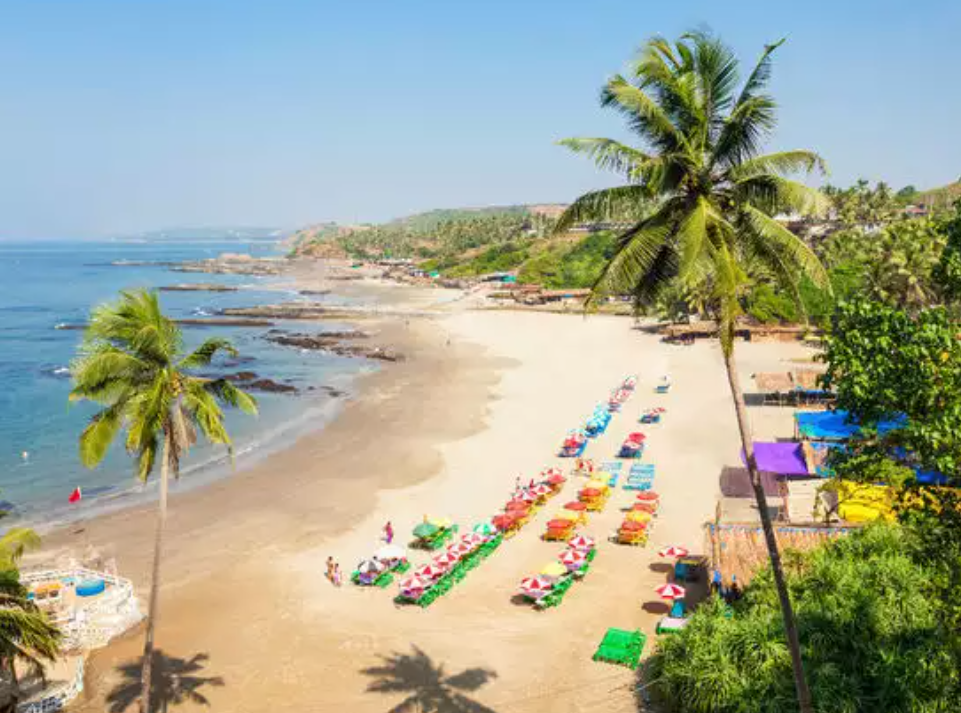 Anjuna Beach
Amongst the most popular beaches in Goa, Anjuna Beach has a rich past of hippie culture. However, this beach that stretches almost 2 km is also popular amongst families and water sports lovers.
At night, Anjuna Beach becomes one of the best hubs in Goa for nightlife. At Anjuna Beach, there is one of the most popular nightclubs in Goa, Paradiso. There are a number of great eateries like Curlies that's perfect as a daytime hangout.
Apart from its scenic beach stretch, Anjuna is also known for its Wednesday Flea Market.
Anjuna beach Goa is an ideal choice for nature buffs, who love to enjoy full moon parties during the New Year and Christmas.
Visitors on this very day rejuvenate themselves in a pleasurable atmosphere of the lucent full-moon casting a magic charm and the soft frothing waves snuggling their feet.
Things to do here: Local shopping of quirky collectibles; and witnessing sunsets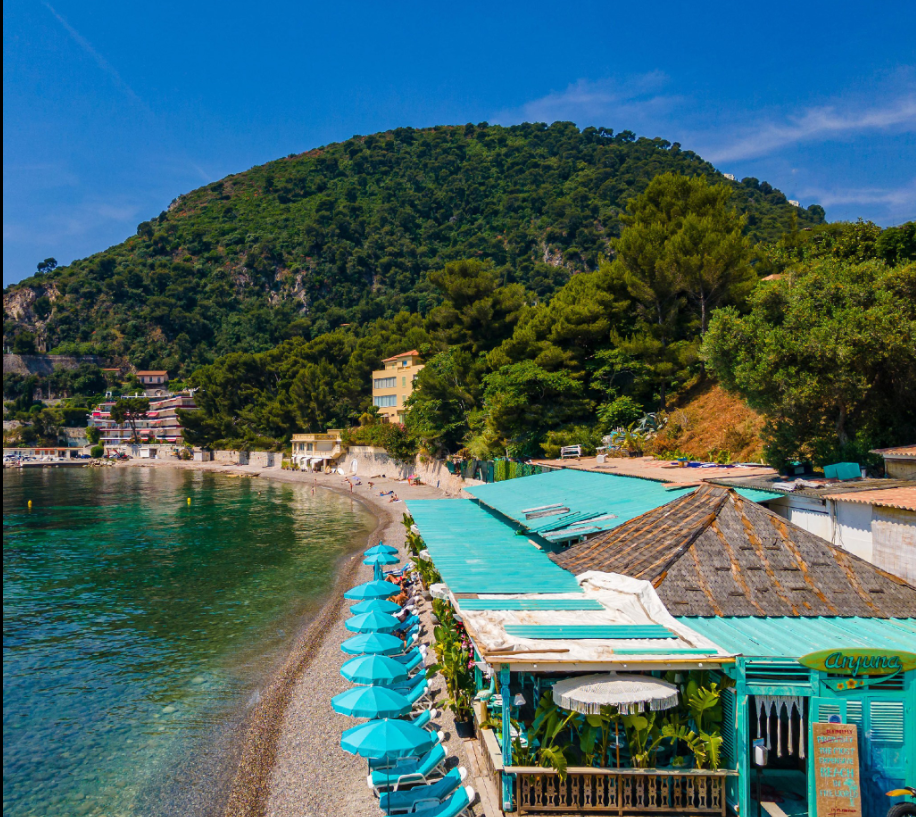 Calangute Beach
Situated 15 km from Panjim, Calangute Beach is the longest beach in North Goa, stretching from Candolim to Baga. Due to its sheer size and popularity, it is a hub for tourists and backpackers from all over the world.
One of the most crowded beach. Best place for enjoying water sports.
Dolphin seeing trip will be great experience here. Jet ski, boating, pera ceiling, Banana ride are included in water sports. You can do bargain here as they use to ask for high price. Walking on the beach is so relaxing here.
Best Time to Visit here is After monsoon to enjoy the water sports.
Things to do here: Local shopping of handmade items; and indulging in the food at the eateries here and Adventurous water sports including surfing, water skiing and parasailing in Goa.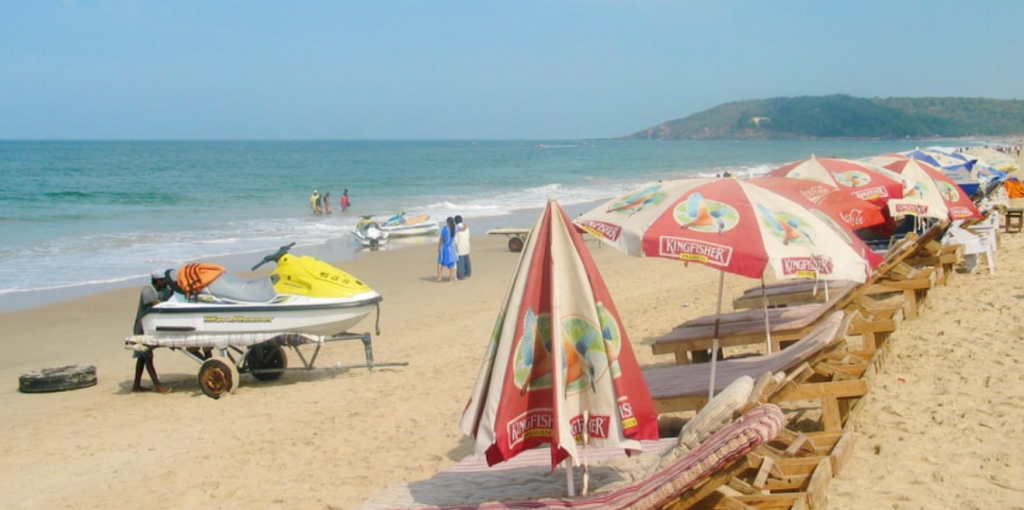 Dona Paula Beach
Dona Paula beach is located at a distance of 7 km from Panjim and popularly called the lovers' paradise in Goa. The name of the beach has been kept after the then Viceroy's daughter Dona Paula de Menezes who was believed to be madly in love with a fisherman. Her insane love for the fisherman drove her to jump off the cliff when the Viceroy refused to strike a marriage alliance between the two.
The elegant coastline presents a silvery burnish especially when the sun begins to set. Dona Paula also has some attractive goodies on display in the bustling marketplace outside the beach. You will get a host of charming products like straw hats, feni, hair accessories and much more. The prime attraction of the beach is the pumping water sport adventure activities and the wonderful sea-food joints situated near the beach.So if you choose to lounge in the sun or decide to try your hand with the sports, you are sure to have a wonderful time here. Presently the location is closed and off bounds due to renovation work.
Things to do here: Local Goan shopping; and the tomb of Dona Paula de Menzes in the Cabo Chapel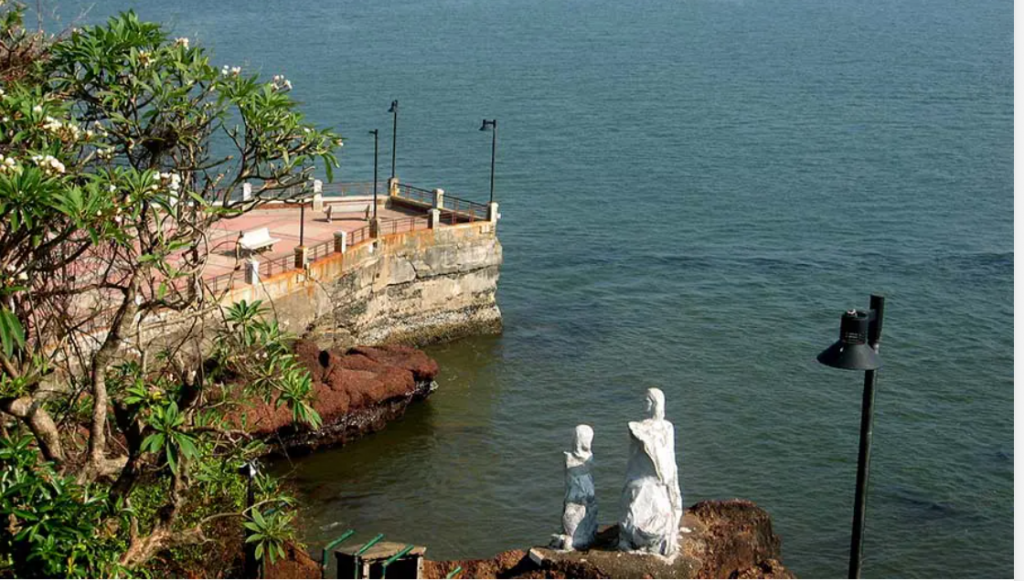 Chapora Beach
Chapora beach is a coastal village at Chapora river estuary lying alongside a beach stretch in North Goa that is around 10 km from Mapusa. Every gang would have wanted to come to this fort and get clicked like Dil Chahta Hai. The Chapora Fort, complementing the white sand and lava rocks along the coastline, makes Chapora one of the wonderful beaches of North Goa.
Things to do here: Bluebird Restaurant, for delightful Goan Cuisine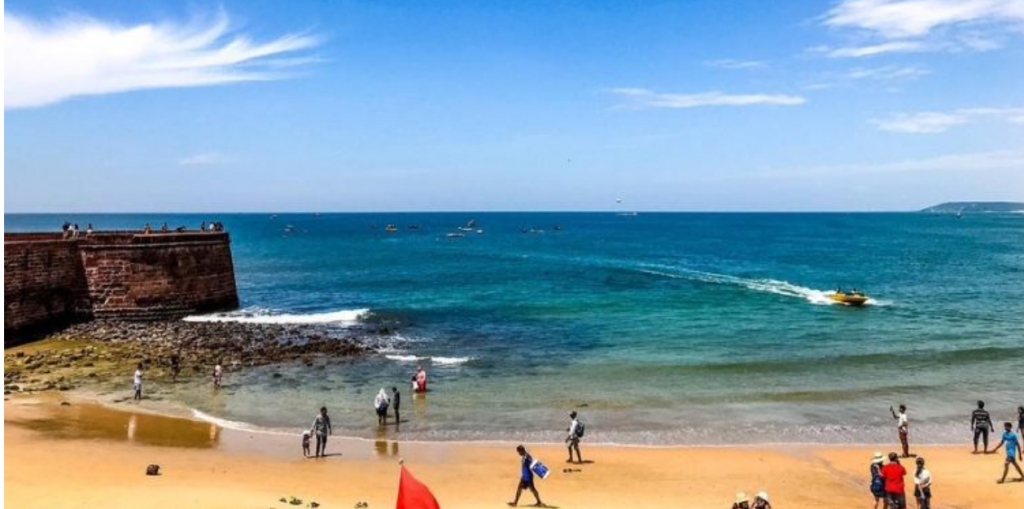 Morjim Beach
Morjim Beach is often also tagged as 'Little Russia'. This is because of the large Russian immigrant population residing in this spot. The scenic views and the hundred shades of green make this place look right out of a storybook. Goa is known for its marvelous ecosystem. Morjim Beach offers an impeccable space for the Olive Ridley sea turtles to lay their eggs and make this their habitat. Among the stunning beaches of North Goa, this Turtle Beach is the most silent one.
Things to do here: Indulging in food at beach shack and witnessing the little turtles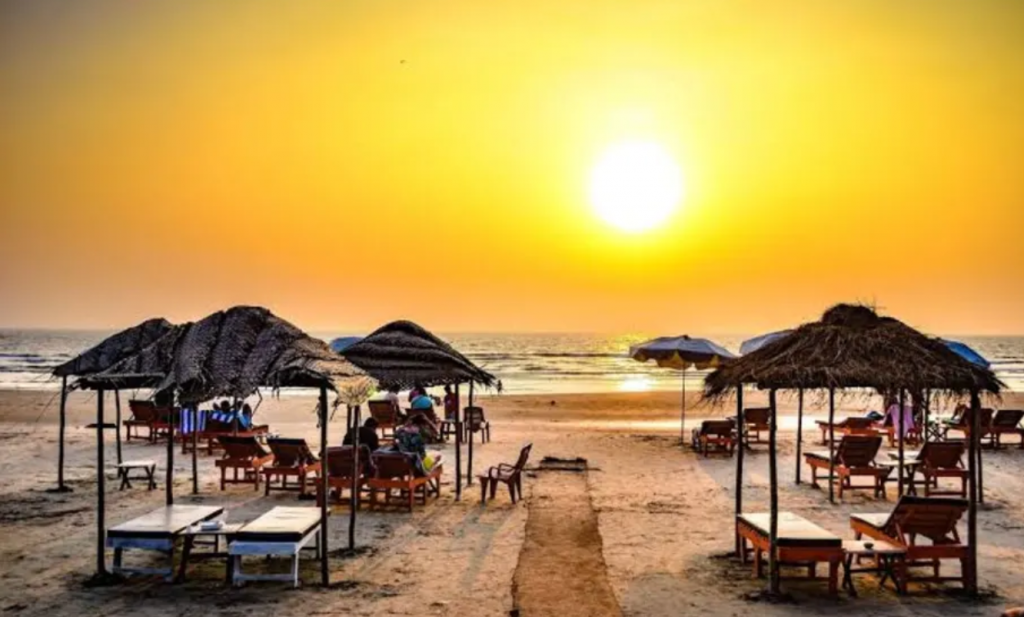 Aguada Beach
Amazing view point which a very few know. Located between aguada fort and the light house, this place is an absolute bliss of serenity.
Reach there before an hour to sunset and enjoy the beautiful view of sea and sun romancing.
The golden sands, nodding palm trees, and the calm clear waters of this beach offers a sight to behold. The spectators can lose themselves in the alluring beauty of these natural marvels that cover the floors of Aguada Beach.
One should not miss out on the climbing up the lighthouse to witness the magnificent spread of natural wonders.
Things to do here: A visit to the Fort and the lighthouse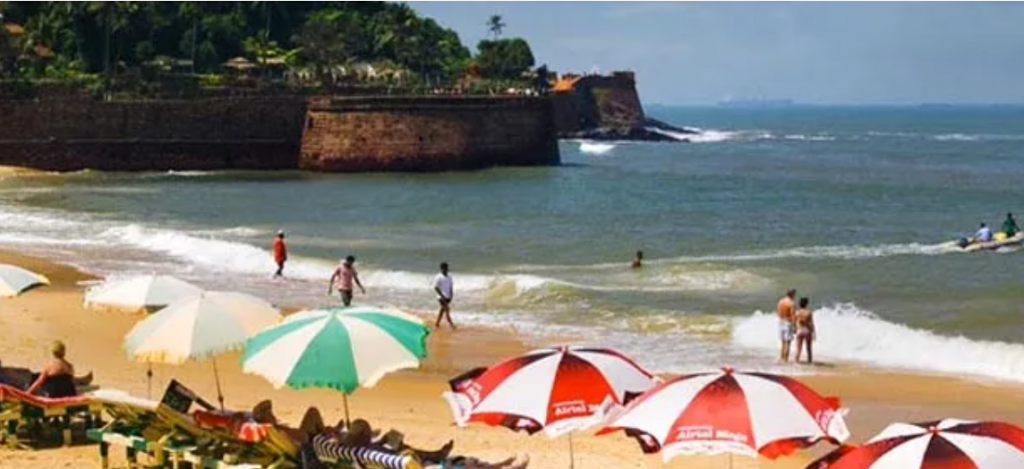 Ashwem Beach
This is one of the most beautiful and secluded beaches of North Goa. It has a great balance of beachfront resorts, views, and good vibes
Ashvem beach is far from the crowded and more commercialized beaches. More than an hour's drive from Candolim.
Swimming & sunbathing along a stretch of coastline with fine sand, hotels & restaurants.
It's also among the best beaches in North Goa for an ideal budget party.
Things to do here: Swimming and playing on the beach and turtle spotting.