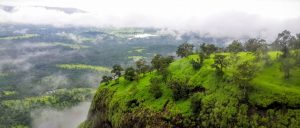 Tamhini Ghat is 60 km from Pune. This place is just awesome. You will witness true beauty of Nature in Tamhini. There are many waterfalls along the road. Best time to visit in monsoon
Tamhini Ghat and Mulshi Lake must be in your list of monsoon weekend visits. Along with the awestruck weather, these places have mesmerizing waterfalls on their way, and roadside eateries (corn, pakodas, maggi, tea) are just cherry on the cake – you just can't resist to have them. Although bikes are easy to ride and avoid jams on the way (at the ghat, lakeside, near waterfalls), if you're a couple (and not a biking enthusiast), I'd suggest going by a car would be more comfortable because you "might" always find some nuisance creating people at such places. Also car would usually be less tiring in heavy rains, and it's very common to see such rains in here.
Tamhini Ghats is close to 180 Km from Mumbai (lesser known as against Mulshi ghats). The place is a heaven during rainy season and has some breath-taking views and waterfalls.
Don't forget to cover the valley. its almost 10 kms from the 3rd waterfall. take a right and travel for 4 kms. You will get to see beautiful and picturesque valley which will make you say just WOW !!
Best Time to Visit – In monsoons it's scenic with its greenery and waterfalls. In winters also, the presence is supreme.
Best Way to Reach – Car or Bike
Video Log
Photos Log
https://photos.app.goo.gl/ucN26wmSfEvRlpxJ2
Text Log
https://goo.gl/gAvd56
Map Log
https://goo.gl/mzBS9r