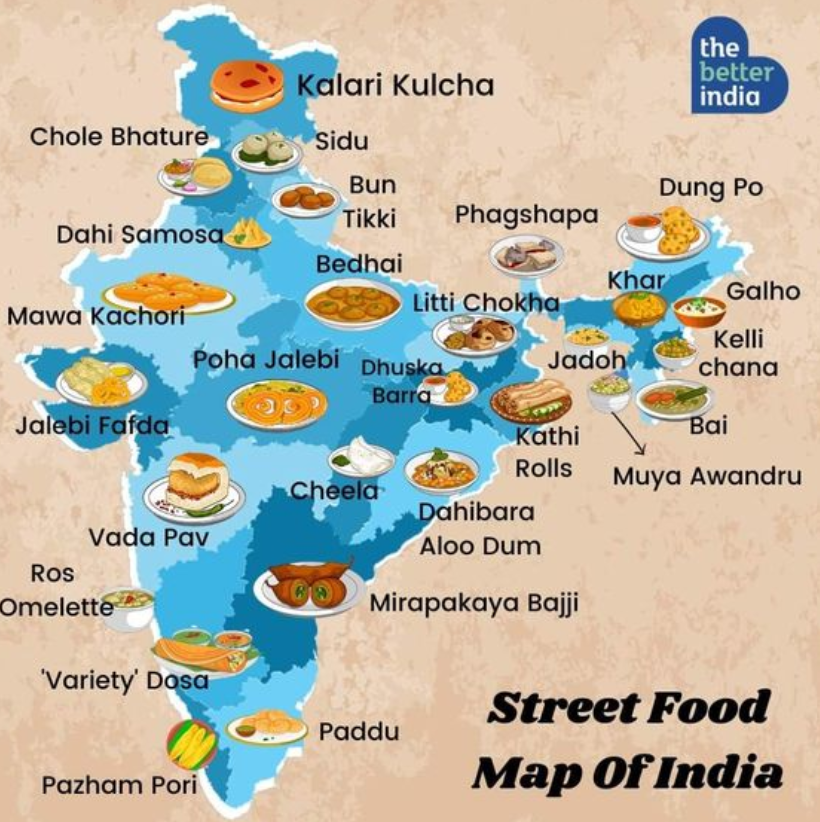 India is renowned for its diverse and delicious street food offerings. Each state has its own unique street food specialties. Here's a list of some of the most popular street foods from various states in India:
Maharashtra:

Vada Pav: Spicy potato fritter served in a bun.
Pav Bhaji: A spicy mashed vegetable curry served with buttered buns.

Gujarat:

Dhokla: Steamed rice and chickpea flour cakes.
Thepla: Spiced flatbreads made from whole wheat flour.

West Bengal:

Kathi Roll: Grilled skewers of marinated meat or paneer wrapped in paratha bread.
Puchka (Pani Puri): Hollow, crispy balls filled with spicy tamarind water, potatoes, and chickpeas.

Delhi:

Chole Bhature: Fried bread served with spicy chickpea curry.
Aloo Tikki: Potato patties served with chutneys and yogurt.

Rajasthan:

Mirchi Bada: Spicy chili fritters.
Pyaz Kachori: Deep-fried pastries stuffed with spiced onions.

Karnataka:

Bisi Bele Bath: Spicy rice dish with lentils and vegetables.
Mangalorean Bun: Sweet and fluffy fried bread.

Tamil Nadu:

Masala Dosa: Thin, crispy rice crepes filled with spiced potatoes.
Sundal: Spiced chickpeas or lentils garnished with coconut.

Kerala:

Appam with Stew: Soft, fluffy rice pancakes served with a creamy vegetable stew.
Samosa: Deep-fried pastry filled with spiced potatoes or meat.

Punjab:

Amritsari Kulcha: Stuffed, crispy bread served with chole (chickpea curry).
Aloo Paratha: Stuffed potato flatbread.

Uttar Pradesh:

Tunday Kababi: Spiced kebabs, especially the galouti kebabs, in Lucknow.
Aloo Tikki Chaat: Spicy potato patties served with yogurt and chutney.

Madhya Pradesh:

Poha: Flattened rice with spices and garnishes.
Jalebi: Deep-fried sweet pretzels.

Bihar:

Litti Chokha: Stuffed wheat flour balls served with mashed vegetables.
Thekua: Sweet deep-fried cookies.

Andhra Pradesh:

Hyderabadi Biryani: Fragrant rice dish with spiced meat or vegetables.
Mirchi Bhaji: Spicy deep-fried chili peppers.

Kolkata (Bengal):

Macher Jhol: Spicy fish curry.
Rasgulla: Spongy sweet dumplings in sugar syrup.

Uttarakhand:

Aloo Ke Gutke: Spiced potato cubes.
Aloo Ke Parathe: Potato-stuffed flatbreads.