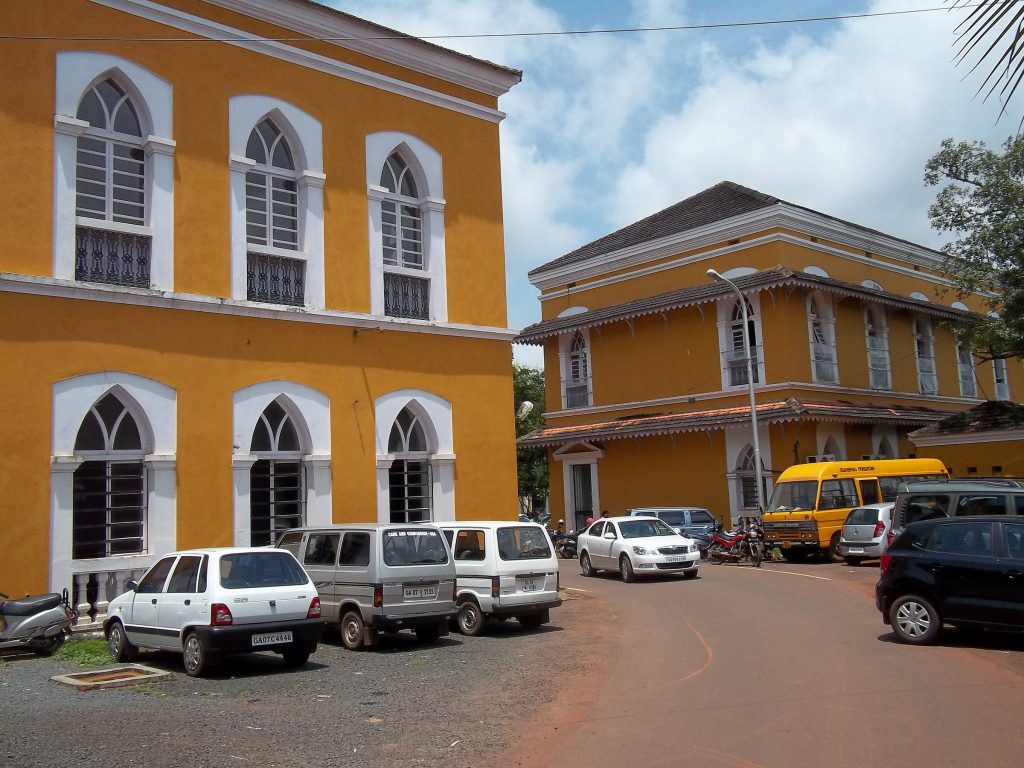 We know Goa nightout life is best but what about the daytime so Looking out for what can you do during daytime in Panaji, Goa.
Panjim is one of the popular cities of southern India and it is the home of a number of historic structures including churches, temples, and heritage buildings.
If you are planning to visit the city of Panjim in Goa, you should know about to hangout places to visit in Panjim during daytime.
Here are the things that you should not miss out.
Fontainhas
Church of Our Lady of the Immaculate Conception
Reis Magos Fort
Deltin Royale
Altinho Hill
Aguada Fort
Se Cathedral
Shanta Durga Temple
Goa Science Centre
Shopping
1. Fontainhas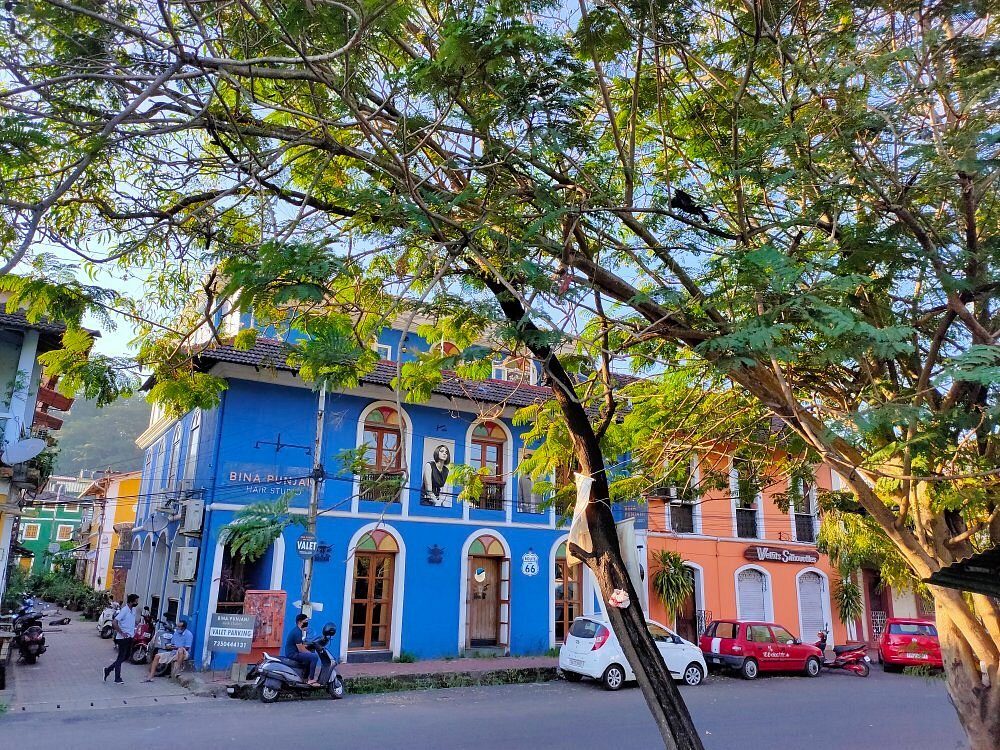 Visiting Fontainhas is like stepping into a painting of a European town.
This beautiful built in the 18th century in the capital city of Panjim and lies on the banks of the Ourem Creek.
This World Heritage Site is known for its narrow, winding streets and lanes, quaint #Portuguese style houses with red-tiled roofs. It's interesting that many of the Portuguese Houses have either a rooster or a solider on the roof. Charming cafes, beautiful homes, an art gallery, boutique heritage hotels, artefacts are what you'll find here.
It's a beautiful charming walk, through narrow lanes, old architecture and beautifully painted villas. You get a feel for what life must have been like in the Portuguese days.
Location: Rua de Natal, Fontainhas (quarter), Mala, Panaji, Goa 403001
Timing: open 24 hours
Near by: It is 1 km away from Panjim bus stop
Recommendation: Must Visit Place
2. Church of Our Lady of the Immaculate Conception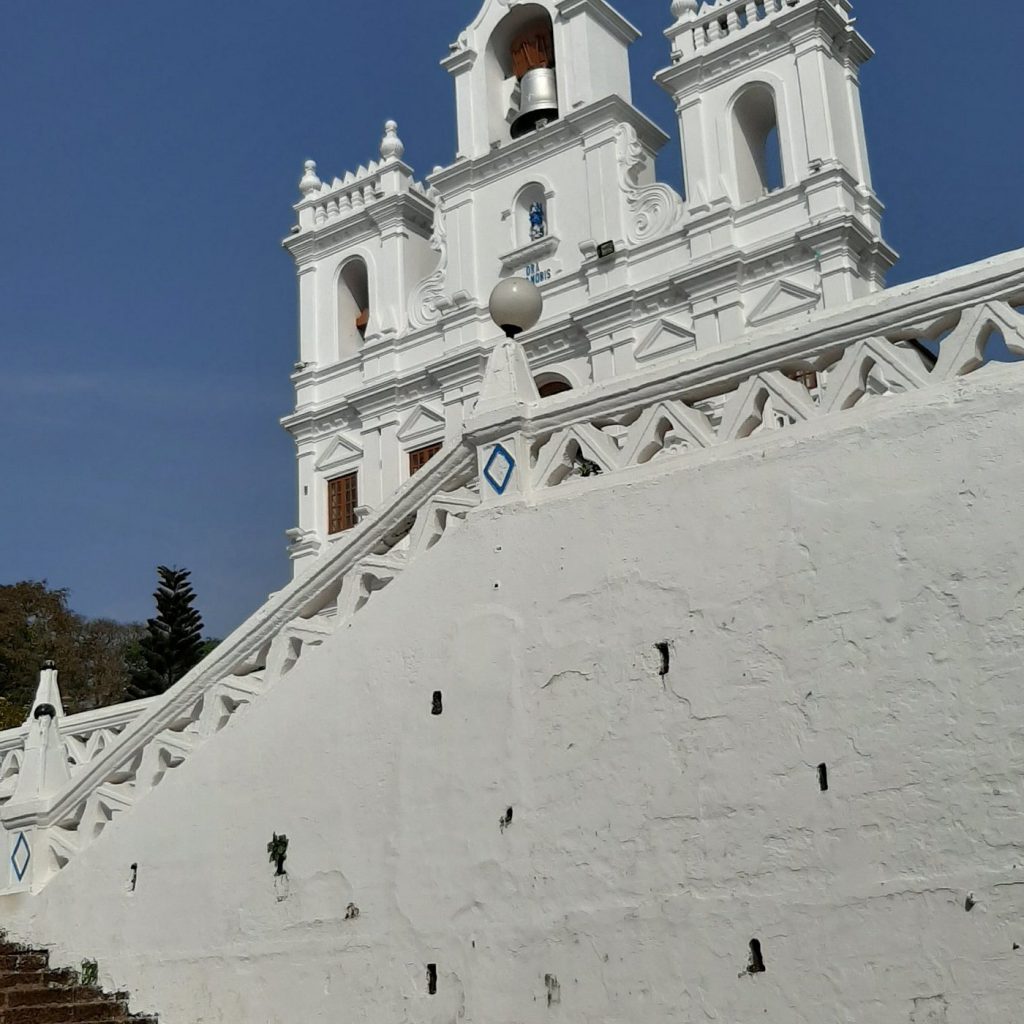 Panaji's spiritual, as well as geographical, centre is this elevated, pearly white church, built in 1619 over an older, smaller 1540 chapel.
Originally built in the 16th century, this historic church represents the Portuguese and Goa style of architecture. The name of the church represents the Christian belief that St. Anne conceived her daughter Virgin Mary without committing the original sin. This is one of the most popular historical structures and tourist attractions in Panjim, and you must have seen its exterior building in many Bollywood movies as well.
History says that Portuguese sailors would visit the church for thanksgiving prayer after or before their long voyage. The church looks beautiful even in the night, and here you can spend some time at the benches of Church Square.
It Located just on the main road and beautiful architecture and photogenic.
The church is the focus for celebrations during the Feast of Our Lady of the Immaculate Conception, on 8 December.
This is situated just next to Fontainhas and can be used as a good photo stop.
location: R. Emidio Gracia, Altinho, Panaji, Goa 403001
Timing: Differ
Near by : It is around 1.5 km away from Panjim bus stop
Recommendation: Must Visit Place
3. Reis Magos Fort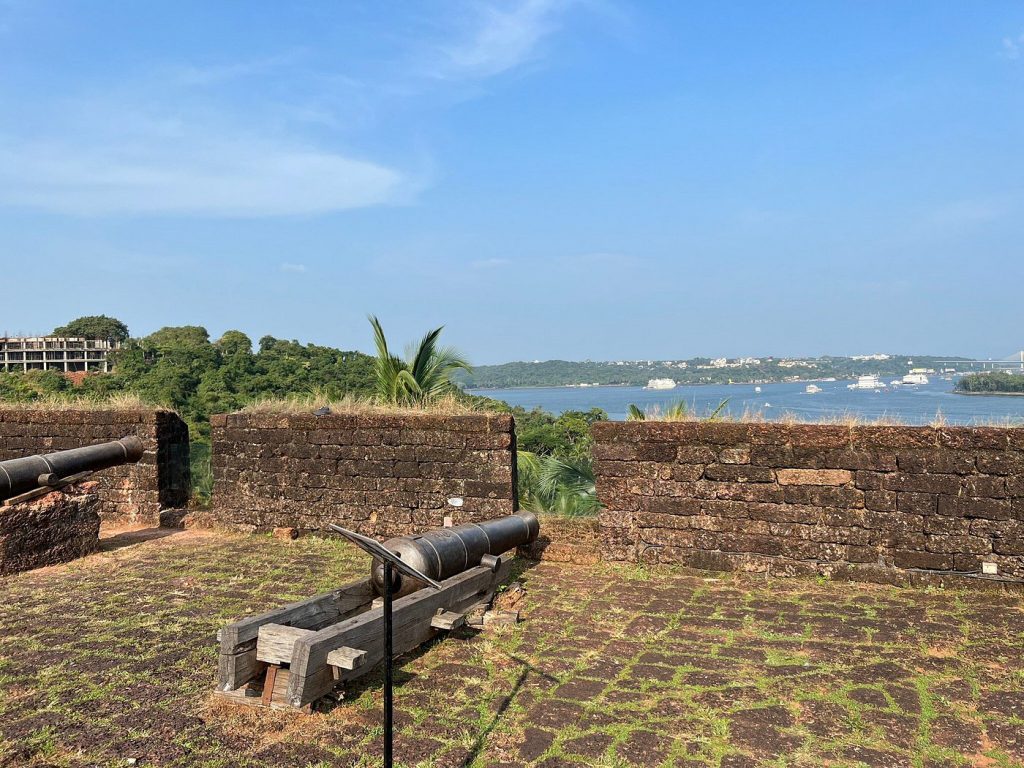 Located on the bank of Mandovi, about two miles away from the Fort Aguada, Reis Magos Fort was constructed in 1551 by Portuguese to serve as a turret. It was enlarged twice; its final shape was erected in the year of 1707.
The fort can be seen from the Panaji side of the Mandovi River.
Although for a short period, it was also captured by the British army from 1798 to 1813 but was later vacated by them. This place also served the purpose of a prison. Until recently it wasn't open to the public. This fort has been opened for public view in the month of June 2012.
Entry Fees is applicable here.
location: Nerul – Reis Margos Rd, beside three kings church, Bardez, Verem, Goa 403114
Timing: 9:30 AM – 5 PM (sun – sat), Mon -close
Near by : It is around 6.5 km away from Panjim bus stop
Recommendation: Must Visit Place
4. Deltin Royale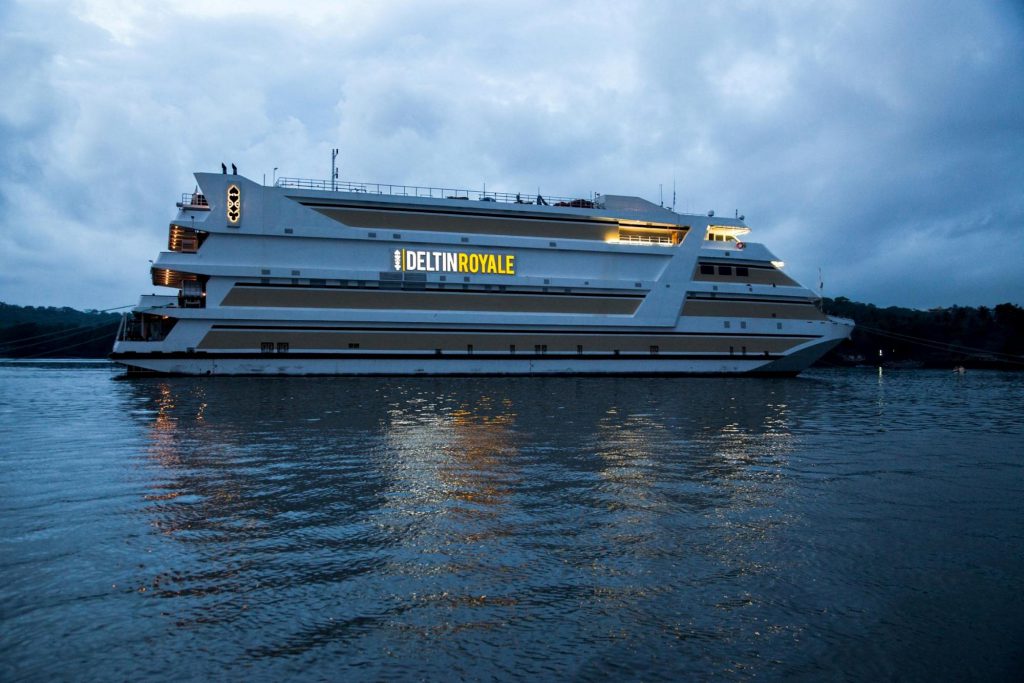 Asia's largest gaming and entertainment destination, Deltin Royale offers an extraordinary gaming experience, live entertainment and buffet meals.
Rated as the Best Casino in India, Deltin Royale is a must-visit of every Goa trip! Covering over 50,000 sq. ft. of area.
Deltin Royale holds close to 1000 gaming positions and exquisite venues for a swanky soiree or an opulent celebration.
Deltin Royale Casino is open 24*7 but the best time to visit is in the evening as the restaurant, VIP lounge (called Whiskey), Roof-Top Sky Bar and Live Entertainment starts post 7pm until 1am.
Deltin Royale Casino has the highest number of gaming tables and has 5 levels/floors:
Level 1 – Gaming Area and Poker Room
Level 2 – Vegas Restaurant and Whiskey restaurant. Entry to Whiskey is only limited to Deltin members
Level 3 – Gaming Floor and Teen Patti Room
Level 4 – Deltin Members VVIP Gaming Room
Level 5 – Roof Top (Sky Bar)
There are different packages for the cruise with various inclusions though the rates keep changing. It is best to check the tariff section on Deltin website. The packages usually start from Rs.3000 onwards and all packages include food & drinks. If you go for an upgraded package, premium liquor brands are included.
Things to remember:
No slippers, No shorts, No sleeveless for Men. An appropriate evening-wear for Women
No luggage or baggage allowed. Camera bags are not allowed. Only ladies can carry their purse
Photography and videography are not permitted on gaming floors.
location: Fisheries Jetty Fisheries Building, Dayanand Bandodkar Marg, Panaji, Goa 403001
Timing: 24 hours
Price: INR 2000 (Entry fees)
Near by : It is around 1.5 km away from Panjim bus stop
Recommendation: Its costly. Not under budget
5. Altinho Hill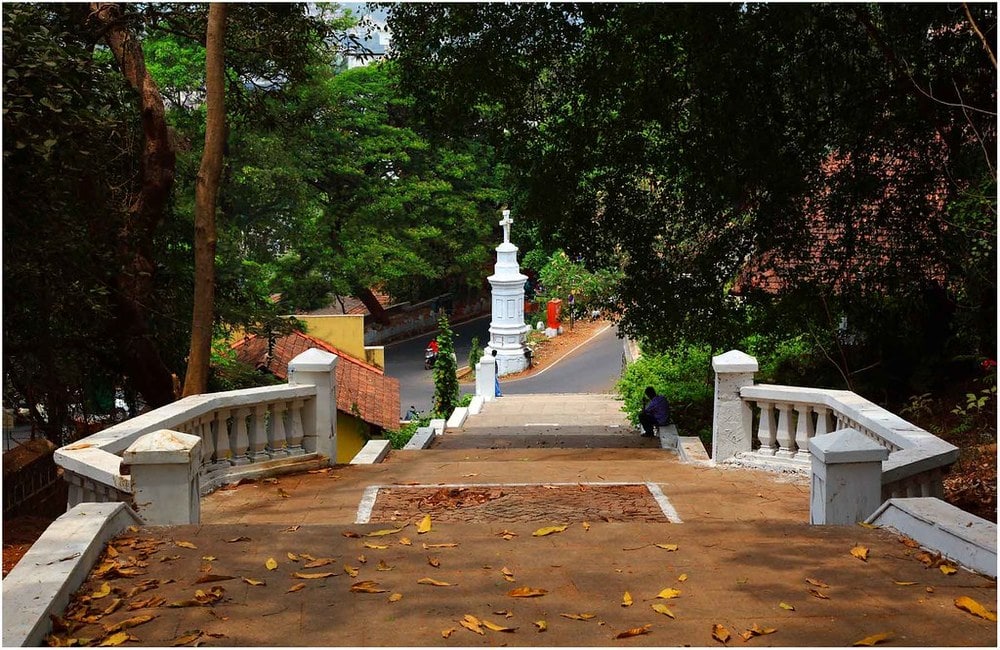 On the hillside above Panaji is the well-to-do residential district of Altinho. Apart from good views over the city and river, the main attraction here is the Bishop's Palace, an imposing building completed in 1893.\
The archbishop of Goa came to reside in Panaji early in the 20th century, laying claim to the palatial residence at Cabo Raj Bhavan. But it was not to be: when the Portuguese governor-general realised that it was the best property in Goa, the archbishop was forced to change his plans and settle instead for this palace.
The pope stayed at the Bishop's Palace during his visit to Goa in 1999. These days it's used for government offices.
Lush green vegetation, coupled with quaint buildings, winding roads, and the hillside location, make Altinho Hill a photographer's paradise.
Location: Altinho, Panaji, Goa 403001
Timing: DayTime
Near by: It is around 3 km away from Panjim bus stop
Recommendation: Its depend on Mood
6. Aguada Fort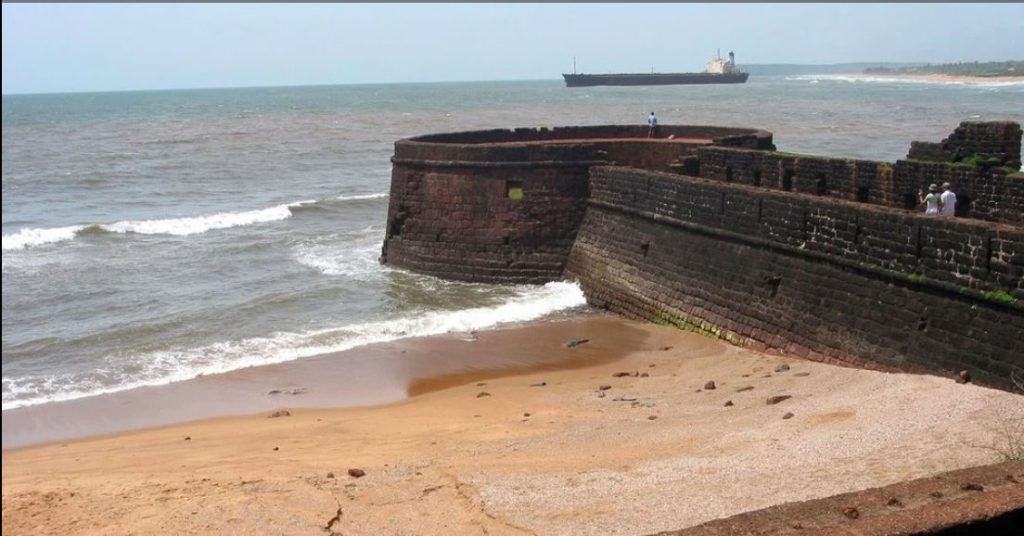 Fort Aguada was the most prized and crucial fort of Portuguese. The fort is so large that it envelops the entire peninsula at the southwestern tip of Bardez. Built on the mouth of Mandovi River, it was strategically located and was the chief defense of Portuguese against the Dutch.
Built-in 1612 as a protection from Dutch and Marathas, Fort Aguada was the most prized and crucial fort for the Portuguese and covers the entire peninsula at the southwestern tip of Bardez. The fort is so named after the Portuguese Word for water i.e. 'Agua' and used to be a replenishing source of freshwater for sailors. In fact, it has the capacity to hold 2,376,000 gallons of water and was one of the biggest freshwater reservoirs of Asia.
Fort Aguada has also been used as Aguada jail. A statue in front of the jail salutes the freedom fighters, giving the fort a touch of patriotism.
location: Fort Aguada Rd, Aguada Fort Area, Candolim, Goa 403515
Timing: 9AM – 6PM (sun-sat)
Price: Free Entry fees
Near by: It is around 14 km away from Panjim bus stop
Recommendation: Must visit place.
7. Se Cathedral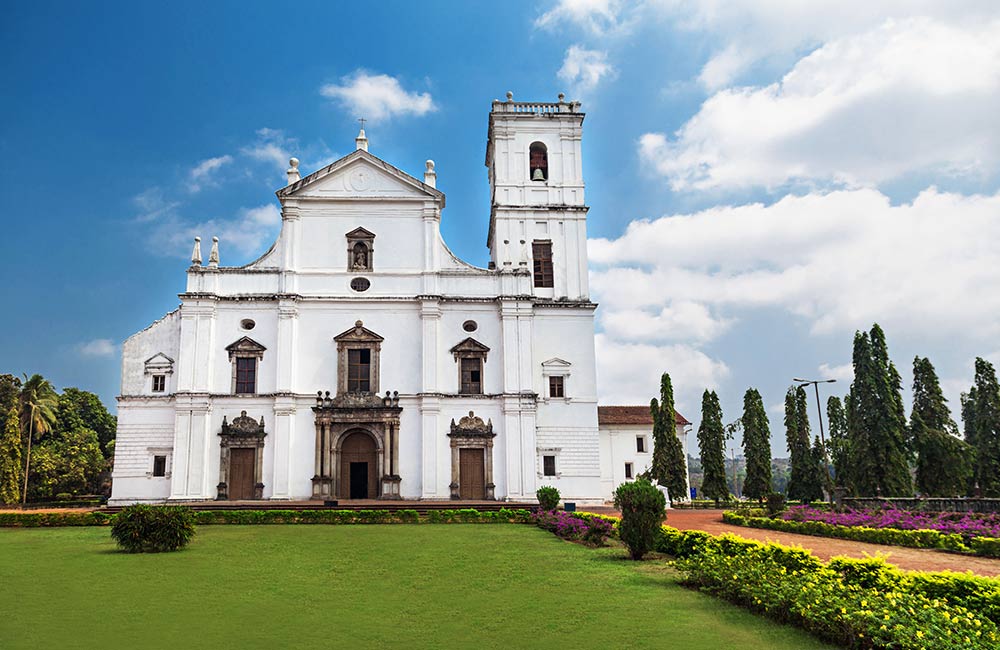 This Cathedral is located in Old Goa (Velha Goa) amidst some of the most beautiful churches in India and perhaps the world, the architecture is simply amazing, Se Cathedral was constructed to mark the Portuguese victory against a Muslim army, whereby they took over Goa.
Around 250 feet in length and 181 feet in breadth and makes for amazing photos when the sky is blue.
This is a big church with an attractive architecture, the tower houses has a large bell known as the "Golden Bell".
location: Velha, Goa 403402
Timing: DayTime
Near by : It is around 1o km away from Panjim bus stop
Recommendation: you can visit ,If you like museum kind place
8. Shanta Durga Temple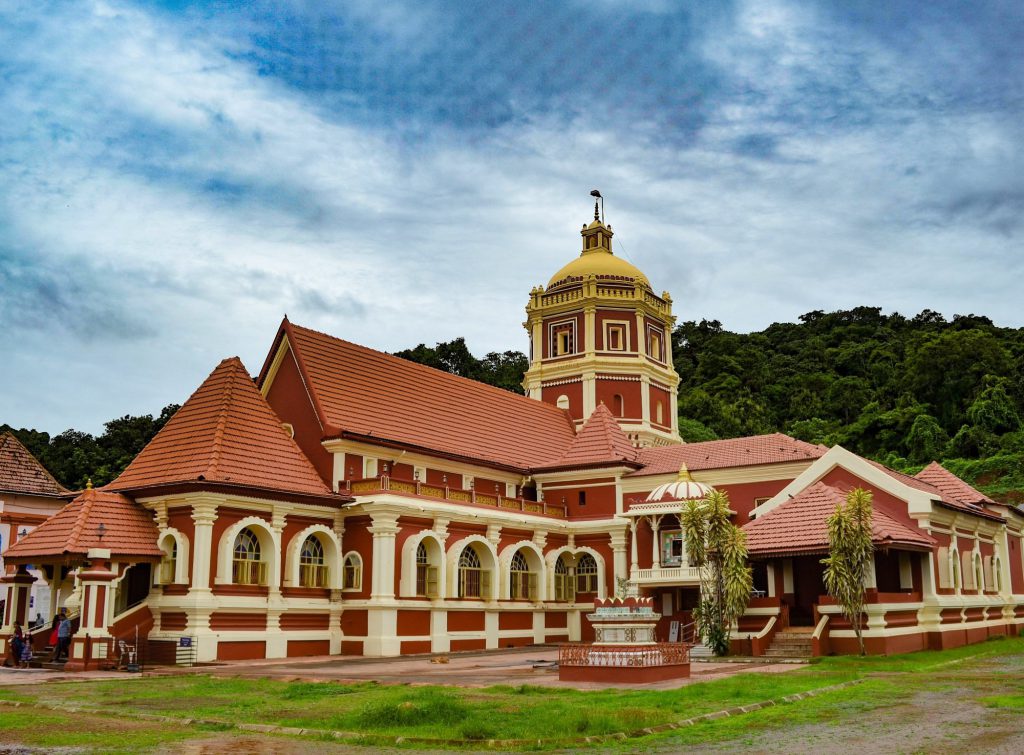 Shantadurga Temple bis located 30km from Panji , at the foothill of Kavalem Village in Ponda District GOA.
The temple is dedicated to Shree Shantadurga, the goddess of peace. Durga, who is often portrayed exuding fury and aggression, appears in a gentler form in Goa. Shanta, in Sanskrit, means peace. According to Hindu mythology, the goddess got her name after she settled a quarrel between Lord Shiva and Lord Vishnu.
This is the famous kuldevi of the Goud Saraswat Brahmin community.
It's really relaxed and peaceful place in goa, well maintained and hygienic place.
The temple is open from morning 8am to evening 6pm.
location: Kavlem
Timing: DayTime
Near by : It is around 30 km away from Panjim bus stop
Recommendation: you can visit ,If you like holy place
9. Goa Science Centre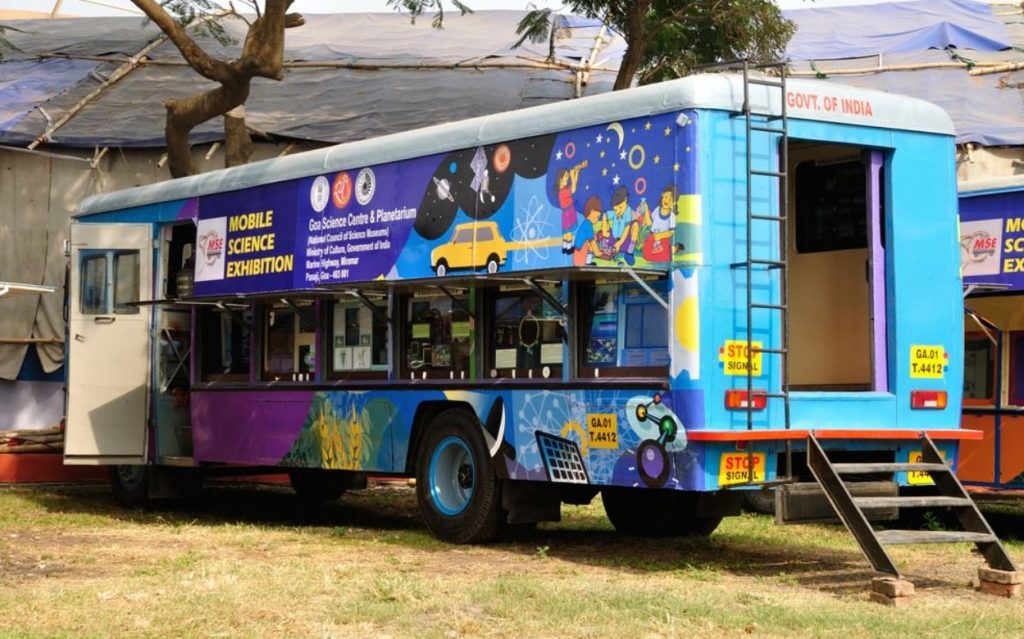 Goa is not just a beach haven but has other exciting as well as informative things to offer, especially if you are travelling with kids.
Goa Science Centre & Planetarium is the perfect example of that.
Both adults and children can enjoy a rendezvous with celestial bodies here, apart from watching 3D shows and participating in workshops.
Many educational programs and exhibitions are held here as well. If you are a science buff, you will have a gala time getting to know about marine science, magic with mirrors, and fun things that can be done with science.
location: Marine Highway, Miramar, Panaji, Goa 403001
Timing: 9:30 AM – 6 PM
Near by : It is around 6 km away from Panjim bus stop
Price: Entry fees INR 10
Recommendation: you can visit ,If you like science buff
10. Shopping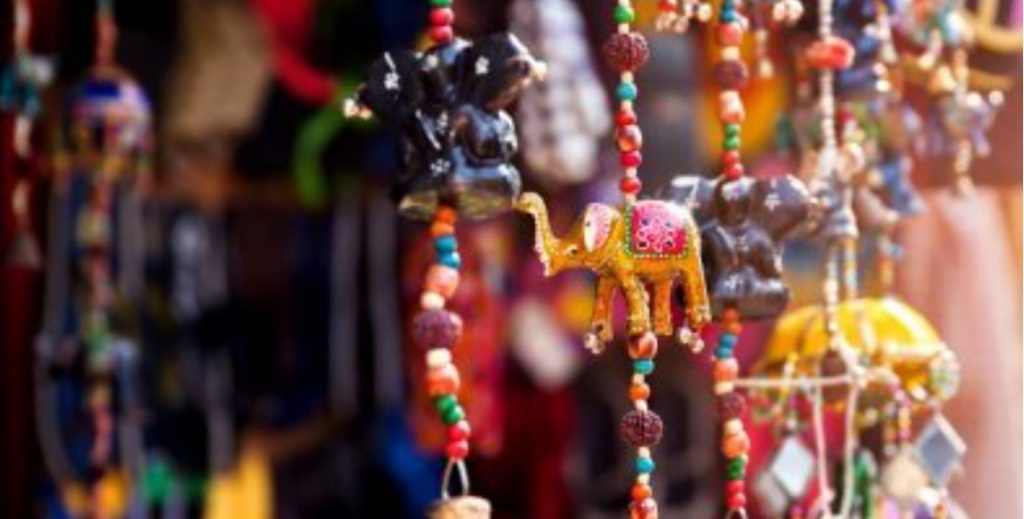 shopping is one of the best things to do in Panjim, and the city offers a lot to tourists who love shopping. Here, you will thoroughly enjoy your shopping spree.
If you love indigenous handicraft, you should roam around the local market to fulfil, your thirst and these can be some of the best places to visit in Panjim for a couple.
Panjim is a cultural and historical hub of Goa, and people come to this place to get the real taste of Goan culture and tradition. While you are in Panjim, try these things out and make your trip memorable in the city.
Location:
Municipal Market
Khadi India
Singbal's Book House
Caculo Mall
Velha Goa Galeria
Marcou Artifacts
Barefoot
Sosa's
Orchid Boutique
SYNE
Image Gallery of Popular Places to visit in Panjim during Daytime