Kolkata City Tour
Kolkata City Tour
1.Confirmation is immediate
2.No credit card or instant payment needed to book.
3.We'll send you an email confirming your details of
reservation/payment
Kolkata City Tour- Kolkata previously known as Calcutta is the capital of the state of West Bengal. In a popular travel magazine that we read recently, Kolkata in India has been listed as one of the top 20 places to visit in the year 2020. Kolkata is popular as a travel destination among tourists but that is mostly around Durga Puja time. Kolkata is known for its diverse history, arts, theatre, and literature. There's a lot that one can explore in Kolkata in one day or two days. Hence this city is a treasure trove of colonial architecture and the remnants of British and Anglo-India culture in India are still visible in Kolkata. Talking about culture, Kolkata has the title of being the "Cultural Capital of India" as well. In fact, any artist, worth their salt, considers themselves successful after performing before the discerning audience of Kolkata. Of late, there is a change in trend.
Where
Kolkata City Tour
Kolkata, West Bengal, India 700001
Kolkata, West Bengal, India
When
25 Nov 2023, 06:00 AM
Till
25 Nov 2023, 08:00 PM
Organizors & Pubslished by holidaylandmark
Contact:

Email:- contact@HolidayLandmark.com | Phone:- 7739774984 | You Tube |Instagram | WWW | Facebook

Day 1 :
Kolkata, West Bengal, India
Click Here
1. Victoria Memorial
Time - 07.00 AM
One of the most prominent buildings in Kolkata, the Victoria Memorial was constructed in the fond memory of Queen Victoria and was opened to the public in the year of 1921. An art museum, this building presents a rich collection varying from documents to paintings to artifacts. With impressive architecture, which was designed by the then-famous architect William Emerson, Victoria Memorial stands at a height of 184 feet above sea level and is spread over a massive area of 64 acres.
2. Kalighat Temple
Time - 09.00 AM
A prominent religious site, Kalighat Temple is recognized as one of the 51 Shakti Peethas of the country. It is also one of the most preferred places on the Kolkata city tour. Dedicated to Goddess Kali, this temple is built on Kalighat, lying on the old course of River Hooghly.
As per religious beliefs, it is the place where the toes from the right foot of Goddess Kali fell. This happened when Lord Shiva did a dance of destruction- Tandava with Goddess's body in his hands after her immolation at the holy pyre of yagna by King Daksha.

3. Eden Gardens
Time - 11.00 AM
Nothing less than a holy site for cricket lovers, Eden Garden is said to be the oldest cricket ground in India. This cricket stadium has witnessed many historical moments of Cricket. Established in 1864, this stadium hosted its first test match in 1934 and its first ODI in 1987.
Often said to be Cricket's answer to the colosseum, this stadium has hosted many prominent international competitions too such as World Cup, Asia Cup, World Twenty20, and many more.

4. St. Paul's Cathedral
Time - 02.00 PM
Another historical building that one must visit in Kolkata is St. Paul's Cathedral. A significant religious site, its foundation was laid out in 1839. Displaying an Indo-Gothic style of architecture, this cathedral was designed by Major William Nairn Forbes. Although owing to natural disasters, it was destroyed and rebuilt again. Its present majestic structure seems to resemble the Bell Harry Tower of Canterbury Cathedral.
5. Dakshineswar Kali Temple
Time - 03.30 PM
Another prominent religious site in Kolkata is the Dakshineswar Kali Temple which is dedicated to the Goddess Bhavatarini. Spread over an area of 25 acres, this temple was constructed in 1847 by the Queen of Janbazar, Rahmani. Standing majestically on the banks of River Hooghly, it also presents a beautiful sight for visitors to cherish and is also the most popular tourist place with our Kolkata city tour.

6. Jorasanko Thakurbari
Time - 04.30 PM
It is the house where Rabindranath Tagore, the writer of India's national anthem, and the first non-European Nobel laureate, had spent his childhood and took his last breath. This house is now converted into a Tagore museum and lies within the premises of Rabindra Bharati University.
7. Marble Palace, Kolkata
Time - 06.30 PM
One of the most attractive buildings in Kolkata, Marble palace is a place that every visitor must try to visit. Although private property, visitors are allowed to the designated areas of the palace with 24 hours prior permission from West Bengal Tourism Information Bureau. Constructed in 1835, this palace was built for Raja Rajendra Mullick. It also houses a mini zoo.
8. Howrah Bridge
Time - 07.30 PM
A landmark for Kolkata, Howrah Bridge is an essential part of most of the Kolkata City tour packages. Also known as the Rabindra Setu, this bridge stands majestically over the River Hooghly. It is the highlight of our Kolkata city tour by private cab. Connecting Kolkata and Howrah, this bridge was built in the year 1824. An engineering masterpiece, this bridge was built without using any kinds of nuts and bolts and on top of 270 feet high pillars.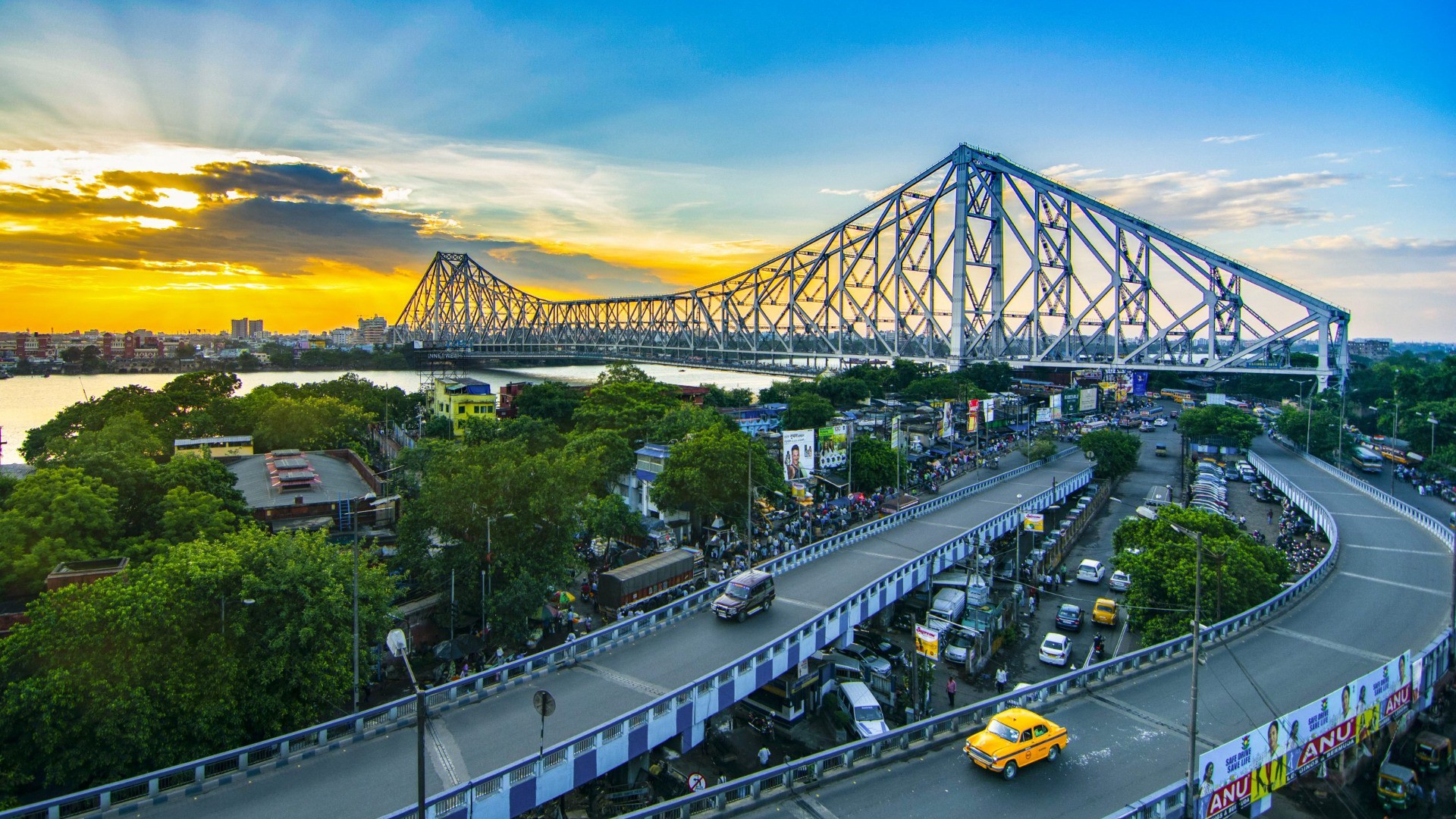 Book special 1Days
Kolkata City Tour packages in INR 3000
incl. direct flights, airport transfers, premium stays & more.4>
Best Time to Visit: Kolkata has a tropical climate that's extremely hot, wet and humid during the summer, and cool and dry during the winter. The weather in April and May is unbearable, and visiting the city should be avoided during that time. Temperatures can exceed 40 degrees Celsius (104 degrees Fahrenheit) during the day and rarely drop below 30 degrees Celsius (86 degrees Fahrenheit) at night. Humidity levels are also uncomfortably high. The best time to visit Kolkata is from November to February, after the monsoon season, when the weather is the coolest and temperatures range from around 25-12 degrees Celsius (77-54 degrees Fahrenheit).
Trip Payment Cancallation & Refund Information
Payment Terms & Conditions
Travelers are requested to follow the given itinerary for 1 Day Kolkata City Tour package. Ideally this 1 day Kolkata city tour package can not be customized, however if guests prefer to visit different set of places in Kolkata city tour, they can check the possibility of the same with the listed car rental companies and request for a custom quote.
Payment Modes (1000 characters limits)
Online Mode and Offline mode both
Cancellation and Refund Policy: (1000 characters limits)
Please also note that if a particular Kolkata City Tour place is closed on the scheduled day of the tour, it will not be covered from the list of sightseeing places. Please check the possibility of visiting an alternate place with a cab vendor before you book the tour.
Already Have An Account?Log In
You Have don't An Account? Sign Up
You Have don't An Account? Sign Up
You Have don't An Account? Sign Up