Darjeeling City Tour
Darjeeling City Tour
1.Confirmation is immediate
2.No credit card or instant payment needed to book.
3.We'll send you an email confirming your details of
reservation/payment
Darjeeling is a charming hill station, located in the northern part of West Bengal, India. It takes only one day in Darjeeling to become fascinated by its immaculate beauty, and everyone who comes here are tempted to visit it time and again. Perched at an altitude of 2,050 m above sea level, Darjeeling is dotted with jaw-dropping locales, lush green meadows, mesmerizing sunrises, expansive tea estates, and picturesque landscapes. Renowned as the 'Queen of the Himalayas', this was once the British summer capital. So let's explore the best things to do during your one day in Darjeeling.
Where
Darjeeling City Tour
Darjeeling, West Bengal, India 734104
Darjeeling, West Bengal, India
When
18 Jan 2025, 06:00 AM
Till
18 Jan 2025, 08:00 PM
Organizors & Pubslished by holidaylandmark
Contact:

Email:- contact@HolidayLandmark.com | Phone:- 7739774984 | You Tube |Instagram | WWW | Facebook

Day 1 :
Darjeeling, West Bengal, India
Click Here
01 Darjeeling Himalayan Railway
Time: 08.00 AM
One of the most popular places to visit in Darjeeling, DHR is approximately a 2 feet narrow gauge train track that covers the distance between New Jalpaiguri and Darjeeling. This 88-km long railway track is best known for its toy train which gushes amid the misty hillside and offers absolutely gorgeous views of the valley. The construction of this historic railway began in 1879 and took about two years for it to be finished. For its significance as a popular tourist spot, it was declared a UNESCO World Heritage Site in 1999. The ride in the toy train of Himalayan Railways Station is both adventurous as well relaxing in nature. If there is one thing that you shouldn't miss during your time in Darjeeling, it's a ride on the toy train. No wonder it tops the list of the best tourist attractions in Darjeeling.

02 Tiger Hill
Time: 09.00 AM
The most famous mountain peak in Darjeeling, Tiger Hill is best known for its trekking routes and panoramic views of Mt. Everest and Kanchenjunga. One needs to walk or drive through the oldest tea plantations, in order to reach Tiger Hill. It is recommended to witness the first rays of the sun on Mt. Everest. Don't miss capturing it with your camera as well because it will be a majestically rich experience. Another interesting thing about this place is that it is the summit of Ghoom, a UNESCO World Heritage Site as well as the highest railway station in Darjeeling. The best time to visit Tiger Hill is generally around the months of October, November, and December in winter and February to April in Autumn.

03 Batasia Loop
Time: 10.00 AM
It is a mesmerizing toy train pathway that was brought into existence to reduce the elevation of the Darjeeling Himalayan Railway. Set amidst the lush green mountainside, Batasia Loop offers beautiful views of the valley and snowy abode of Mt. Kanchendzonga. When the toy train meanders its way through the loops of the track, everything about this place seems dreamy. Also, the surrounding tunnels, hill-locked valleys,s and little shops in the area make Batasia Loop one of the top places to visit in Darjeeling.

04 Sandakphu Trek
Time: 11.00 AM
If we have led you into believing that Darjeeling is purely a touristy place, that is far from the truth. Thanks to the position of Darjeeling in the Himalayan foothills, there are a number of excellent trekking trails you can find around the city; Sandakphu being one of the popular ones. It is a moderate-level trek that takes you through some extremely scenic landscapes until you finally reach Sandakphu at 11,929 feet. This is probably the best trek you can undertake in the region if you are an experienced trekker. Sandakphu is the highest peak in West Bengal, so you can imagine the grand views of the grandest Himalayan mountains you can witness from here. Sandakphu Trek is the ultimate dose of thrill and amusement.

05 Darjeeling Rangit Valley Ropeway
Time: 12.00 PM
The beautiful hill station of Darjeeling is best viewed via its exclusive ropeway. From the exquisite landscapes, verdant tea estates, lush green forests, and breathtaking flora and fauna to the snow-capped mountain peaks of Everest and Kanchenjunga, one can witness the beauty of Darjeeling in all its glory! The Ropeway came into existence in 1968, and since then, has been quite an attraction for tourists. There are around 16 cable cars that can comfortably carry at least 6 people in one ride which takes place at an altitude of approximately 7,000 feet. The cable cars travel from the North Point in Singmari to the Singla Bazaar, which gives the passengers to click some amazing photographs of this beautiful town.

06 Rimbik
Time: 02.00 PM
Rimbik is a small town located in the Singalila National Park area in Darjeeling. It is famous for its trekking routes and gradually gaining popularity among unconventional travelers. Singalila National park and Sandakphu are the famous and busiest routes and one of the best treks in the Eastern part of India. En route to Sandaphu, the trekkers will pass the Singalila National park, which is home to the red panda and one can enjoy nature at its pristine best.
07 Himalayan Mountaineering Institute
Time: 03.00 PM
This institute was established on November 4, 1954, with the main aim of encouraging the interest of people in mountaineering sport. Currently, this institute is the best school for mountaineering training. Thus, aspiring mountaineers must apply to this institution to fulfill their dreams. Since the time of its establishment, the institute has trained more than 50,000 students who have moved on to become great mountaineers. Out of these students, more than 20,000 belong to countries other than India. In fact, the popularity of this institute is such that it has become one of the most popular tourist attractions in Darjeeling. One reason for this institute being a popular tourist spot is its picturesque setting. It is surrounded by the splendid peak of Kanchenjunga which alone makes it worth a visit.
08 Peace Pagoda
Time: 04.00 PM
It is a Buddhist shrine that is a part of 30 similar structures located around the world. This white-colored edifice is accentuated with gold-painted sculptures, which are the highlight of the entire Pagoda. There are four avatars of Buddha located inside the building, including the famous Maitreya Buddha. This historic building was constructed between 1885 and 1985 by a Japanese Buddhist monk Nichidatsu Fuji and it continues to be one of the most famous places to visit in Darjeeling. It took about 36 months to finish the construction of the whole building. The main purpose of establishing this monument was to promote peace, unity, and goodwill amongst people who belong to different communities and religions. Apart from it, the place gives out peaceful and tranquil vibes as it is surrounded by snow-covered mountain peaks on all sides.
9. Rock Garden
Time: 05.00 PM
This popular picnic spot is one of the most beautiful places to visit in Darjeeling. Basically, it is an artificial garden whose beauty is accentuated by waterfalls, lush green hillsides and flora, and fauna. Rock Garden is amongst the most frequently visited tourist attractions in Darjeeling for the reason that there are plenty of activities to do with your family and friends. Its Chunar waterfall is a natural cascade that attracts a lot of visitors who are fascinated to see it in its divine flow. Additionally, a mountain stream meandering through the Garden also makes people soak in the good vibes of the place. Apart from it, the place is lush with green trees and vibrant flowers all through the summer season, making it the best time to visit the Garden.
10. Nightingale Park
Time: 06.00 PM
A public park that invites a huge influx of tourists all throughout the year, Nightingale Park is one of the most visited places to see in Darjeeling. The main reason why people visit this park is for its magnetic views of the majestic Kanchenjunga. The other reason for visiting this area is the lush green environment that fills your mind and soul with high vibrations. You feel happy and ecstatic for no reason after visiting this place. Formerly known as The Shrubbery, Nightingale Park used to serve as a private courtyard of Sir Thomas Tartan's home. Some other highlights of the park include a giant statue of Lord Shiva, a vibrant meadow, and a musical fountain that would behold your sight. No prizes for guessing that this park is one of the best tourist attractions in Darjeeling.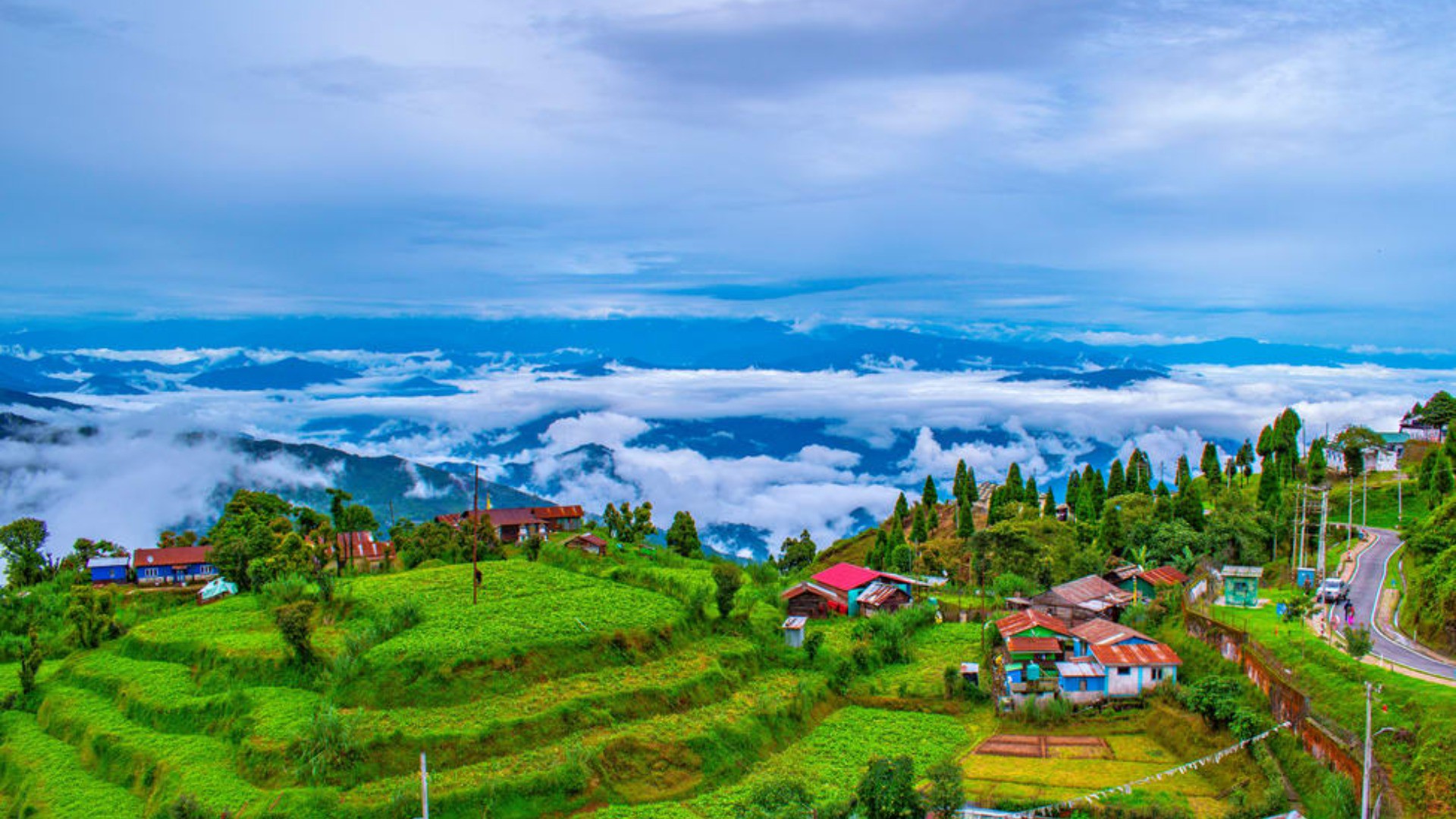 Book special 1Days
Darjeeling City Tour packages in INR 3000
incl. direct flights, airport transfers, premium stays & more.4>
Boasting ethereal beauty, picture-perfect landscapes, and prolific tea vegetation; Darjeeling has many other aspects worth knowing. Let's take a look at some of them:
Asia's largest ropeway: Darjeeling-Rangeet Valley ropeway is Asia's largest ropeway that offers breathtaking views of lush green tea estates and Mount Kanchenjunga.
Toy Train Joyride: Fondly known as 'Toy Train', Darjeeling Himalayan Railway became a UNESCO World Heritage Site in 1999. The ride offers awe-inspiring views of Kanchenjunga, lush green vegetation, and flourishing tea estates.
Majestic view of Mt. Kanchenjunga: Tiger Hill is one of the major tourist attractions in Darjeeling, offering a panoramic view of the mighty Kanchenjunga. When the sun makes its way through the thick clouds, Kanchenjunga bathes in the first morning rays! Admire the awe-inspiring view of the snow-capped mountain peaks glistening in golden sunlight.
Trip Payment Cancallation & Refund Information
Payment Terms & Conditions
Travelers are requested to follow the given itinerary for 1 Day Darjeeling City Tour package. Ideally, this 1-day Darjeeling City Tour package can not be customized, however, if guests prefer to visit a different set of places in the Darjeeling City Tour, they can check the possibility of the same with the listed car rental companies and request a custom quote.
Payment Modes (1000 characters limits)
Online Mode and Offline mode both
Cancellation and Refund Policy: (1000 characters limits)
Please also note that if a particular Darjeeling City Tour package is closed on the scheduled day of the tour, it will not be covered from the list of sightseeing places. Please check the possibility of visiting an alternate place with a cab vendor before you book the tour.
Already Have An Account?Log In
You Have don't An Account? Sign Up
You Have don't An Account? Sign Up
You Have don't An Account? Sign Up