Dehradun Sightseeing Trip
Dehradun Sightseeing Trip
1.Confirmation is immediate
2.No credit card or instant payment needed to book.
3.We'll send you an email confirming your details of
reservation/payment
Dehradun is a small city nestled in the foothills of the Shivalik ranges in the Garhwal region of Uttarakhand and the best way to experience the city is with our one-day Dehradun local sightseeing tour by private car. Ganga and Yamuna are two perennial rivers flowing through the city. Dehradun also holds immense significance as one of the most well-known educational hubs in India thanks to its prestigious Doon School and Military Training College. The capital city of Uttarakhand, as it should be, is well connected by road, rail, and air and also functions as a gateway to nearby tourist destinations such as Mussoorie, Auli, Haridwar, Rishikesh, and the pilgrimage circuit of Chota Char Dham as well as other North Indian states. Other than being blessed with a terrain of valleys, streams, forests, and good weather, Dehradun is also home to a number of Hindu temples, Buddhist monasteries, and other religious convention centers.
Where
Dehradun Sightseeing Trip
Dehradun, Uttarakhand, India 248001
Dehradun, Uttarakhand, India
When
26 Jul 2025, 06:00 AM
Till
26 Jul 2025, 08:00 PM
Organizors & Pubslished by holidaylandmark
Contact:

Email:- contact@HolidayLandmark.com | Phone:- 7739774984 | You Tube |Instagram | WWW | Facebook

Day 1 :
Dehradun, Uttarakhand, India
Click Here
1. Fort St. George
Time: 08.00 AM
First up on the local Dehradun sightseeing tour is the Tibetan Buddhist Temple in Dehradun, which is one of the six major monasteries of the Nyingma School in Tibet. The Mindrolling Monastery was established in 1676 by Rigzin Terdak Lingpa. It was then re-established in Dehradun by Khochhen Rinpoche in 1965. The monastery attracts tourists, and photography enthusiasts and is also a major Buddhist pilgrimage spot. Within the monastery complex, you will also find The Ngagyur Nyingma College which is a center for advanced Buddhist studies for pupils who aim to become monks or scholars of Buddhism.

2. Zonal Museum
Time: 09.30 AM
The Zonal Anthropological Museum of Dehradun is one of the most visited tourist destinations in the city. The museum is located at a distance of 500 meters from the Forest Research Institute and is 5 KM away from the city's railway station on NH-72. This noteworthy museum was founded in the year 1971. The museum has put on display an impressive collection of notable artifacts relating to the origin, development, and sustenance of humankind on earth. The museum pays tribute to Uttarakhand's, Central, and Western Himalayas' older living conditions and the traditional customs of its people.

3. Robber's Cave
Time: 10.30 AM
Robber's Cave is a river cave located approximately 8 kilometers from Dehradun in the Himalayas. Robber's Cave is a marvelous natural formation where river water flows through the middle of a cave. A short trek of about 1 KM through the Anarwala village will lead to this gorgeous place and the private sightseeing car will take you up to the village. It is a perfect location for photography, picnics, and sighting of local flora and fauna. You may also know Robber's Cave as Guchhupani and locals believe it to be the home of Lord Shiva.

4. Forest Research Institute
Time: 11.30 AM
Forest Research Institute of Dehradun was established in the year 1906 and inaugurated as an institution in 1929. This imposing Colonial and Greco-Roman building is spread over an area of 4.5 KM square feet. It is a premier institution in the field of forestry research in India and has trained several forest officers and rangers in the country. Set against the serene backdrop of the Doon Valley, Forest Research Institute is also an important tourist destination for the one-day Dehradun private tour. Due to its iconic architecture, the institute has also starred in a number of Bollywood movies such as Rehna Hai Tere Dil Mein, Paan Singh Tomar, and Student of the Year among many many others.
5. Indian Military Academy
Time: 12.30 AM
One of the grandest and most significant spots on the local Dehradun private sightseeing tour is the Indian Military Academy, located in the foothills of the Himalayas at only a distance of 8 KM from Dehradun. The campus is located on NH-72, which also separates the North and South campuses. The campus is enormous in size and occupies an area of 1400 acres. The Chetwode Hall was built in 1930 and is the hub of academic training. It has lecture halls, computer labs, and a cafe. The Central Library of Chetwode Hall has an impressive collection of 100,000 volumes and subscriptions to numerous periodicals from all across the world. Try to pay a visit to the multimedia library too.

6. Tapkeshwar Mahadev Temple
Time: 02.30 PM
For the holy Spirit, we have the Tapkeshwar Mahadev Temple next up on the Dehradun private tour by car and it is located at a distance of only 7 KM from the Dehradun town center. The temple is actually a humble cave shrine dedicated to Shiva. The Shiva Linga of Tapkeshwar Mahadev is believed to grant the wishes of all devotees. You may also know this temple as Drona Cave for it is believed that the cave was once inhabited by Guru Dronacharya.

7. Shopping and Eating at Rajpur Road
Time: 03.30 PM
Look for Kandalee saag, Gahat Dal and Aloo ke Gutke, and sweets such as Bal Mithai, Arsa, Jhangora ki Kheer, and others while you are trying out the local cuisine in Dehradun. Other than these, there is also a wide range of Indian, Tibetan, Chinese and Continental foods to choose from! While you are in Dehradun, remember to stop at Rajpur Road to shop for spices, artifacts, woolens, and souvenirs.

8. National Adventure Sports Academy
Time: 04.30 PM
Soar high into the infinite sky whilst enjoying panoramic views of the valley. Aerial views of the enchanting beauty of Mussoorie, Chakrata, Tehri, and Rishikesh are absolutely spellbinding and cannot be missed from the list of things to do in Dehradun. You can enjoy paragliding on your way from Dehradun to Mussoorie. You will have the time of your life here and will leave the destination deeply satisfied.

9. Regional Science Center – Fun And Educational Tour
Time: 05.30 PM
This Science park is a great place to explore, especially when you're traveling in the city of Dehradun with kids. The Regional Science Center is home to the Himalayan Gallery, Dinosaurs Park, 3D Theatre, a library, an exhibition hall as well as an auditorium. For a hassle-free experience, you must make online registration.

10. Daat Kali Temple – Witness The Devotion
Time: 06.30 PM
For a memorable religious travel experience in the city of Dehradun, you must visit this magnificent temple. When it comes to religious spots, it is considered to be one of the best tourist places in Dehradun. The temple is diligently visited by devotees all around the year.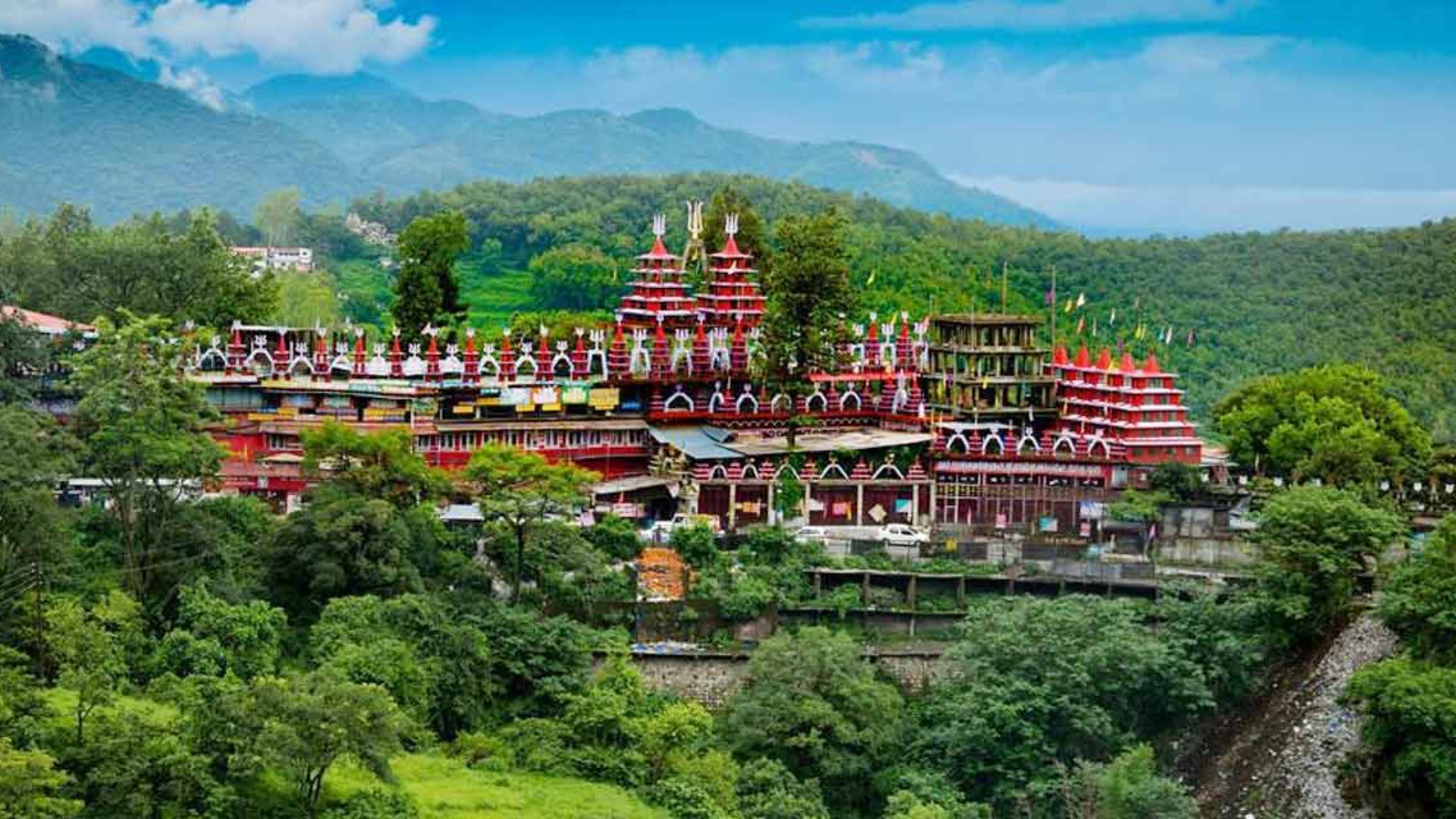 Book special 1Days
Dehradun Sightseeing Trip packages in INR 3000
incl. direct flights, airport transfers, premium stays & more.4>
Dehradun is among the highly recommended tourist places in Uttarakhand, which lies at the foothills of the Himalayas with two eternal rivers (Ganga and Yamuna) flowing through it. Dehradun is famous for its various educational institutes, pleasant climate, historic civilization, and various adventurous options it offers. It is a perfect picnic spot with parks, peaceful places, gardens, and wonderful landscapes. There are numerous places to see in and around Dehradun like Sahastradhara, Mindrolling Monastery, Robber's cave, Fun Valley, Har ki Dun, Lacchiwalla, Malsi Deer Park, Tapkeshwar temple, and lots more which are visited regularly by local peoples and travelers. Except for this, there are more places and tourist spots in Dehradun to explore. One day would not do justice to this beautiful destination but if you want to explore Dehradun as much as possible in one day then here is complete.
Trip Payment Cancallation & Refund Information
Payment Terms & Conditions
Travelers are requested to follow the given itinerary for 1 Day Dehradun Sightseeing Trip package. Ideally, this 1-day Dehradun Sightseeing Trip package can not be customized, however, if guests prefer to visit a different set of places in the Dehradun Sightseeing Trip, they can check the possibility of the same with the listed car rental companies and request a custom quote.
Payment Modes (1000 characters limits)
Online Mode and Offline mode both
Cancellation and Refund Policy: (1000 characters limits)
Please also note that if a particular Dehradun Sightseeing Trip package is closed on the scheduled day of the tour, it will not be covered from the list of sightseeing places. Please check the possibility of visiting an alternate place with a cab vendor before you book the tour.
Already Have An Account?Log In
You Have don't An Account? Sign Up
You Have don't An Account? Sign Up
You Have don't An Account? Sign Up