Agra Sightseeing Trip
Agra Sightseeing Trip
1.Confirmation is immediate
2.No credit card or instant payment needed to book.
3.We'll send you an email confirming your details of
reservation/payment
Situated on the banks of Yamuna, Agra is the pristine land of the nation's rich heritage and glorious history with spectacles of Mughal-era buildings including the symbol of love – the Taj Mahal. Agra offers glimpses of the Mughals like no other city and is a testimony to their rich art and architectural inclinations. And if you are somebody who enjoys the rich heritage and history of India, a one-day Agra tour should be a part of your bucket list. Its History is amply evident from the number of historical sites in and around the city. A ten-day Annual carnival 'Taj Mahotsav' is celebrated with great fervor and a new theme every year. Holidays are right around the corner and if you're planning to take a recreational break and make the best of your day and money in Agra, we are right there at your service with One-day Local Sightseeing Tour around the city with the comfort of a private car.
Where
Agra Sightseeing Trip
Agra, Uttar Pradesh, India 282003
Agra, Uttar Pradesh, India
When
21 Dec 2024, 06:00 AM
Till
21 Dec 2024, 08:00 PM
Organizors & Pubslished by holidaylandmark
Contact:

Email:- contact@HolidayLandmark.com | Phone:- 7739774984 | You Tube |Instagram | WWW | Facebook

Day 1 :
Agra, Uttar Pradesh, India
Click Here
1. Taj Mahal, Agra
Time: 08.00 AM
The Taj Mahal is a magnificent monument and a tribute to Mumtaz, who was the dear wife of Shah Jahan. Mumtaz died in 1631 and the Taj Mahal is a reminder of her death. The prayer room, museum, monument, and garden are the top things to enjoy here. The best time to visit this place is at sunrise or in the evening, under the moonlight. It takes about two hours to go through everything thoroughly, and it takes 17 minutes to reach the Taj Mahal from Agra. The best way to reach it is by car or cab. You can buy a skip-the-line ticket in advance.

2. Mehtab Bagh, Agra
Time: 09.00 AM
Emperor Babur, the First Mughal Emperor of India, had built a series of 11 gardens in the eastern floodplains of the River Yamuna. The first of these gardens being the Ram Bagh and the last is the Mehtab Bagh. The Crescent-shaped garden was discovered to be the perfect viewing point for the Taj Mahal by Emperor Shah Jahan and then was reconstructed as the Mehtab Bagh or the Moonlight garden. It was then, that the garden was also installed with walkways, pools, pavilions, fountains, and fruit trees.

3. Red Fort / Lal Qila, Agra
Time: 10.00 AM
The Next location of your One Day Agra Tour will be the Red Fort or Lal Qila is about 2.5 km northwest of its sister monument Taj Mahal. Built-in Redstone by Mughal Emperor Akbar, it has several fascinating accounts of history associated with it. Often described as a palatial city, it comprises exquisite sections of Sheesh Mahal (Glass Palace), Jahangir's Palace, Diwan-i-Am (Hall of public and aristocracy interaction), Diwan-i-Khas(Hall of private audience), Mina Masjid (Heavenly Mosque) and Nagina Masjid (Gem Mosque).

4. Tomb of Itmad-ud-Daulah, Agra
Time: 11.00 AM
Agra is home to another beauteous Mughal mausoleum, the Tomb of Itmad-ud-Daulah. Often referred to as the "jewel box" or "Baby Taj", it is the resting place of Mirza Ghiyas Beg, the grandfather of Mumtaz Mahal and the first Mughal structure built completely from marble. The edifice is famous for its ravishing details and architecture, its walls are made up of white marble from Rajasthan and encrusted with beautiful semi-precious stone decorations.

5.Sikandra Fort, Agra
Time: 12.00 PM
Sikandra Fort is yet another worth visiting and the final location of your one-day local tour in Agra. Built by Akbar and his resting place too, it resonates a perfect blend of Hindu, Christian, Islamic, Buddhist, and Jain themes. The strikingly bold decoration with large mosaic patterns on the gateways is a great specimen of Mughal art. These gateways present an impressive hybrid of different architectural styles. The Main Tomb has a unique square design and shape of a truncated pyramid which is unparalleled by all other Mughal buildings. The splendid gateways with four intricately carved minarets, beautiful stucco paintings, and the outlying gardens certainly make it a grand visit. You'd like to click pictures of this great legacy of the Mughal emperor Akbar.

6. Chini Ka Rauza
Time: 02.00 PM
Chini Ka Rauza is another architectural masterpiece of the Mughals and a piece of original Persian architecture in the city. It is dedicated to the Persian poet and scholar Allama Khan Mullah Shukrullah of Shiraz who later became the PM of Shah Jahan. It is located 4 km away from Agra Fort and the best way to reach it is by car or cab.

7. Mankameswar Temple
Time: 03.00 PM
Mankameshwar Temple is one of the ancient temples dedicated to Lord Shiva. According to Hindu mythology, it is believed that Shiva Linga in the temple was created by Lord Shiva himself when Lord Krishna was born in Mathura. People must wear traditional Indian clothing only, namely dhoti and sari. During Sawan month, Monday is luck and therefore the majority of believers worship Lord Shiva on that day. It is 5 km from the Agra Cantonment train station and 1 km from Agra Fort.
8. Fatehpur Sikri, Agra
Time: 04.00 PM
Fatehpur Sikri is a pre-historic city that has supported many civilizations through the ages. It is located beside a lake, which has now almost dried up. Many artifacts from different historical ages have been found at the site. Fatehpur Sikri has also been a Mughal site of great significance to the Mughal Empire, under the rule of Emperor Akbar, who lived here for 13 years after the birth of his son, Salim, who later came to be known as Jahangir, the fourth Emperor of the Mughal Dynasty.
9. Shree Krishna Janmbhoomi Temple, Mathura
Time: 05.00 PM
Mathura is the home city of Lord Krishna's birthplace and is considered to be a sacred land by all of his followers for this reason. This temple is situated very close to the prison cell where Lord Krishna is famed to be born to Lady Devki. It is one of the most frequently visited Hindu temples. Each year many pilgrims come to pray at the temple. The Temple is said to have been demolished and reconstructed 17 times over the course of time. There are many more myths and beliefs that circle around the existence of the temple.

10. Banke Bihari Temple, Vrindavan
Time: 06.00 PM
Vrindavan, also known to be the sacred twin city of Mathura is known to be the city where Lord Krishna grew up according to Hindu Mythology. Banke Bihari Temple is the most famous temple of Vrindavan and has the idol of Lord Krishna's Baal Roop or the childhood form. Unlike other Hindu temples, the drapes before the idol of Banke Bihari (Lord Krishna) are not left open but are pulled shut from time to time. It is believed that the idol's eyes can make people become unconscious if stared into for too long, thus, for prevention, the drapes are shut ad then opened from time to time.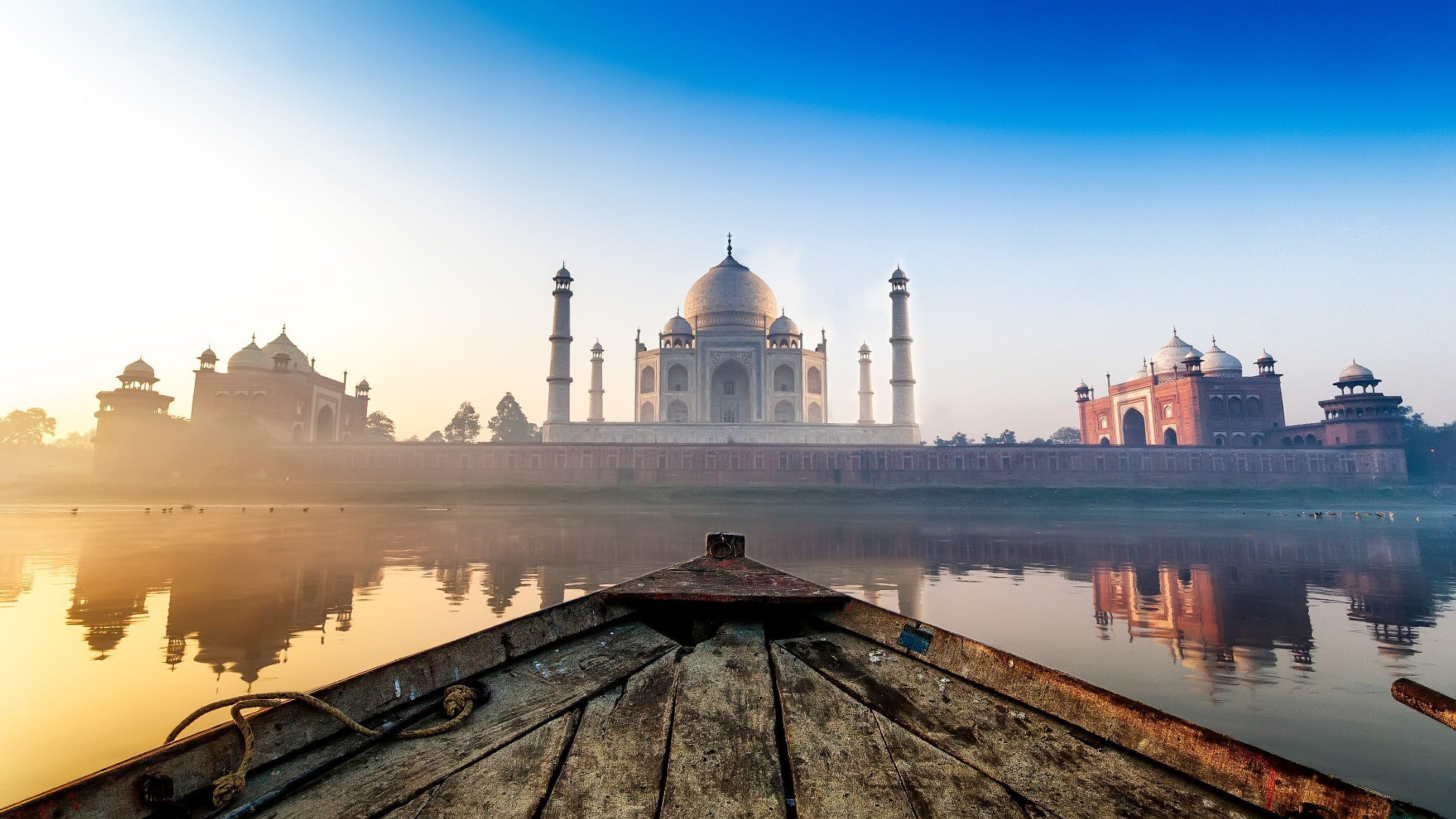 Book special 1Days
Agra Sightseeing Trip packages in INR 3000
incl. direct flights, airport transfers, premium stays & more.4>
The first word that comes to your mind when someone talks about India is the Taj Mahal, one of the seven wonders of the world, and various monuments; built by various dynasties who ruled the country. If you are running short on time and want to explore Agra in one-day sightseeing tour is the best option. Completely guided day trip to Agra from Delhi for a fascinating experience where you will not only see the Taj Mahal but will see the original Agra of the Mughal era. We have hand-crafted this rich heritage experience with awesome stories to understand a city's existence, diverse architectural style, tradition, and religious legacy. Experience the history that they represent from where they stand with our English speaking guide and delight with amazing glimpses of the vintage Agra.
Trip Payment Cancallation & Refund Information
Payment Terms & Conditions
Travelers are requested to follow the given itinerary for 1 Day Agra Sightseeing Trip package. Ideally, this 1-day Agra Sightseeing Trip package can not be customized, however, if guests prefer to visit a different set of places in the Agra Sightseeing Trip, they can check the possibility of the same with the listed car rental companies and request a custom quote.
Payment Modes (1000 characters limits)
Online Mode and Offline mode both
Cancellation and Refund Policy: (1000 characters limits)
Please also note that if a particular Agra Sightseeing Trip package is closed on the scheduled day of the tour, it will not be covered from the list of sightseeing places. Please check the possibility of visiting an alternate place with a cab vendor before you book the tour.
Already Have An Account?Log In
You Have don't An Account? Sign Up
You Have don't An Account? Sign Up
You Have don't An Account? Sign Up