Rameswaram City Tour
Rameswaram City Tour
1.Confirmation is immediate
2.No credit card or instant payment needed to book.
3.We'll send you an email confirming your details of
reservation/payment
Nestled in Tamil Nadu, Rameswaram is one of the most sacred sites in India that captivates pilgrims and other tourists from far and wide. The destination is mostly known for its marvellous Ramanathaswamy Temple and other such holy spots. Apart from temples and shrines, the place is renowned for its scintillating beaches that enhance its overall charm. It makes a perfect getaway for those who are in search of spirituality and tranquillity. With the Rameswaram tour packages, you can embark on a soulful journey and explore the charm of this peaceful destination. From nature walks, jungle safaris to water sports activities at the beach, everything can be enjoyed at Rameswaram with Rameswaram tour packages. So, if you are seeking refuge from the hustle and bustle of city life, plan a visit to this gem in Tamil Nadu and create memories for a lifetime.
Where
Rameswaram City Tour
Rameswaram, Tamil Nadu 623526, India 623526
Rameswaram, Tamil Nadu, India
When
26 Apr 2025, 06:00 AM
Till
26 Apr 2025, 08:00 PM
Organizors & Pubslished by holidaylandmark
Contact:

Email:- contact@HolidayLandmark.com | Phone:- 7739774984 | You Tube |Instagram | WWW | Facebook

Day 1 :
Rameswaram, Tamil Nadu, India
Click Here
1. Ramanathaswamy Temple
Time: 08.00 AM
One of the most-visited attractions of the Rameswaram tour is Ramanathaswamy Temple. Dedicated to Lord Shiva, the Ramanathaswamy Temple is a famous Hindu shrine that is widely known for its historical significance and has 22 Cheetham where you can take a bath to get rid of your sins. Sprawling over an area of about 15 acres of land, the temple has a mind-boggling architecture with majestic towers, vast corridors and a unique structure that draws tourists from different aspects of life. Like other temples in South India, this temple is also surrounded by huge walls to protect it from all 4 sides.

2. Jada Tirtham
Time: 09.00 AM
Another point of interest in Rameswaram is Jada Tirtham. Perched on the way to Dhanushkodi, Jada Tirtham is a large water tank that is encompassed by lush green trees and has its own mythological importance among people who are the true believers of Lord Rama. It is believed that after killing Ravana, Lord Rama and his brother Lakshmana visited this place to worship Lord Shiva. Before doing so, they washed off their hair (Jada) in this pond. This act was done in order to purify themselves from the sins they may have committed during the fight. Since then, the temple is named Jada Tirtham.

3. Ariyaman Beach
Time: 10.00 AM
Enjoy a mix of sun, sea and sand on your 1-day tour to Rameswaram at Ariyaman Beach. Also referred to as Kushi Beach, Ariyaman Beach is a great place to spend some moments in a tranquil setting. It is just 11 km away from the centre of the town. Encompassed by lush green trees, gentle soothing waves, clean waters and a long stretch of white sand, the beach offers a delightful experience to captivate the interest of tourists. Relax on the sun loungers, unwind under the parasols or simply sit back after taking a splash in the swimming pool. For children, there is a play area with plenty of rides to play and for adults, there are various kinds of water sports such as boating, windsurfing and parasailing, giving visitors numerous options to entertain themselves.

4. Sea World Aquarium
Time: 11.00 AM
Last but not the least, the Sea World Aquarium, situated opposite to Rameswaram Bus Stand, offers a perfect opportunity for all those who are interested in knowing about the marine life under the sea. It is indeed an unmissable attraction for both locals and travellers. Home to a vast collection of sea creatures, the Sea World Aquarium allows people to have a gala time observing the movements of clown fish, snake fish, octopus, crab, parrot fish, lionfish, prawn, lobster, beach time, rabbit fish and many more. Other than that, the aquarium also displays a variety of shells that you can bring back home to cherish your visit forever!

5. Lakshmana Tirtham: Praise The Architecture
Time: 12.00 PM
This is one of those popular places to visit in Rameswaram and around that are spiritually and architecturally attractive. If you wish to soak in more bliss while you're out and about in the serene land of Rameswaram, this is the place to be. Being famous as a sacred pond near the temple of Lakshmana, this place is situated in close proximity to the glorious Ramanathaswamy Temple. People visiting the Lakshmana temple, often prefer to take a dip in this pond.

6. Adam's Bridge: Most Popular Ram Setu
Time: 02.00 PM
You cannot miss this unique place on the Rameswaram tourist places map. The Adam's Bridge or Rama Setu is a historic bridge connecting the Rameswaram island of India to the north-western coast of Sri Lanka. The bridge is a network of limestone shoals that start from Dhanuskodi, the tip of India's Pamban Island, which in turn is connected to the Indian mainland by a 2 km long bridge. Always a topic of hot debate among historians and archaeologists, the bridge is among the most preferred tourist places in Rameswaram. It is one of the most boosted places by Rameswaram tourism due to its geographical and religious significance amongst tourists.

7. Kalam National Memorial: To Honour APJ Abdul Kalam
Time: 03.00 PM
Kalam National Memorial was built in honour of India's great leader and renowned scientist, Dr APJ Abdul Kalam. This great personality always reflected simplicity, calmness and depth which is excellently showcased in his memorial. It is one of the most important places to visit in Rameswaram and attracts tourists from all over the world to witness India's diversity. The memorial has an impressive collection of Mr Kalams including replicas of missiles, information about the Pokhran Nuclear Test. and rockets. The place is a beautiful blend of Mughal and Indian architecture.
8. Kunthu Kal Beach: Perfect Spot To Laze Around
Time: 03.00 PM
Kundu Kal Beach, located on Pamban Island in the Indian Ocean is one of the most famous places to visit in Rameswaram. This beach is regarded as a paradise of Tamil Nadu and the tranquil seashore is a delight for beach lovers. The beautiful location of turquoise waters, serenity and mesmerizing natural flourish attracts tourists every year. The beach is a perfect spot regardless of what you are looking for – watersports, romance, leisure or perfect delight.

9. Nambu Nayagiamman Temple: A 14th-Century Temple
Time: 04.00 PM
Located at a distance of 8km from the Ramanathaswamy Temple, Nambu Nayagiamman Temple is a 14th-century temple dedicated to Lord Rama. Many tourists are drawn to the temple because of the peace the place provides and the splendid architecture with beautiful lawns. Nambu nayaki Amman is considered the protecting goddess of the south direction. The temple is managed by the locals in the area. Local transportations are easily available from the main city to visit this temple.
10. Jada Tirtham: Famous For The Artistry
Time: 05.00 PM
Jada Tirtham is a small temple and holds its own mythological importance. Constructed near the trunk of a large peepal tree, the temple hosts two grand events – the Maha shivarathiri (once every year) celebration and Maha Makam (Once in 12 Years). The temple is a tremendous work of outstanding artistry and is famous for its beauty and uniqueness. This temple marks one of the most important places to visit in Rameswaram for a pilgrimage.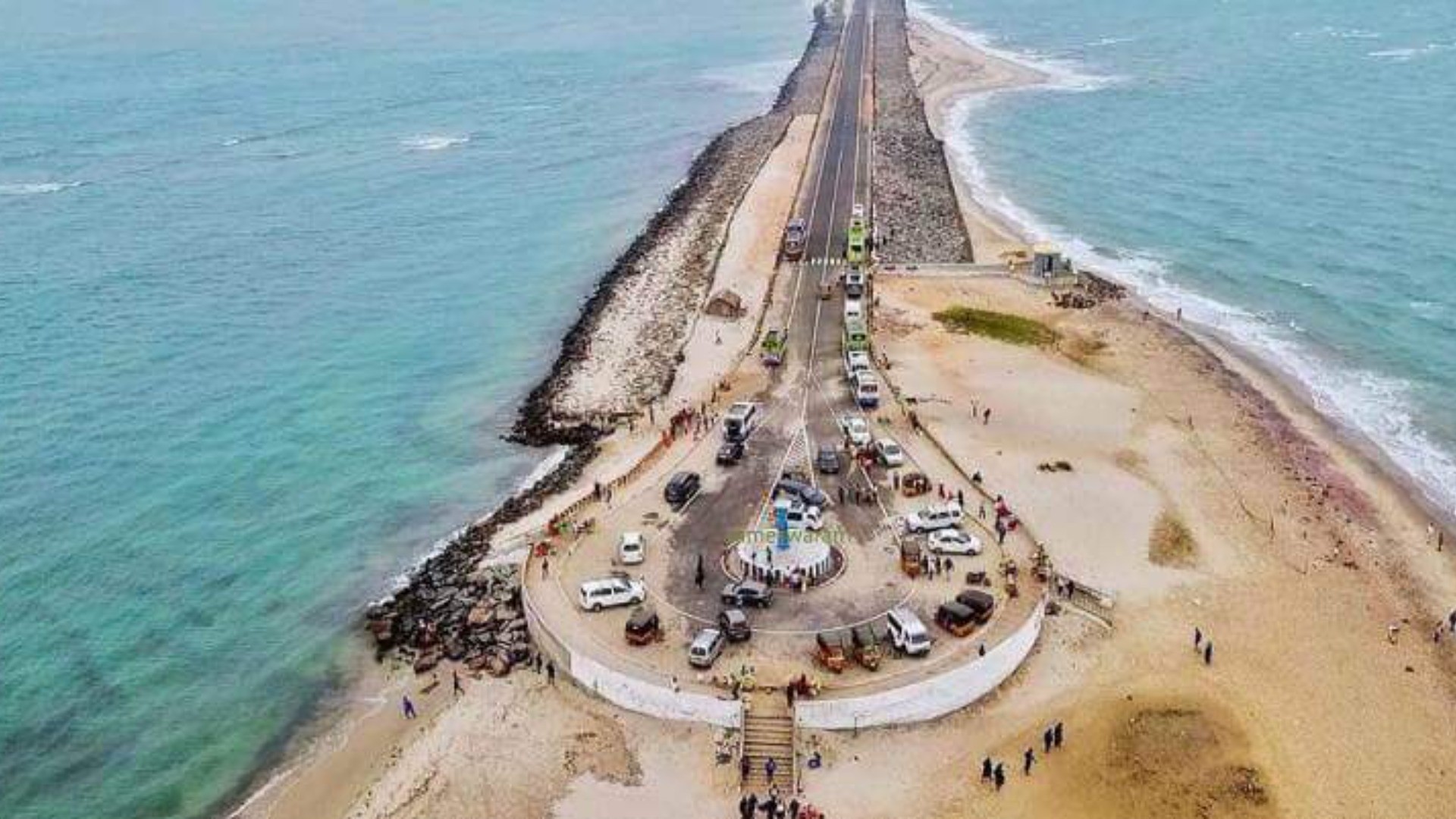 Book special 1Days
Rameswaram City Tour packages in INR 3000
incl. direct flights, airport transfers, premium stays & more.4>
Rameswaram Tourism is not for only religious visit; along with many prominent shrine, its scenic beauty and architectural excellence of temples allures everyone. The most popular place to see in Rameswaram is Sri Ramanathaswamy Temple. Its high religious significance along with marvelous structure captivates everyone. This temple has 22 holy theertham or wells. It is believed that bathing in all these 22 theertham along with a darshan of the Lord Ramanatha Swamy at the temple will free a person from his/her all the sins. Along with this temple, other ancient shrines in Rameswaram are Kothandaramaswamy Temple, Agnitheertham, Dhanushkodi, Gandamadana Parvatham and many more. Ariyaman Beach, Pamban bridge and Adam's Bridge or Rama Sethu are also worth visiting.
Trip Payment Cancallation & Refund Information
Payment Terms & Conditions
Travelers are requested to follow the given itinerary for 1 Day Rameswaram City Trip package. Ideally, this 1-day Rameswaram City Trip package can not be customized, however, if guests prefer to visit a different set of places in the Rameswaram City Trip, they can check the possibility of the same with the listed car rental companies and request a custom quote.
Payment Modes (1000 characters limits)
Online Mode and Offline mode both
Cancellation and Refund Policy: (1000 characters limits)
Please also note that if a particular Rameswaram City Trip package is closed on the scheduled day of the tour, it will not be covered from the list of sightseeing places. Please check the possibility of visiting an alternate place with a cab vendor before you book the tour.
Already Have An Account?Log In
You Have don't An Account? Sign Up
You Have don't An Account? Sign Up
You Have don't An Account? Sign Up