Ooty City Tour
Ooty City Tour
1.Confirmation is immediate
2.No credit card or instant payment needed to book.
3.We'll send you an email confirming your details of
reservation/payment
Ooty is one of the best destinations in our country for vacation, if you want some time out of your busy schedule and want to relax in the lap of nature. That is the reason Ooty attracts maximum number of tourists, it has everything to offer a tourist like ideal climate, greenery, waterfalls, boating, trekking, thick forests and so on to forget all about your tensions and stress. Depending upon your budget and number of days you can have for your vacation, you can select your Ooty tour packages. Let it be 1 Day tour plan or more, you can easily customize the package. Depending on your budget and number of people coming for the tour, you can select different facilities in your package like hotels you want stay and the kind of vehicle you want for sightseeing. Once the tour package is selected and payment is made then you don't have to worry about any other extra charges like parking or driver charges, you just enjoy the moment with your loved ones.
Where
Ooty City Tour
Ooty, Tamil Nadu, India 643001
Ooty, Tamil Nadu, India
When
23 Mar 2024, 06:00 AM
Till
23 Mar 2024, 08:00 PM
Organizors & Pubslished by holidaylandmark
Contact:

Email:- contact@HolidayLandmark.com | Phone:- 7739774984 | You Tube |Instagram | WWW | Facebook

Day 1 :
Ooty, Tamil Nadu, India
Click Here
1. Mudumalai National Park, Ooty
Time: 08:30 AM
Start your captivating one-day trip to Ooty with a visit to the Mudumalai National Park which abounds with varied flora and fauna. Spread over an area of 103.24 sq km the park is rich with extraordinary wildlife and houses 55 species of mammals. Venturing into the Park that houses 266 species of birds, endangered species of the Indian elephant, Bengal Tiger, gaur, Indian leopard, 34 species of reptiles, 50 species of fishes, and 21 species of amphibians is an unforgettable experience, especially for the wildlife seekers. Hosting 48 tigers it has been declared a tiger reserve in 2007. Birdwatchers would be fascinated by spotting impressive birds like the Malabar Grey Hornbill and the White-bellied Woodpecker. Witnessing the amazing wildlife amidst the thick foliage that has been divided into five ranges namely Masinagudi, Theppakadu, Mudumalai, Kargudi and Nellakotta is a true spectacle.

2. Bandipur National Park Safari, Ooty
Time: 9:30 AM
Get close to the wild wonders in their natural habitat at Bandipur National Park, the next destination of the one-day trip to Ooty from Mysore. The park offers a close rendezvous with fascinating wildlife that includes jungle cat, Hanuman langur, four-horned antelope, cat leopard, striped hyena, giant flying squirrel, dhole, and Indian palm. Known for its dramatic beauty and natural diversity the park is home to more than 70 tigers, 3000 species of elephants, and 200 species of birds. It forms an integral part of the Nilgiri Biosphere Reserve along with the neighboring Mudumalai National Park and Nagarhole National Park. It is the largest habitat of wild elephants in South Asia.

3. Needle Rock View Point, Ooty
Time: 10:00 AM
The amazing viewpoint rewards every visitor with jaw-dropping views of the grasslands and the gentle valleys of the Nilgiris. Needle Rock viewpoint is also known as Oosimala, where Oosi means needle and malai means mountain in Tamil. The craggy conical-shaped rock located on Gudalur-Ooty National Highway provides dramatic views of the Mudumalai Forest Range.

4. Pykara Boat House, Ooty
Time: 11:00 AM
The most revered river of the Todas Pykara rises at Mukurthi peak and riding across the Pykara reservoir is an intriguing experience. The Tamil Nadu Tourism Development Corporation maintains a boat house with several boats for visitors to take a scenic ride across the Pykara reservoir. You can board on a 20 minutes motor boat or a ten minutes speed boat for a scenic voyage that makes for a cherished experience.

5. 9th Mile Shooting Point, Ooty
Time: 12:45 PM
A key highlight of the one-day trip to Ooty by private cab is the 9th Mile located just 9 miles from Ooty. A gentle walk over the green grasslands amidst the lush scenery is an intriguing experience. The imposing vantage point is more popular as shooting media as it is the favorite shooting spot for filmmakers. The striking place has been captured in several movies like Bombay, Deewana, and Raja Hindustani.

6. Ooty Botanical Garden
Time: 1:45 PM
The botanical garden divided into six sections accommodates more than a thousand species of plants, shrubs, ferns, trees, and herbal and bonsai plants. The garden well maintained by the horticulture department of the Government of Tamil Nadu has been organizing the annual flower show that draws a huge number of visitors. The 2-day event displaying a varied variety of plants, flowers, vegetables, and fruits offers garden lovers an enthralling experience.

7. Ooty Rose Garden
Time: 2:45 PM
The fragrant and colorful flowers including miniature roses, hybrid tea roses, yakimour, polyanthas, rambler roses, and floribunda roses of the meticulously maintained Rose Garden leave a mesmerizing effect on its visitors. The fascinating garden situated at an altitude of 2200 meters was established to commemorate the Centenary Flower Festival in 1955. Laid over 5 terraces dotted with arches, bowers, rose tunnels, pergolas and umbrellas is a true spectacle. The annual flower show organized by draws several visitors every year.

8. Ooty Lake / Boathouse
Time: 3:45 PM
One of the most visited attractions of town covered in the one-day trip to Ooty is the artificial Ooty Lake encircled by striking landscapes. The picturesque lake created by Mr. John Sullivan in 1824 provides ample opportunities for photo shoots. Visiting the pristine lake is fun with boating being the key recreational activity. The Tamil Nadu Tourism Development Corporation took possession of the lake in 1973 and has been maintaining a boat house for travelers to enjoy the captivating views of the charming landscape around the lake. Surrounded by eucalyptus trees and mist-cloaked mountains at the backdrop Ooty Lake is a must-visit sightseeing spot of Ooty.
9. Doddabetta Peak
Time: 4:45 PM
The Next stopover of the one-day trip to Ooty is Doddabetta Peak. Perched at a height of 2623 mts the mountaintop offers a fantastic view of the awe-inspiring countryside. The Tamil Nadu Tourism Development Corporation maintains a telescope house with two telescopes for the visitors to get up close to the astounding surroundings. Lying at the junction of the Western and the Eastern Ghats, the highest peak of the district provides you with a splendid panoramic view of the rolling hills, pine-studded forests, and sprawling tea plantations.
10. Ooty Tea factory
Time: 6:45 PM
The Rolling hills blanketed with tea gardens inspire every traveler visiting the serene place with its myriad of aromatic tea. Tucked in the Nilgiris, the sprawling tea plantation offers a delightful experience, especially to the tea connoisseurs on our day tour. You would be delighted to get introduced to the tea manufacturing process right from how the fresh tea leaves are plucked, weathered, and rolled to how they are dried.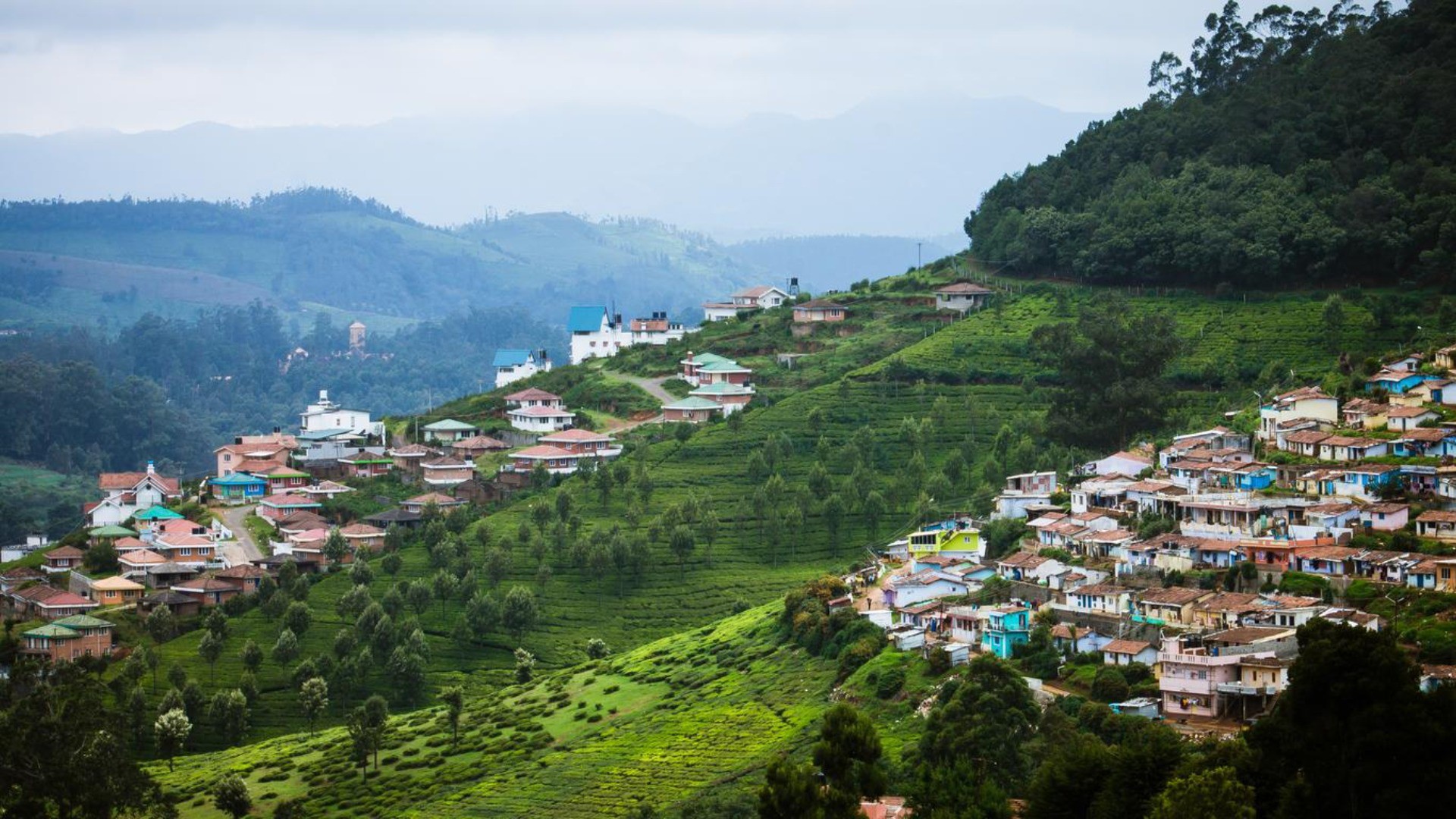 Book special 1Days
Ooty City Tour packages in INR 3000
incl. direct flights, airport transfers, premium stays & more.4>
Ooty, home to the Nilgiri mountains, is considered one of the most beautiful hill stations in India. Ranging from mountains, lakes, picturesque views, tea plantations, and whatnot, Ooty tour packages have everything in store for tourists. One will find a diversity of everything, from lively gardens to beautiful lakes, from scenic peaks to amazing museums and churches, and a lot more. Offering such a bevy of experiences, an excursion to this amazing hill station is a sure delight. And, when one opts for our Ooty packages which are again equipped with all the world-class facilities, there is no reason to further delay this journey. Go on an exciting journey with Ooty holiday packages and witness the most beautiful landscapes of India.
Trip Payment Cancallation & Refund Information
Payment Terms & Conditions
Travelers are requested to follow the given itinerary for 1 Day Ooty City Tour package. Ideally, this 1-day Ooty City Tour package can not be customized, however, if guests prefer to visit a different set of places in the Ooty city tour, they can check the possibility of the same with the listed car rental companies and request a custom quote.
Payment Modes (1000 characters limits)
Online Mode and Offline mode both
Cancellation and Refund Policy: (1000 characters limits)
Please also note that if a particular Ooty City Tour package is closed on the scheduled day of the tour, it will not be covered from the list of sightseeing places. Please check the possibility of visiting an alternate place with a cab vendor before you book the tour.
Already Have An Account?Log In
You Have don't An Account? Sign Up
You Have don't An Account? Sign Up
You Have don't An Account? Sign Up