Gangtok Sightseeing Trip
Gangtok Sightseeing Trip
1.Confirmation is immediate
2.No credit card or instant payment needed to book.
3.We'll send you an email confirming your details of
reservation/payment
Gangtok is the most bustling place in whole of Sikkim. It is perhaps the most friendly capital of a state anywhere in India. Gangtok City Tour is the best way to know more about the town. There are several attractions in Gangtok – natural formations, friendly people, authentic cuisines, distinctive culture and signs of a historical legacy. Gangtok, the capital city of Sikkim, constructed on a cloudy ridge, is located at an altitude of 5500 feet. With a spectacular view of Mount Khangchendzonga, the town provides the perfect base for travel through the state. Gangtok is used as a base for visiting several places in Sikkim, but Gangtok City Tour is also something all visitors look forward to. Gangtok has some exceptionally beautiful sightseeing spots. Here are the top attractions which should be explored during Gangtok City Tour.
Where
Gangtok Sightseeing Trip
Gangtok, Sikkim, India 737101
Gangtok, Sikkim, India
When
22 Feb 2025, 06:00 AM
Till
22 Feb 2025, 08:00 PM
Organizors & Pubslished by holidaylandmark
Contact:

Email:- contact@HolidayLandmark.com | Phone:- 7739774984 | You Tube |Instagram | WWW | Facebook

Day 1 :
Gangtok, Sikkim, India
Click Here
1. MG Marg
Time: 08.00 AM
First up on the Gangtok local sightseeing tour is MG Marg which is the main street of Gangtok town. It is a great place to chill and hang out with friends or family. It is India's first litter and spit-free zone. No vehicular traffic is allowed inside MG marg. You can sit at Titanic Park or at the various benches stretched across the mall and soak in the carnival-like jovial vibes, all throughout the year.

2. Tashi View Point
Time: 09.00 AM
A must-visit spot for all nature lovers, the next stop of your Gangtok 1-day tour by private cab is Tashi Viewpoint, located just 6 km away from Gangtok. Spectacular views of the Himalayan mountain range and the grandeur of the Siniolchu peak and Mount Kanchenjunga will be enough to woo the nature lover in anyone. You can visit the Labrang Monastery and Phodong Monastery as well, which are not very far from here.

3. Nathula Pass
Time: 10.00 AM
Counted among the highest motorable roads in the world, Nathu La pass is located at 14,450 feet above sea level; which makes it one of the must-visit places visit around Gangtok. This famous corridor is a part of the historical Silk Route, connecting India and Tibet. Nathu La is open for Indians only from Wednesday to Sunday and one needs to take an entry permit from the tourism department zonal office in advance. The war memorial and the exhibition center of the Indian Army are the major highlights here. This is indeed one of the best places to visit near Gangtok.

4. Himalayan Zoological Park
Time: 11.00 AM
Himalayan Zoological Park is certainly a place for wildlife lovers in Sikkim. The Park has been established, to preserve the wildlife, without disturbing the creatures and keeping them in their natural habitat. Located in Bulbuley, Himalayan Zoological Park is at a distance of 3 km from Gangtok. At an altitude of 1,780 meters, the Zoological Park also tenders a splendid view of Mt. Khangchendzonga. This Park sprawls in an area of 205 hectares in the mountainous terrain. The Park houses a variety of fauna species found in the Himalayas. Some of them are the Himalayan Monal Pheasant, Himalayan Red Panda, Snow Leopard Cat, Goral, Himalayan Palm Civet, Himalayan Black Bear, and Crimson-Horned Pheasant.

05. Tsomgo Lake: The Sparkling Glacial Lake
Time: 12.00 PM
Perched at 12,400 feet on the Gangtok-Nathula highway, Tsomgo Lake, or Changu Lake is popular for being the highest & most famous lake in India. This glacial lake that remains completely frozen during winter is certainly one of the most spectacular places to see near Gangtok. People love to indulge in yak rides & ice skating here or enjoy piping hot tea & instant noodles from the surrounding food kiosks.

6. Zuluk: Unconventional And Off-The-Wall
Time: 02.00 PM
A winding road with 32 hairpin bends will take you to Zuluk, one of the best places to visit near Gangtok. The picturesque hamlet of Zuluk is also a part of the historical Silk Route and offers a stunning view of Mount Kanchenjunga. Driving through this route is among the most enthralling things to do near Gangtok, and this indeed attracts adventure riders from across the world.

7. Lachung: The Riverside Hamlet
Time: 03.00 PM
located at an elevation of 8,610 feet, Lachung is a quaint hamlet that is often described as the most picturesque village of Sikkim and also as one of the best places to visit near Gangtok city. The hamlet lies on the banks of the river by the same name and allures foreigners & other tourists with its eternal charm, scenic beauty, and pristine landscape. The scenic splendor of this hamlet makes it among the loveliest places to visit in Gangtok in October, or in fact any other month!

8. Pelling: An Adventurous Wonderland
Time: 03.00 PM
One of the best places to visit in Sikkim, Pelling is adorned with sparkling waterfalls and lush green forests. But it has to be the amazing view of the mighty Himalayan ranges including the Kanchenjunga Peak from Pelling that will make your jaw drop in astonishment. Thanks to its easy connectivity this is among the popular places to visit near Darjeeling and Gangtok.

9. Yumthang: The Gorgeous Flower Valley
Time: 04.00 PM
Yumthang is a charming valley near Gangtok. Surrounded by snow-capped mountains, Yumthang valley is a natural habitat for exotic & rare species of wildflowers like cobra lilies, primrose, and louseworts. For the best views of the color riot on the flower beds and enjoyable trekking experiences, one must visit this gorgeous valley during the summer & spring seasons.

10. Phurchachu Reshi: Therapeutic Hot Springs
Time: 05.00 PM
Located by the River Ranjit near the Kadosangphu cave, Phurchachu Reshi Hot Spring is another famous tourist place in Sikkim. This thermal spring gushes out sulfur-rich water, which is said to have therapeutic values and skin disease healing properties. You can easily consider Phurchachu Reshi to be one of the best tourist places near Gangtok.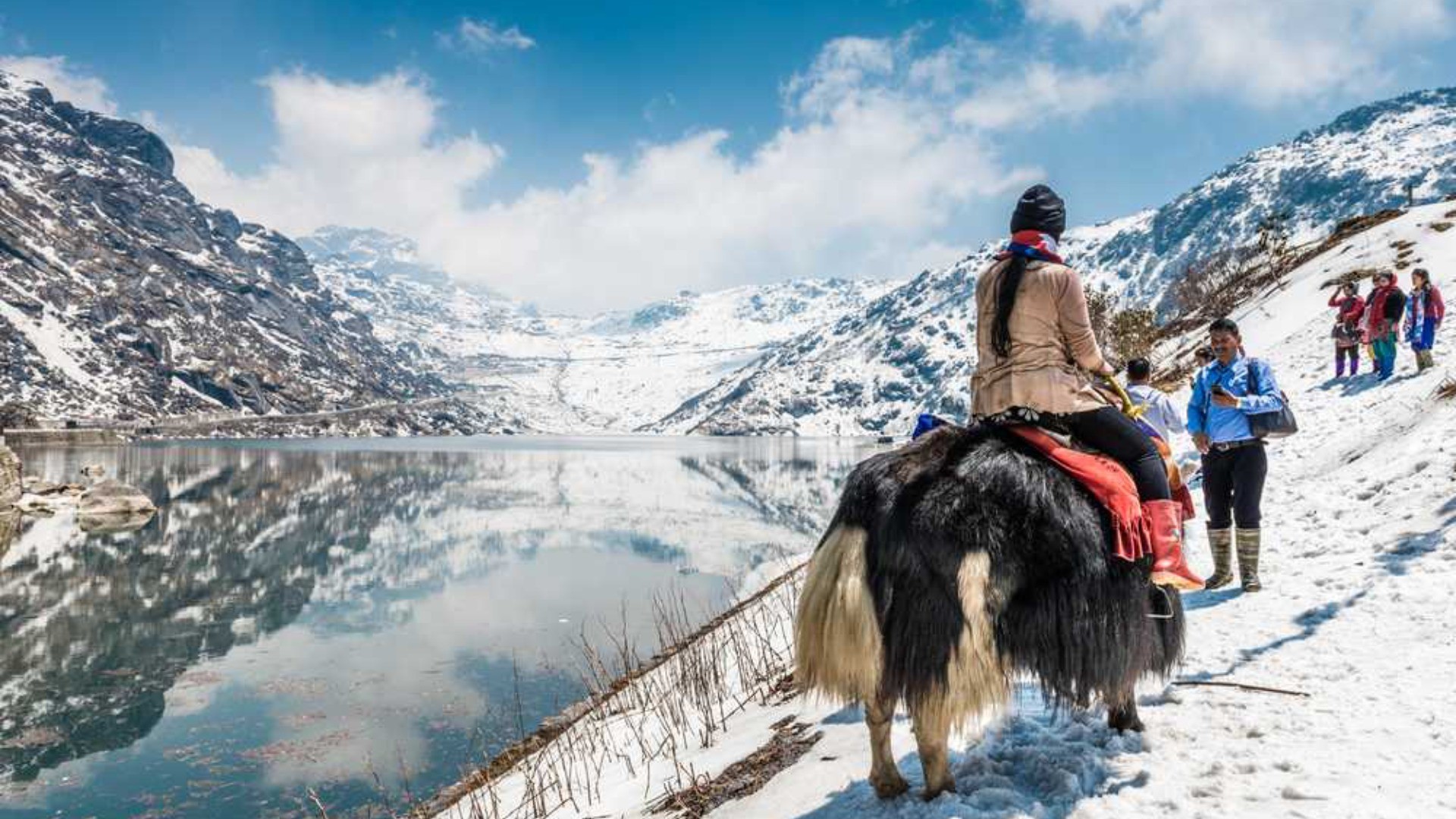 Book special 1Days
Gangtok Sightseeing Trip packages in INR 3000
incl. direct flights, airport transfers, premium stays & more.4>
If you are planning a fun trip to the alluring Sikkim capital, Thrillophilia has a wide range of easy and convenient Gangtok tour packages for you. Booking these packages with Thrillophilia offers you the opportunity to get a well-curated itinerary, a splendid accommodation option, a comfortable vehicle, delicious meals, a knowledgeable local guide/driver, well-planned sightseeing tours, and various outdoor activities. Not to forget, you also receive 24/7 travel assistance on the go from the team of Thrillophilia. No matter if you are planning your Gangtok tour with your family, kids, friends, or partner, you can get the perfect holidays crafted for your every mood with Thrillophilia. On your trip to this breathtaking hill station with these amazing Gangtok tour packages, you can explore the popular attractions of this stunning and upmarket destination.
Trip Payment Cancallation & Refund Information
Payment Terms & Conditions
Travelers are requested to follow the given itinerary for 1 Day Gangtok Sightseeing Trip package. Ideally, this 1-day Gangtok Sightseeing Trip package can not be customized, however, if guests prefer to visit a different set of places in the Gangtok Sightseeing Trip, they can check the possibility of the same with the listed car rental companies and request a custom quote.
Payment Modes (1000 characters limits)
Online Mode and Offline mode both
Cancellation and Refund Policy: (1000 characters limits)
Please also note that if a particular Gangtok Sightseeing Trip package is closed on the scheduled day of the tour, it will not be covered from the list of sightseeing places. Please check the possibility of visiting an alternate place with a cab vendor before you book the tour.
Already Have An Account?Log In
You Have don't An Account? Sign Up
You Have don't An Account? Sign Up
You Have don't An Account? Sign Up