Pushkar sightseeing trip
Pushkar sightseeing trip
1.Confirmation is immediate
2.No credit card or instant payment needed to book.
3.We'll send you an email confirming your details of
reservation/payment
Pushka is a small temple town located around 15 km from Ajmer in Rajasthan. A perfect choice for a weekend getaway from Jaipur, Pushkar has an array of cafes and hostels for a backpacking trip. Every November, Pushkar is host to the Pushkar Mela, one of the biggest camel fairs in the country. Known as the world's only dedicated Brahma temple, Pushkar is primarily a pilgrimage site for Hindus. Spend some evenings sitting at the ghats while sipping chai or taking a stroll through narrow alleys while listening to the chants from temples surrounding the ghats. A delight for street-shopping lovers, Pushkar has shops on the main street selling everything from silver oxidised jewelry to merchandise swaddled in various colors. The Pushkar Mela attracts millions of visitors from around the world. Thus, Pushkar has slowly evolved from a religious destination to a multi-cultural hotspot with travelers worldwide.
Where
Pushkar sightseeing trip
Pushkar, Rajasthan, India 305022
Pushkar, Rajasthan, India
When
25 Jul 2026, 08:00 AM
Till
25 Jul 2026, 08:00 PM
Organizors & Pubslished by holidaylandmark
Contact:

Email:- contact@HolidayLandmark.com | Phone:- 7739774984 | You Tube |Instagram | WWW | Facebook

Day 1 :
Pushkar, Rajasthan, India
Click Here
Day 1:
8:00 AM: Visit the Brahma Temple, the only temple in the world dedicated to Lord Brahma, the Hindu god of creation.
9:30 AM: Visit the Pushkar Lake, a sacred lake that is considered to be one of the five holiest places in Hinduism.
11:00 AM: Visit the Savitri Temple, a temple dedicated to Savitri, the wife of Lord Brahma. It offers a great view of the city and the lake.
12:00 PM: Have lunch at a local restaurant.
1:00 PM: Visit the Rangji Temple, a temple dedicated to Lord Rangji, an incarnation of Lord Vishnu.
2:30 PM: Visit the Man Mahal, a palace that was built in the 18th century and served as the residence of the Maharaja of Kishangarh.
4:00 PM: Visit the Gandhi Ghat, a place where Mahatma Gandhi's ashes were immersed in 1948.
5:00 PM: Visit the Pushkar Bazaar, where you can shop for traditional items such as textiles, jewelry, and souvenirs.
6:00 PM: Return to your hotel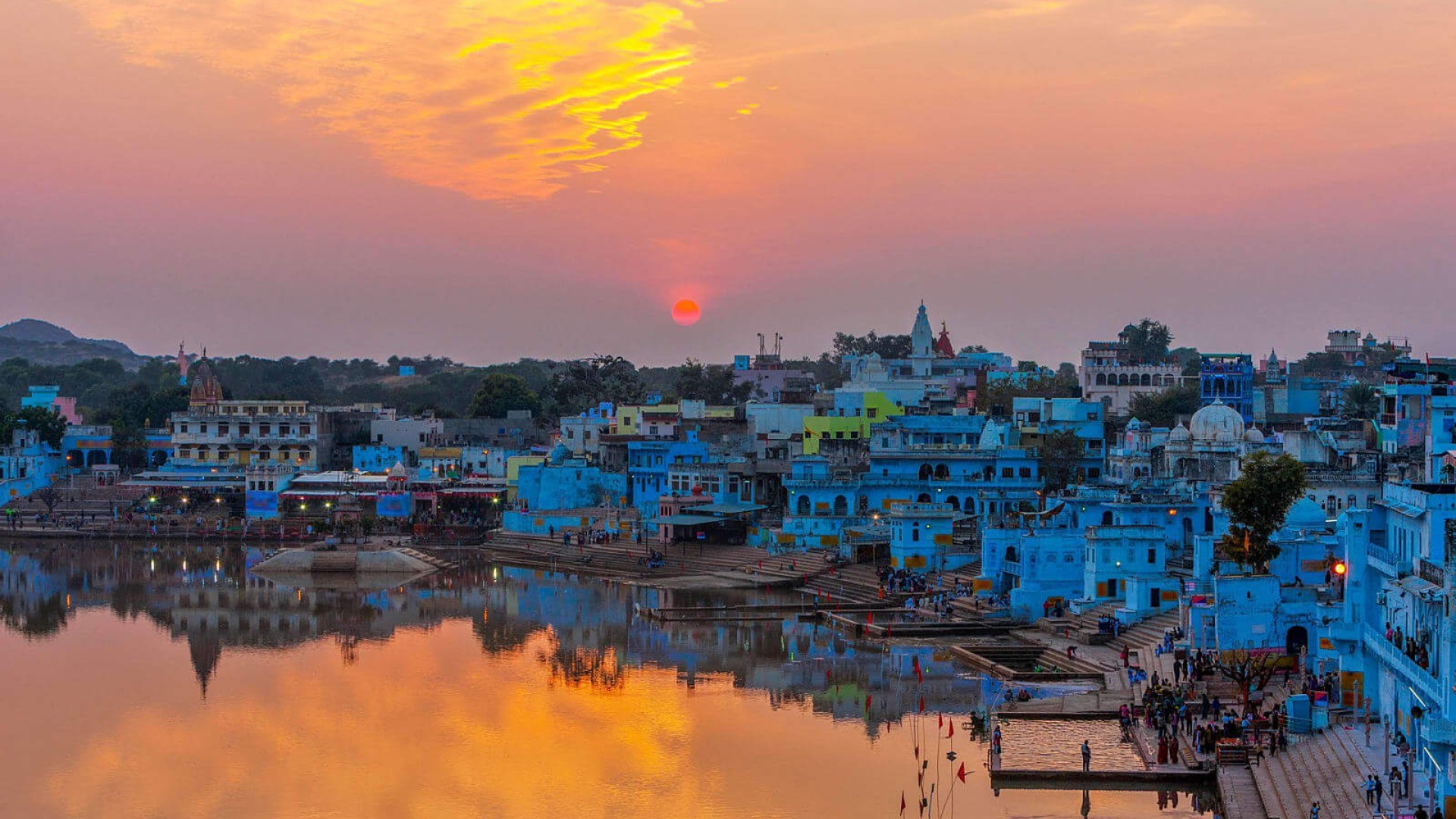 Book special 1Days
Pushkar sightseeing trip packages in INR 3000
incl. direct flights, airport transfers, premium stays & more.4>
Pushkar Lake is a holy lake for Hindus, located in the center of Pushkar Town. According to Hindu legends, the lake was formed by the falling petals of a lotus flower in the hands of Brahma. Hindus believe that bathing in the lake can cure diseases and even wash away sins. There are more than 400 Hindu temples scattered around Pushkar Lake, but only one is dedicated to Brahma, and it is the only one in the whole of India. If you want to fully appreciate the Hindu temples around Pushkar Lake, rent a bicycle and ride it slowly and enjoy the surrounding scenery.
Trip Payment Cancallation & Refund Information
Payment Terms & Conditions
Travelers are requested to follow the given itinerary for 1 Day Pushkar sightseeing trip package. Ideally, this 1-day Pushkar sightseeing trip package can not be customized, however, if guests prefer to visit a different set of places in the Pushkar sightseeing trip, they can check the possibility of the same with the listed car rental companies and request a custom quote.
Payment Modes (1000 characters limits)
Online Mode and Offline mode both
Cancellation and Refund Policy: (1000 characters limits)
Please also note that if a particular Pushkar sightseeing trip package is closed on the scheduled day of the tour, it will not be covered from the list of sightseeing places. Please check the possibility of visiting an alternate place with a cab vendor before you book the tour.
Already Have An Account?Log In
You Have don't An Account? Sign Up
You Have don't An Account? Sign Up
You Have don't An Account? Sign Up