Mahabaleshwar Sightseeing Trip
Mahabaleshwar Sightseeing Trip
1.Confirmation is immediate
2.No credit card or instant payment needed to book.
3.We'll send you an email confirming your details of
reservation/payment
Mahabaleshwar is a hill station located in Maharashtra. The climate in Mahabaleshwar is very normal all over the year. Mahabaleshwar Sightseeing Tour Packages are planned in such a way that you can see the best of natural beauty and architectural monuments. Major places to visit in Mahabaleshwar are Mahabaleshwar temple, Pratapgarh Fort, Venna lake, Panchgani, Authur's seat, Lingamala waterfalls, Elephant's head point, Panchganga temple, Mapro garden, On Wheelz amusement park and Velocity Entertainment. The city of Mahabaleshwar is a famous hill station that is quietly tucked amidst the Western Ghats. Located near Mumbai and Pune, this hilly city serves as a perfect getaway from monotonous city life. Zip through the town and its attractions at your own pace. Choose from multiple vehicle options available. Apart from the misty clouds, waterfalls, and green surroundings, visit the famous tourist attractions in the choice of your car.
Where
Mahabaleshwar Sightseeing Trip
Mahabaleshwar, Maharashtra 412806, India 412806
Mahābaleshwar, Maharashtra, India
When
24 May 2025, 06:00 AM
Till
24 May 2025, 08:00 PM
Organizors & Pubslished by holidaylandmark
Contact:

Email:- contact@HolidayLandmark.com | Phone:- 7739774984 | You Tube |Instagram | WWW | Facebook

Day 1 :
Mahabaleshwar, Maharashtra, India
Click Here
01. Elephant's Head Point
Time: 08.00 AM
As the name suggests, Elephant's Head Point is a mountain rock that has an uncanny resemblance to an elephant's head. Easily one of the best places to visit in Mahabaleshwar in one day, Elephant's Head Point offers a mesmerizing view of the Sahyadri Range. You can also catch a spectacular panoramic view of the Pratapgarh Fort flanked by the Koyna Valley on one side and the Savitri Valley on the other. With beautiful scenery and a peaceful environment, this hilltop offers the perfect escape from the chaos of daily life. Don't miss the amazing sunset.

02. Pratapgad Fort
Time: 09.00 AM
Looking for some beautiful historical places? Pratapgarh Fort is one of the best Satara tourist places that you mustn't miss. Well, the fort is completely suitable for clicking stunning pictures and photographs. Pratapgarh fort is quite nearby Mahabaleshwar, as being one of the most popular hilltops in Maharashtra. Astounding valleys, lakes and the entire city is visible from the hilltop of Pratapgad Fort.
A popular hill fort situated in Maharashtra's Satara district, Pratapgarh stands witness to the famous battle that was fought between the armies of Maratha king Chhatrapati Shivaji Maharaj and Adil Shahi General Afzal Khan and it is one of the best places for Mahabaleshwar one day trip.

03. Venna Lake
Time: 10.00 AM
A man-made lake spread over 28 acres, Venna Lake is one of the most scenic places to visit in Mahabaleshwar in one day. It was initially built to cater to the city's water needs. The lake also has a couple of pilgrimage spots submerged within 1-2 km. There's also a garden called 'Chhatrapati Pratapsinh' situated on its banks. The walk from the bus stop to the lake is bewitching. Go for boat rides and horse riding at the lake. Satisfy your hunger pangs at the eateries and restaurants nearby. Be sure to witness a stunning sunset by the lakeside.

04. Mapro Garden
Time: 11.00 AM
Mapro Gardens is one of the most famous places to visit in Mahabaleshwar in one day. Located in Panchgani, this garden park comprises a chocolate factory, restaurant, small nursery, children's play area, and a retail outlet that sells Mapro products. It also hosts the Strawberry Festival during the Easter weekend in March/April. Farmers from nearby villages open their farms to tourists and distribute strawberries for free. They also showcase unconventional strawberry-based products like strawberry pizza, strawberry bhel, and strawberry sandwiches among others. Several folk performances are also held.

05. Lodwick Point
Time: 12.00 PM
Lodwick is just another super-cool point in the region of Mahabaleshwar. The location is, in fact, the coolest place and a refreshing spot for all nature lovers. It is pretty good for trekking and other adventurous activities. Those thrilling forest sounds, fresh breeze along with a beautiful mountainous view are all that we need. The best season to visit this wonderful spot would be between November and January. It wraps you up in nature's blanket.

06. Lingamala Falls
Time: 02.00 PM
Lingamala is another breathtaking waterfall situated in the Mahabaleshwar region of Maharashtra state. It is the most awe-inspiring fall that you must never miss visiting. The falls are situated just behind the Lingamala forest bungalow. If you are looking for a serene and calm place for ultimate peace of mind, then Lingamala falls is an awesome pick for you. From the hilltop of Lingamala falls, you can also enjoy Dhobi Falls along with Chinaman's falls.

07. Sunset Point
Time: 03.00 PM
One of the most lovely places to visit in Mahabaleshwar in a day, Sunset Point raises the bar high for all the other mesmerizing sights you would indulge in. Popularly known as Mumbai Point or Bombay Point, the place is a splendid spot to spend some quality time with your friends and family. You will feel the tranquillity seeping in as the sun dives into the sky, withering off into the valley. The sky lit in various hues of scintillating colors is an aesthetic sight you must catch when you are here. Make sure you try horse riding or the famous Choupati games along with the Chaupati food like Bhel.

08. Tapola
Time: 04.00 PM
Also known as 'Mini Kashmir', Tapola is famous for the picturesque Shivsagar Lake, jungle treks, pastoral beauty, and Eco Agro Tourism. Trek to the Vasota and Jaigad forts located in the dense jungles around the lake. Take a stroll or enjoy the sunset at the several islands situated near Tapola. Indulge in adventure sports like kayaking and paragliding or enjoy a peaceful boat ride at the lake and it is one of the best Mahabaleshwar places to visit in one day. You can also interact with locals and experience village life under the Tapola Eco Agro Tourism initiative. Hike to the strawberry fields to help pick out the fruit or try your hand at milking, feeding, and taking care of cows like locals.

09. Rajpuri Caves
Time: 05.00 PM
Rajpuri Caves is not too far from Panchgani, and hence you can visit the caves here from Panchgani itself. It is 9km away from Panchgani, and it's located in Satara. These caves are quite popular and one of the religious places to visit in Satara. It is also popularly believed as Lord Kartikeya used the caves for various holy practices and ceremonies. Even Pandavas stayed here during their exile. It would be pleasant if you can visit Rajpuri Caves during the daytime.
10. Velocity Entertainmentz
Time: 06.00 PM
The only go-karting track in India on a mountain, Velocity entertainment is the largest amusement park in Panchgani and Mahabaleshwar. The motor ride nirvana for thrill enthusiasts is one place extensively connected to the major cities of Goa, Mumbai, and Pune. Offering something for everything, you can also indulge in several fun attractions including Bungee Trampoline, Hanging Merry-Go-Round, Dashing Cars, Rodeo Bull, Gyroscope, Basketball Arcade, or indoor games like Air Hockey or Kiddie Rides.
Enticing the inner foodie, this place offers a wide variety of food options including North and South Indian, Punjabi, Italian, Chinese, and fast food. Not to forget the other stores you need to check out including the Ice Cream & Snacks Counter, Fruits Products Shop, and Toy Shop that will certainly invoke your interest.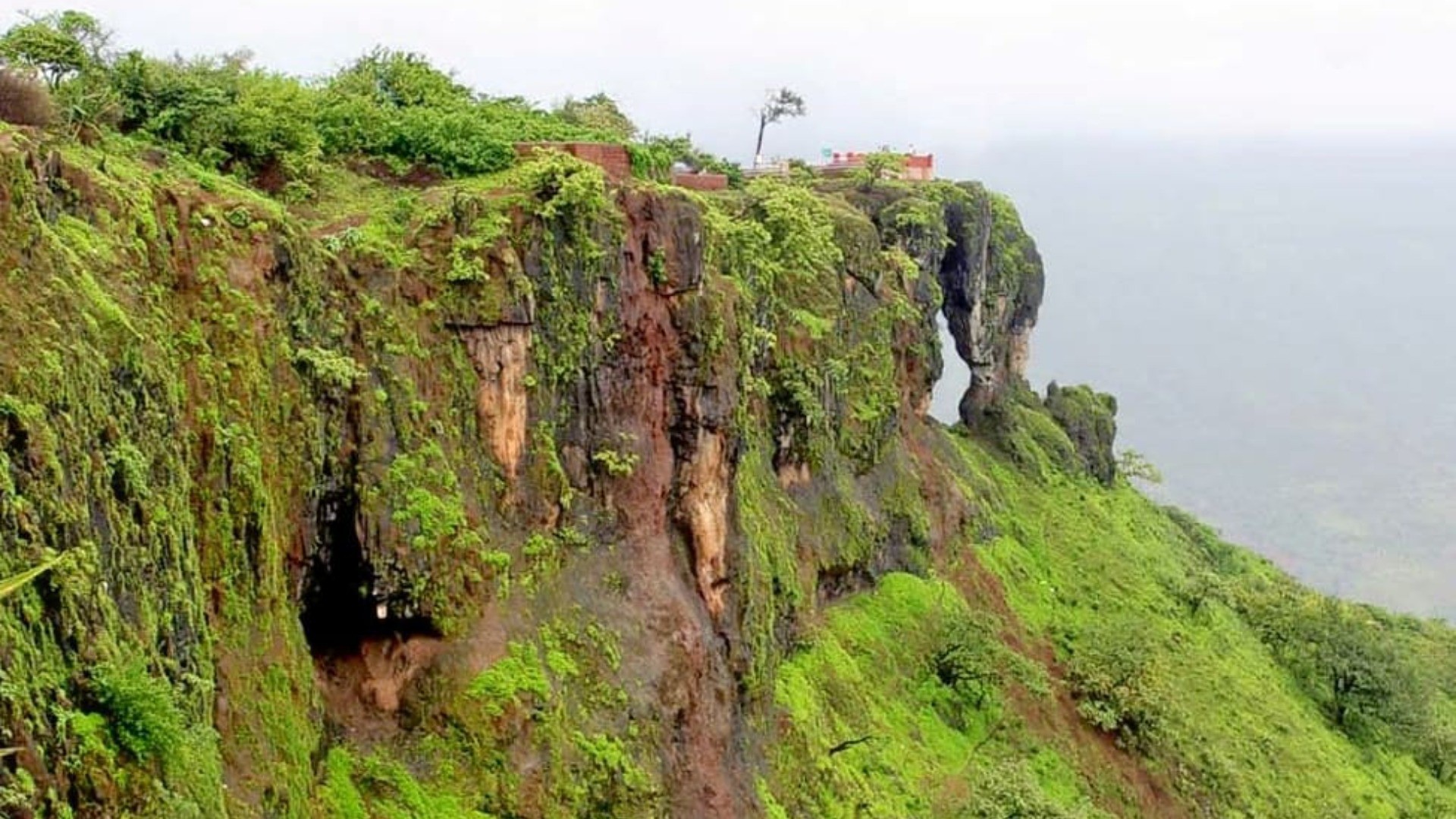 Book special 1Days
Mahabaleshwar Sightseeing Trip packages in INR 3000
incl. direct flights, airport transfers, premium stays & more.4>
Mahabaleshwar experiences a moderate climate throughout the year. Monsoons should be avoided since there are chances of landslides occurring in this region. Summers are only slightly warm and have a significant change of sight from the heat of the plains. During winter, the temperature may dip as low as 10 degree Celsius. This is also a favorable time to experience the chill of the cold weather. Therefore the best time to visit Mahabaleshwar is from October to June. Another great time to visit Mahabaleshwar is during the Strawberry Festival. It is a two-day annual festival that is organized in March. The festival welcomes fruit lovers from all over the country. Our one-day Mahabaleshwar tour package takes you to famous sites of interest such as Elephant's Head Point, Arthur's Seat, Panchgani, Venna Lake, Mahabaleshwar Temple, Lodwick Point, and the tour ends with some city shopping. Patrons choose us over anyone else because of our pocket-friendly rates.
Trip Payment Cancallation & Refund Information
Payment Terms & Conditions
Travelers are requested to follow the given itinerary for 1 Day Mahabaleshwar Sightseeing Trip package. Ideally, this 1-day Mahabaleshwar Sightseeing Trip package can not be customized, however, if guests prefer to visit a different set of places in the Mahabaleshwar Sightseeing Trip, they can check the possibility of the same with the listed car rental companies and request a custom quote.
Payment Modes (1000 characters limits)
Online Mode and Offline mode both
Cancellation and Refund Policy: (1000 characters limits)
Please also note that if a particular Mahabaleshwar Sightseeing Trip package is closed on the scheduled day of the tour, it will not be covered from the list of sightseeing places. Please check the possibility of visiting an alternate place with a cab vendor before you book the tour.
Already Have An Account?Log In
You Have don't An Account? Sign Up
You Have don't An Account? Sign Up
You Have don't An Account? Sign Up