Jabalpur City Tour
Jabalpur city tour
1.Confirmation is immediate
2.No credit card or instant payment needed to book.
3.We'll send you an email confirming your details of
reservation/payment
Jabalpur is an ancient city located on the shores of river Narmada in Madhya Pradesh. An industrial city, Jabalpur is now gaining popularity as a tourist destination because of its splendid ghats, the 98-foot-high Dhuandhar waterfall, marble art, and historical and cultural structures. The Bhedaghat-Marble Rocks and Dhuandhar Falls are the most prominent tourist attractions in Jabalpur. Apart from this, the 17th-century Madan Mahal Fort situated near the Narmada river and the famous Chausath Yogini Temple located near Roopnath are must-visits. Besides them, Balancing Rock is another site that is a must-see for tourists in Jabalpur. A bustling city with modern amenities, it is home to varied working-class people and some British architecture along with beautiful natural landscapes. Kanha National Park and Bandhavgarh National Park are also nearby making Jabalpur a central location to visit these wildlife locations.
Where
Jabalpur city tour
Jabalpur, Madhya Pradesh, India 482001
Jabalpur, Madhya Pradesh, India
When
26 Dec 2026, 06:00 AM
Till
26 Dec 2026, 08:00 PM
Organizors & Pubslished by holidaylandmark
Contact:

Email:- contact@HolidayLandmark.com | Phone:- 7739774984 | You Tube |Instagram | WWW | Facebook

Day 1 :
Jabalpur, Madhya Pradesh, India
Click Here
Day 1:
9:00 am - Start the day by visiting Madan Mahal Fort, which offers a panoramic view of the city and is a great spot for photography.
10:00 am - Next, head to the Dhuandhar Falls, also known as the "Smoke Fall," which is a popular tourist spot and a great place to relax and enjoy nature.
11:30 am - After that, visit the Rani Durgavati Museum, which is dedicated to the life and history of the famous queen of the Gond kingdom.
12:30 pm - Then, take a stroll through the Jabalpur Bazaar, where you can shop for local handicrafts and souvenirs.
1:30 pm - Have lunch at a local restaurant and try some of the delicious local cuisines.
3:00 pm - After lunch, visit the famous marble rocks of Jabalpur, which are a series of rocky cliffs that are popular spots for river rafting.
4:30 pm - Finally, end the day by visiting the Sangram Sagar Lake, a beautiful artificial lake that is a popular spot for boating and picnicking.
6:00 pm - In case time allows, visit Tingri Temple, which is a beautiful and ancient temple dedicated to Lord Shiva.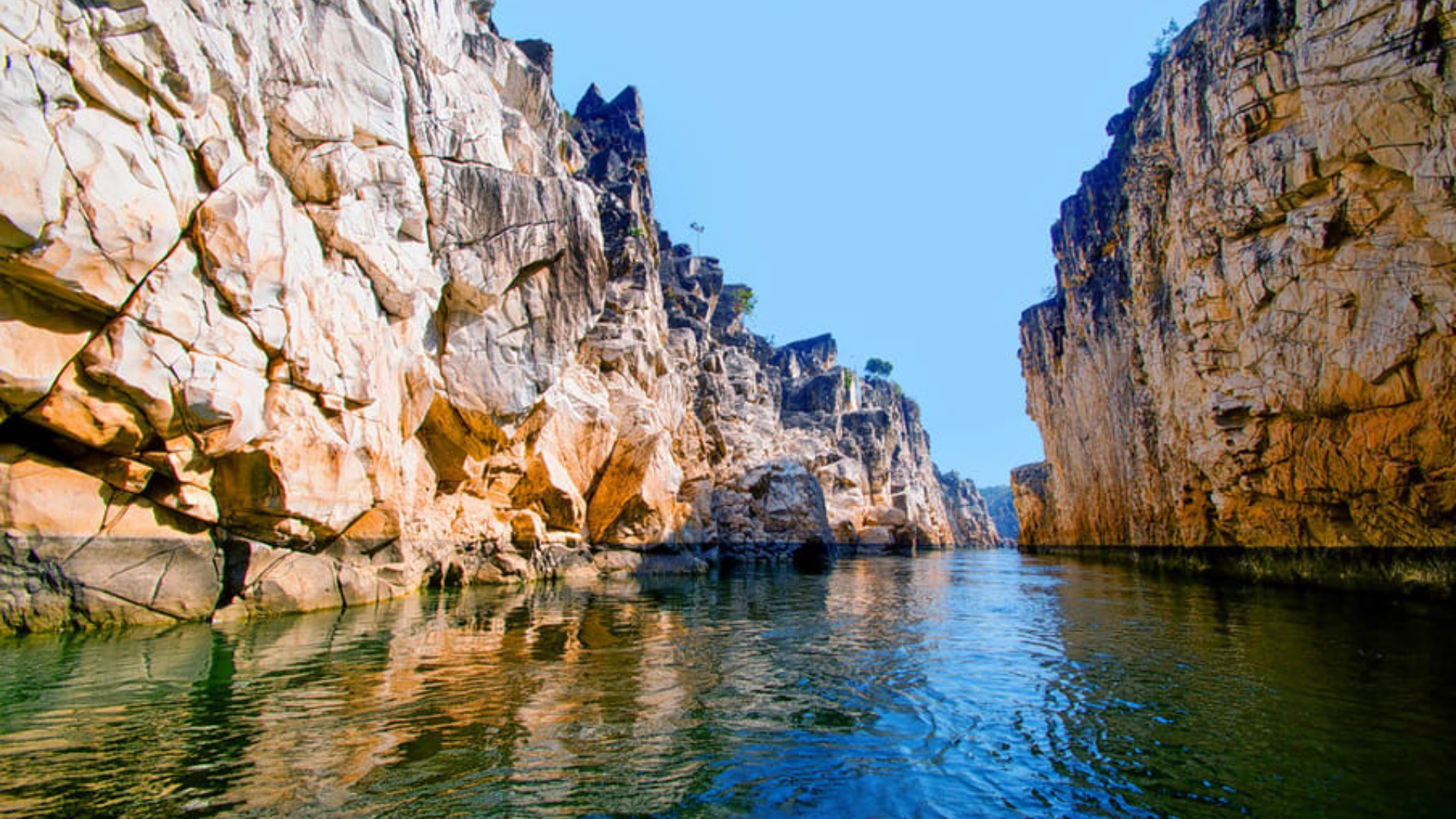 Book special 1Days
Jabalpur City Tour packages in INR 3000
incl. direct flights, airport transfers, premium stays & more.4>
Jabalpur tourism is one must city tour that you should visit for the major tourist attractions like Dhuandhar Falls, Bhedaghat, and Chausath Yogini Temple. This place is one of the important cities in Madhya Pradesh and it is also known for its festival of Navratri and Dussehra. The history of Jabalpur is quite a prominent one to remember. It basically got its name from being the native land of Great 'Jabali Rishi'. This city used to be the capital of the Gond rulers and in ancient times, it was also known as the Tripuri under the governance of the Hayahaya Rulers respectively. Not only the Mahabharata have a reference to this great city but it had later become an important part of the Gupta and Maurya dynasty. Jabalpur had turned into an important kingdom of Gondwana. After this country had attained Independence, it was then turned into the state of Madhya Pradesh.
Trip Payment Cancallation & Refund Information
Payment Terms & Conditions
Travelers are requested to follow the given itinerary for 1 Day Jabalpur city tour package. Ideally, this 1-day Jabalpur city tour package can not be customized, however, if guests prefer to visit a different set of places in the Jabalpur city tour, they can check the possibility of the same with the listed car rental companies and request a custom quote.
Payment Modes (1000 characters limits)
Online Mode and Offline mode both
Cancellation and Refund Policy: (1000 characters limits)
Please also note that if a particular Jabalpur city tour package is closed on the scheduled day of the tour, it will not be covered from the list of sightseeing places. Please check the possibility of visiting an alternate place with a cab vendor before you book the tour.
Already Have An Account?Log In
You Have don't An Account? Sign Up
You Have don't An Account? Sign Up
You Have don't An Account? Sign Up