Goa, known for its stunning beaches, vibrant culture, and historical sites, is a popular tourist destination in India. While the state itself offers a plethora of attractions, there are several captivating day trips that travelers can take to explore nearby areas. These day trips provide a diverse range of experiences, from historical exploration to natural beauty, ensuring that visitors can make the most of their time in this region.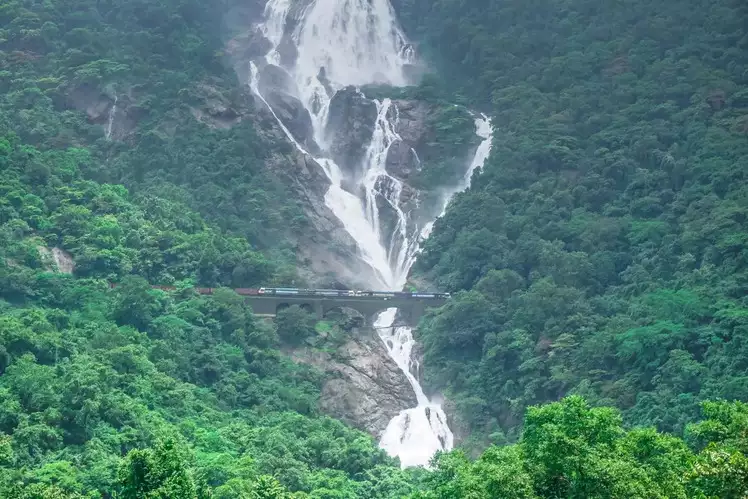 | Day Trip Destination | Highlights and Experiences |
| --- | --- |
| Dudhsagar Waterfalls | Breathtaking multi-tiered waterfall, trekking through lush forests |
| Historic Hampi | UNESCO World Heritage Site, ancient ruins and temples, Vijayanagara Empire architecture |
| Gokarna | Serene beaches, spiritual ambiance, meditation spots |
| Old Goa | Portuguese architecture, Basilica of Bom Jesus, Sé Cathedral, colonial history |
| Divar Island | Traditional Goan life, scenic landscapes, charming villages |
| Vagator and Anjuna Beaches | Cliffs, vibrant nightlife, Chapora Fort, Anjuna's Wednesday Flea Market |
| Bhagwan Mahavir Wildlife Sanctuary | Diverse flora and fauna, wildlife spotting, hiking trails |
| Karwar | Tranquil beaches, Sadashivgad Fort, unique seafood cuisine, cultural exploration |
| Bondla Wildlife Sanctuary | Zoo, botanical garden, hiking trails, regional wildlife |
| Dudhsagar Plantation Tour | Spice gardens, organic farming, traditional Goan cuisine |
| Cotigao Wildlife Sanctuary | Lush forests, wildlife, trekking experiences |
| Amboli Ghat | Misty landscapes, waterfalls, nature photography, trekking opportunities |
| Netravali Bubbling Lake | Bubbling phenomenon caused by methane gas, scientific curiosity |
| Ancestral Goa Museum | Living museum, traditional customs, crafts, architecture |
| Udupi | Krishna Temple, Anantheshwara Temple, spiritual atmosphere, Karnataka's culture |
| Terekhol Fort | Panoramic views of the Arabian Sea, historical significance, scenic beauty |
| Arvalem Caves and Waterfall | Ancient rock-cut chambers, Arvalem Waterfall, historical exploration |
| Karla Caves | Buddhist shrines, rock-cut architecture, cultural and historical significance |
| Palolem and Agonda Beaches | Relaxation, tranquil shores, mesmerizing sunsets |
| Chorla Ghat | Biodiversity hotspot, dense forests, wildlife, trekking opportunities, Goa-Karnataka border |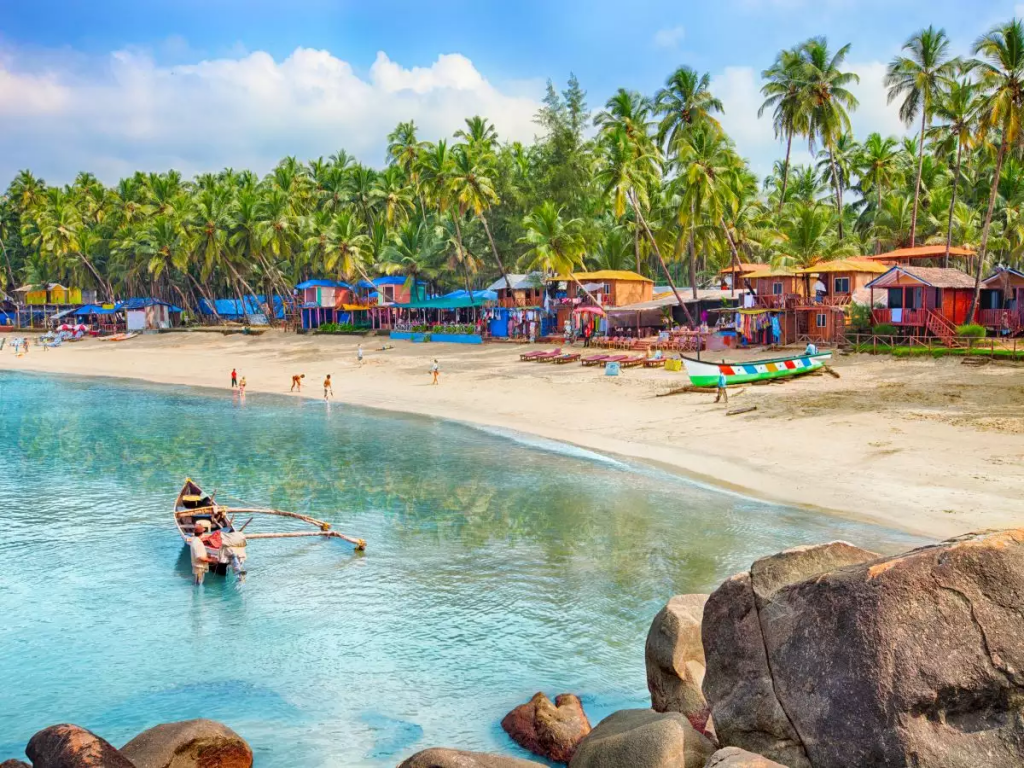 1. Dudhsagar Waterfalls: A short drive from Goa, Dudhsagar Waterfalls is a breathtaking sight to behold. This multi-tiered waterfall gushes through lush greenery, creating a milky-white cascade. Adventurous souls can trek to the falls, passing through verdant forests and streams, adding an element of excitement to the journey.
2. Historic Hampi: Hampi, a UNESCO World Heritage Site, is a splendid day trip option from Goa. This ancient city is dotted with mesmerizing ruins, temples, and monolithic structures that showcase the architectural brilliance of the Vijayanagara Empire.
3. Gokarna's Serenity: For a quieter experience, Gokarna is an ideal getaway. Known for its serene beaches and spiritual ambiance, Gokarna offers a refreshing change of pace. Om Beach and Kudle Beach are perfect spots for relaxation and meditation.
4. Explore the Portuguese Legacy in Old Goa: Old Goa is a treasure trove of Portuguese architecture and history. The Basilica of Bom Jesus, Sé Cathedral, and St. Augustine Tower are remarkable landmarks that provide insights into Goa's colonial past.
5. Quaint Charm of Divar Island: Divar Island, a short ferry ride away, offers a glimpse into traditional Goan life. With its scenic landscapes, lush paddy fields, and charming villages, this island is a delightful escape from the bustling tourist hubs.
6. Scenic Vagator and Anjuna: These nearby beaches are known for their stunning cliffs and vibrant nightlife scenes. Vagator's Chapora Fort provides panoramic views, while Anjuna's Wednesday Flea Market is a shopper's paradise.
7. Wildlife Encounter at Bhagwan Mahavir Wildlife Sanctuary: Nature enthusiasts can venture to this sanctuary to witness diverse flora and fauna. The opportunity to spot wildlife, including deer, leopards, and various bird species, makes this trip truly rewarding.
8. Cultural Sojourn in Karwar: Cross the border into Karnataka to discover Karwar's cultural riches. Its tranquil beaches, historic Sadashivgad Fort, and unique seafood cuisine make for an enriching day trip.
9. Bondla Wildlife Sanctuary: Another haven for nature lovers, this sanctuary is home to a zoo, botanical garden, and hiking trails. It's a great place to observe regional wildlife and experience the natural beauty of Goa.
10. Dudhsagar Plantation Tour: Experience the agrarian side of Goa with a visit to a plantation. Dudhsagar Plantation offers guided tours, showcasing spice gardens, organic farming practices, and a chance to savor traditional Goan cuisine.
11. Cotigao Wildlife Sanctuary: This lesser-known sanctuary boasts lush forests and diverse wildlife. Trekking through the sanctuary provides a chance to connect with nature and escape the crowds.
12. Amboli Ghat: Venture into the Western Ghats to explore Amboli Ghat's misty landscapes and waterfalls. This hill station is a haven for nature photographers and trekkers.
13. Netravali Bubbling Lake: Visit the enigmatic Bubble Lake, known for its unique bubbling phenomenon caused by methane gas. It's a rare natural occurrence that piques scientific curiosity.
14. Ancestral Goa Museum: Immerse yourself in Goan culture at this living museum. Experience traditional customs, crafts, and architecture, gaining insights into the state's rich heritage.
15. Udupi's Spiritual Vibes: Cross the border into Udupi, Karnataka, to visit temples and witness the divine atmosphere. The renowned Krishna Temple and Anantheshwara Temple are highlights.
16. Terekhol Fort: Situated at the northernmost tip of Goa, Terekhol Fort offers panoramic views of the Arabian Sea. The historic significance and scenic beauty make it a must-visit.
17. Arvalem Caves and Waterfall: Uncover Goa's ancient history with a visit to Arvalem Caves, rock-cut chambers that date back to the 6th century. Nearby, the Arvalem Waterfall adds a touch of natural beauty.
18. Karla Caves: Head to Maharashtra to explore the intricate rock-cut architecture of Karla Caves, which feature Buddhist shrines and sculptures, offering a cultural and historical experience.
19. Palolem and Agonda Beaches: For a more relaxed beach experience, consider visiting Palolem and Agonda beaches. These tranquil shores are perfect for unwinding and watching mesmerizing sunsets.
20. Chorla Ghat: Explore the biodiversity hotspot of Chorla Ghat, straddling the Goa-Karnataka border. Its dense forests, diverse wildlife, and trekking opportunities make it a nature lover's paradise.
Conclusion: Goa's strategic location offers travelers a myriad of day trip options that cater to various interests. Whether you're drawn to history, nature, spirituality, or simply seeking a change of scenery, these day trips from Goa promise enriching experiences and lasting memories. Each destination adds a unique dimension to your Goa vacation, ensuring that you return with a deeper understanding of the region's culture, history, and natural beauty.