As we know Always North Goa has ruled as a popular choice but Peace, tranquillity and scenic beauty describe the beautiful beaches in South Goa. Being less crowded , beaches in South Goa like Betalbatim and Colva offer its tourists a peace and serene escape. The beaches in South Goa are dotted with rustic shacks where visitors can go for wide variety of authentic Goan cuisines. Also these beaches provide many options for water sports like catching Oysters, windsurfing, parasailing, etc
Below are the list of beaches in South Goa
| # | Beaches | Location | Famous For |
| --- | --- | --- | --- |
| 1. | Colva Beach | Click Here | Sandpat Beach Shack, Colva Beach Resort, Leda Lounge and Restaurant are famous here. |
| 2. | Palolem Beach | Click Here | Watersports and shacks |
| 3. | Agonda Beach | Click Here | Watersports and also know as best beach in Goa for honeymoon. |
| 4. | Benaulim Beach | Click Here | Watersports, beautiful rice fields, balmy weather and golden sand beaches. |
| 5. | Mobor Beach | Click Here | watersports, dolphin spotting cruise, bird spotting and cruising along the River Sal. |
| 6. | Varca Beach | Click Here | Uncrowded Beach. |
| 7. | Betalbatim Beach | Click Here | Sunset Beach |
| 8. | Cavelossim Beach | Click Here | Dolphins Spot |
| 9. | Butterfly Beach | Click Here | Surrounded mountains like butterfly wings |
| 10. | Patnem Beach | Click Here | Know for little slice of paradise |
| 11. | Polem Beach | Click Here | Silent Beach |
| 12. | Betul beach | Click Here | Sunset Beach |
| 13. | Talpona Beach | Click Here | Calm and peace Beach |
| 14. | Cola Beach | Click Here | Hustle Free Beach |
| 15. | Arossim Beach | Click Here | Quiet and Clean beach |
Below are more details about the Beaches in South Goa to Spend Wonderful Vacation
Colva Beach
About:
It is located 6 Km to the west of Margao and the oldest and most celebrated south Goan beaches. It is for sure Your trip is incomplete without a visit to this famous place which also has sights of ruins ancient Portuguese villas and houses. Also don't missed out to visit The Colva Church. The vast expanse of coconut trees stretch into the landscape and cover the region from Bogmalo to Cabo de Rama. The famous landmark sculpture here is Menino Jesus statue.
Things to do: Water sports like paragliding, water skiing , Water Scooter, Jet Ski Ride, Banana Boat Ride and swimming. Also visit Sandpat Beach Shack, Colva Beach Resort, Leda Lounge and Restaurant.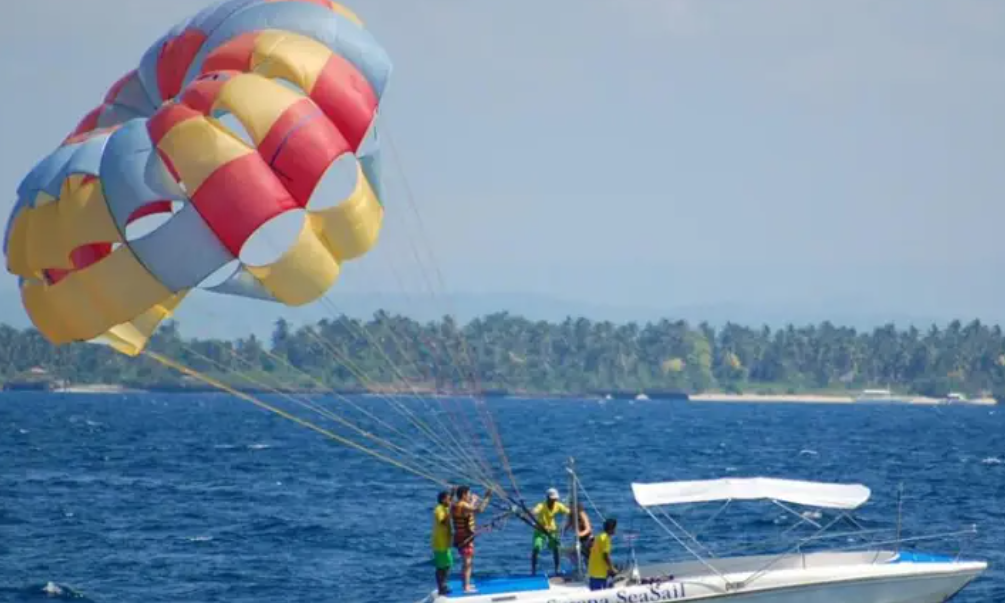 Palolem Beach
About:
It is the most popular beach of South Goa. It is also one of the most picturesque beaches in Goa. It is Enclosed by a thick forest of coconut palms and it is popular amongst family vacation as well as backpackers and young crowds. This beach is the best beaches in Goa for couples as it is a less crowded.
Things to do: Dolphin Sighting, Fishing, Hike to Butterfly Beach , Shopping, Cotigao Wildlife Sanctuary etc.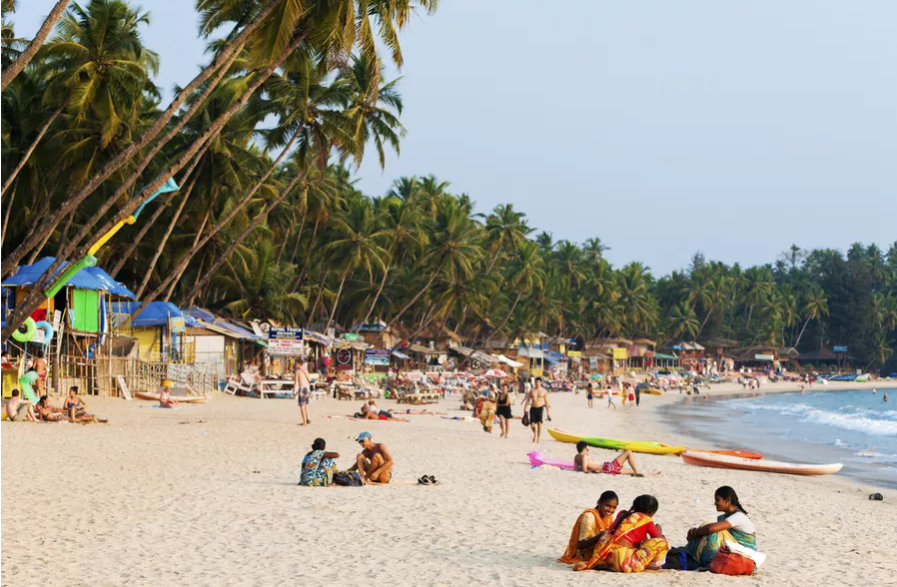 Agonda Beach
About:
It is one the versatile beach where visitors enjoy sunbathing, swimming, and relaxing. It is the Agonda Beach is only a 90 minute drive from the Dabolim airport. The important things here is its simplicity and natural beauty. Beach has many shacks. Watersports like Paragliding, swimming, windsurfing can be done here.
Things to do: Watersports like Paragliding, swimming, windsurfing etc.
Benaulim Beach
About:
It is one of the quietest beach which has enough things to do to have a wonderful time. As per Hindu mythology, an arrow which was shot by Lord Vishnu had landed here. The original name of this beach was Banavli (arrow) , But the Portuguese who settled here changed it to Benaulim Beach.
It has everything right from beautiful beaches, sands, excellent accommodation, to nightlife and parties. It is away from the noise of the city. It is the perfect place for everyone as it has all means of enjoyment.
Things to do: Observe the sunset, Watch the fishermen at work, Jet skiing, Parasailing, Dolphin Spotting.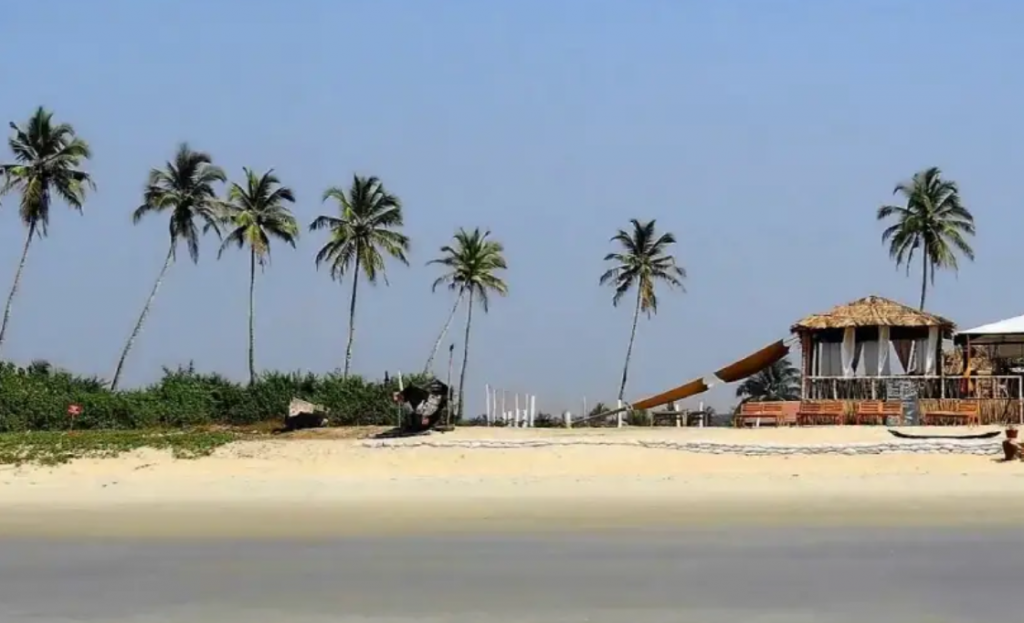 Mobor Beach
About:
Mobor Beach is situated at the delta of the River Sal, on the Southern Coast of Goa. It is picturesque and lively beach which is filled with tourists and adventurers. There are many ponds with blooming lilies, sand dunes and coconut palms which grow on the beach. Adventures things can be done here and also the dolphins sight and also enjoy water activities like underwater fishing and oysters catching.
Things to do: Dolphins sight, water activities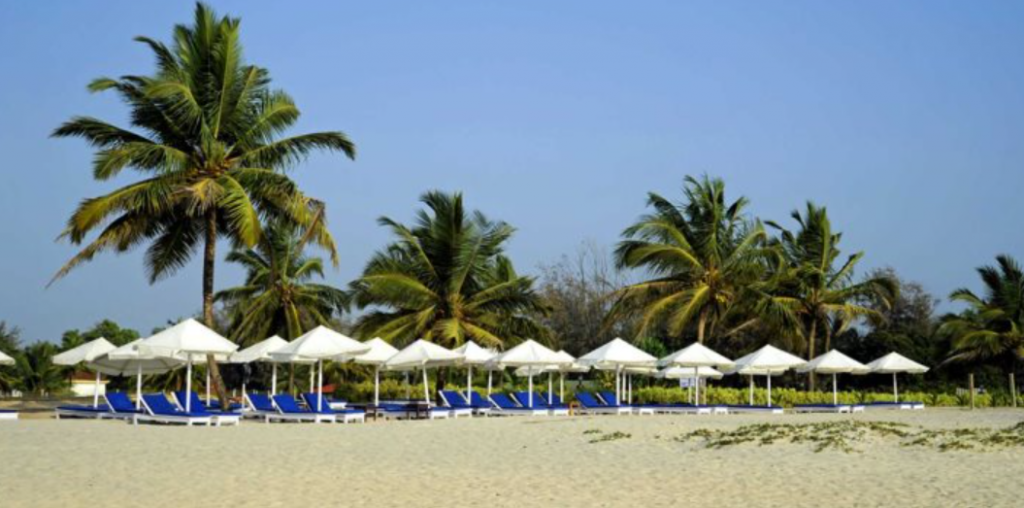 Varca Beach
About:
It's uncrowded compared to the other beaches in Goa, and gives you the privacy you need while enjoying a vacation. You can enjoys a great location here, as it's situated just 45 minutes from the airport as compared to the other beaches in South Goa. Spend your time at the beach playing games, relaxing under the beach umbrellas and simply enjoy the laid back & relaxed atmosphere enveloping the beach.
Things to do: Play beach games, Take a walk, Photography, Enjoy the stunning views of the sunset.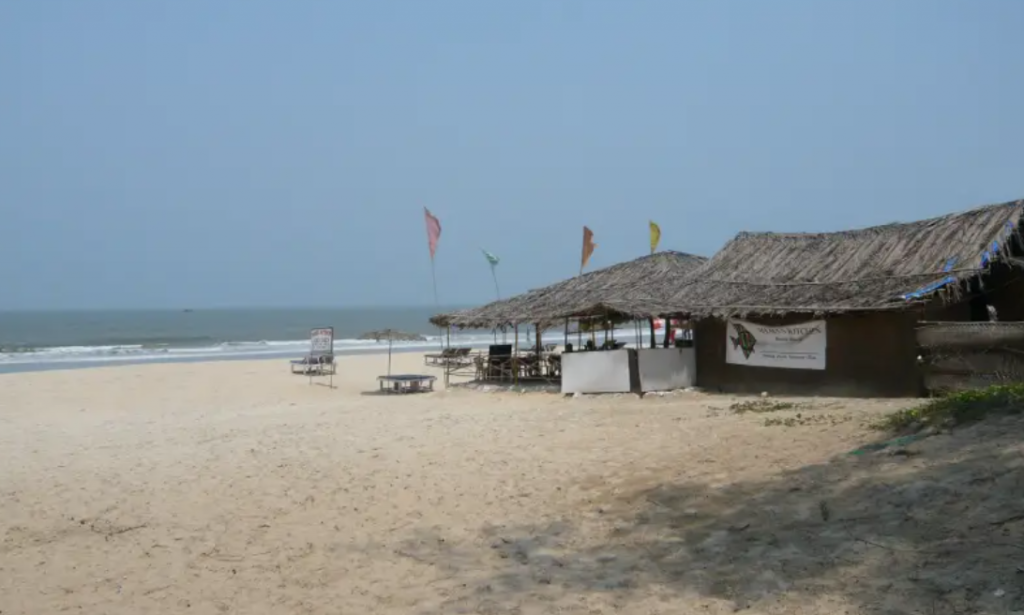 Betalbatim Beach
About:
It is settled between Colva & Majorda Beach. It's also famous for the Sunset Beach, because of the breathtaking views of the sunset that greet you. Also you will get see dolphins sight. You can spot them after requesting the local fishermen to take you for some lovely dolphin spotting.
Things to do: Dolphin spotting.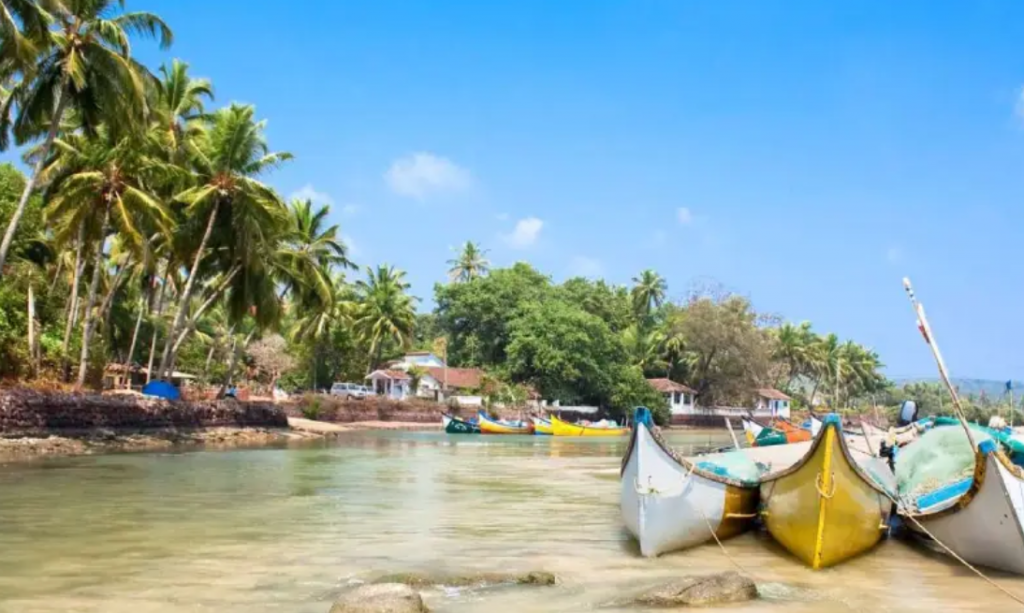 Cavelossim Beach
About:
This of one of the popular beaches in south Goa with with quite a few popular hotel chains in the vicinity if you want to stay here. The beach boasts of beautiful white sands across its stretch and makes for a great shot to spend time with your loved ones. The beach is quite clean and you'll enjoy yourself in the waters here. There's are plenty of shacks on the beach as well as on the way to the beach with great food and drinks. You won't have blaring loud music from all directions like at Calangute but you'll certainly enjoy the serenity.
Things to do: Go for a walk on the beach, Spot Dolphins, Enjoy authentic Goan seafood.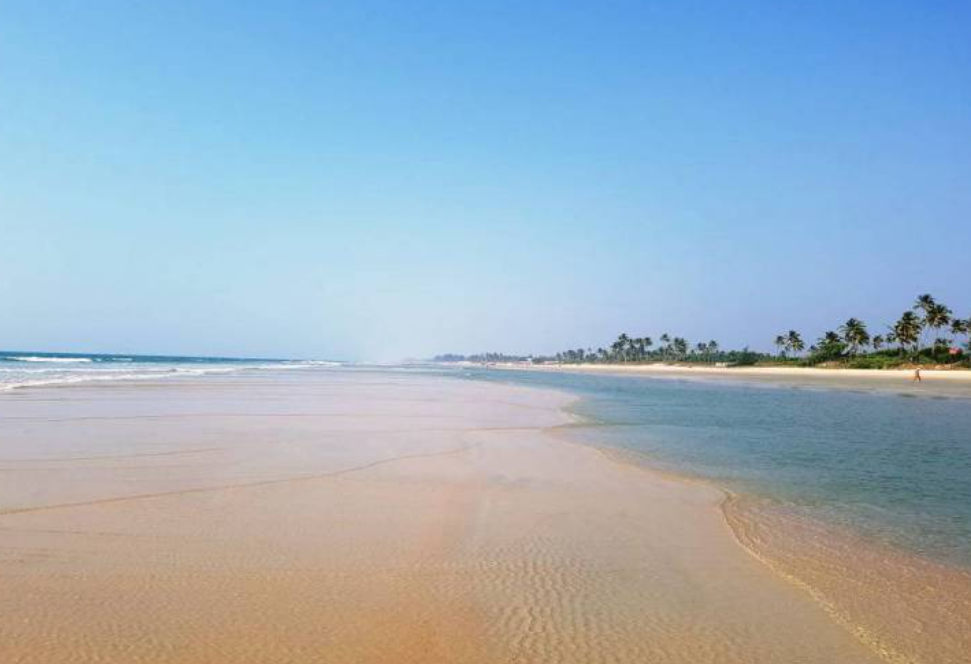 Butterfly Beach
About:
Butterfly beach is named because the mountains on the sides form a butterfly like winged structure forming a beach. One can access the beach via trekking or through boating trip from agonda beach. It must be told that sea is deep at butterfly beach hence during high tide caution must be taken. The beach is more like a cove, surrounded by dense trees and providing the privacy tourists seek. This privacy is what makes Butterfly Beach the best beach in South Goa for honeymoon .
Things to do: Trekking, Boating.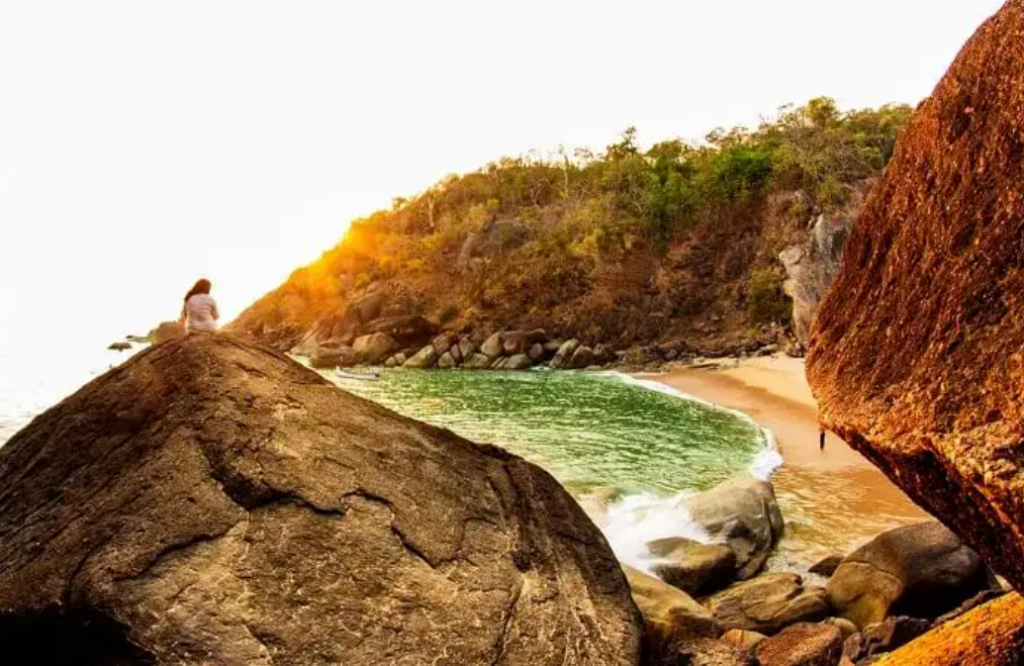 Patnem Beach
About:
One of the cleanest beach of South Goa. For peace and relaxation one can choose this beach. The shacks here are very authentic which gives you different vibes. The plus point is raja bagh beach is just attached to it and one can cross it very easily by walking. The backwaters between two beaches are mesmerizing. One should not miss it when in south Goa.
Things to do: Enjoy the relaxing views, Sample authentic Goan seafood, Buy trinkets & souvenirs at the shops, Swimming.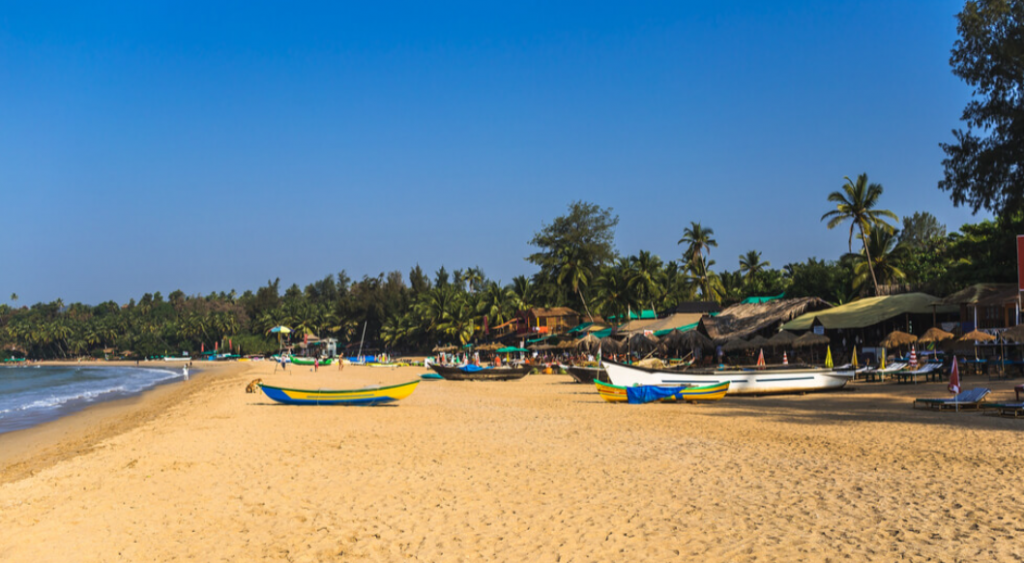 Polem Beach
About:
Polem Beach is very clam and clean beach near to Karnataka-Goa (Karwar) boarder. Also you will get one kind of private beach feeling here, (very less and limited visitors). This is a nice beach shaped like a crescent. The best activity was the Dolphin watch boat ride. Some of the nearby hills have beaches which are accessible by the boat. It has yellow sand and clear blue water in extreme silence with less to no visitors. There are no activities done here but still, the experience will be worth living.
Things to do: Relaxation, Walk and Dolphin sight.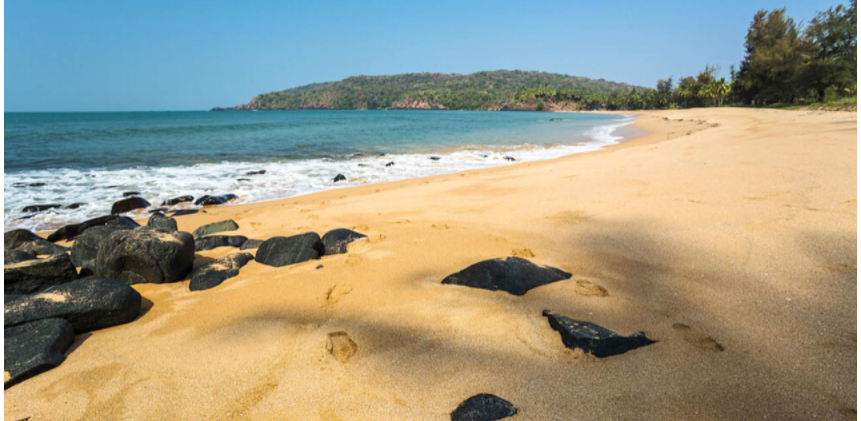 Betul beach
About:
Betul beach is hidden gems and peaceful beach located next to Mobor Beach in South Goa. Being a slightly offbeat and more peaceful beach, one will not see beach shacks. The seafood at Betul is quite amazing, with some of Goa's finest. Betul Beach is where you come to unwind, relax & just enjoy the views of the sun, sand & sea.
Things to do: Watch the sunset, Photography, Watch the fishermen at work, Enjoy authentic Goan delicacies.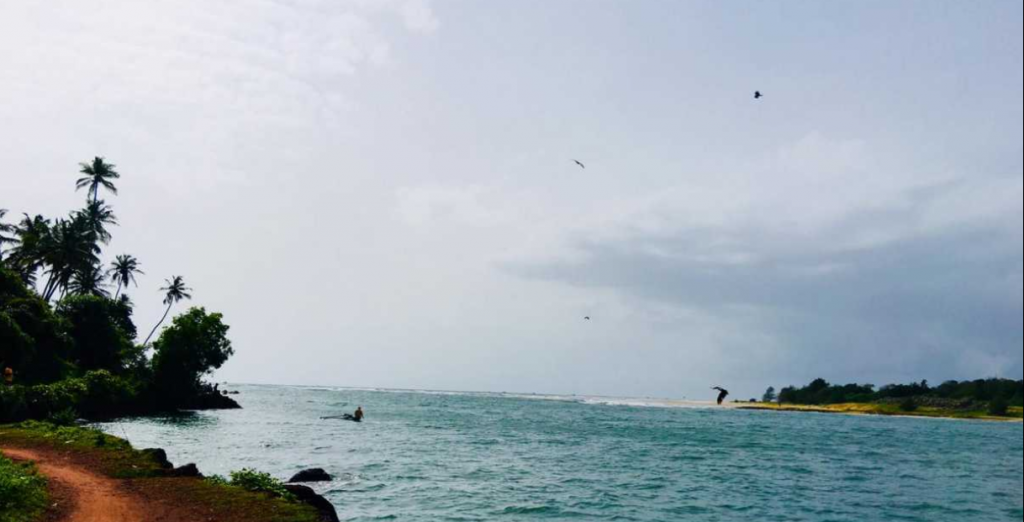 Talpona Beach
About:
This beach is about 3 minutes drive once you take the exit from NH66 to the service road. This is a continuation of Galgibaga beach divided by a small mountain. This is also a very calm and nice beach. Away from all crowds. You have few homestays and cottage options. It has palm and pine trees, the beach is very clean with bright sand and crystal clear water. There are not many huge options also his beach doesn't provide any activities but seeing the sun drowning in the silent sea would be a relaxing food for the soul.
Things to do: Relaxation and Beach walk.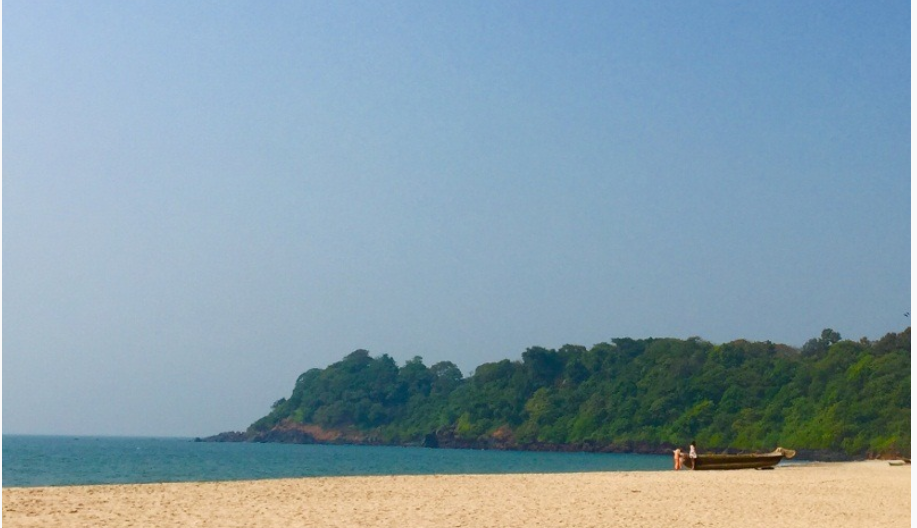 Cola Beach
About:
It is a golden coloured beach of Goa which is lined with dense trees and small hills. It is divided into two parts by a small hill in between giving North Cola a stretch of 800 meters and South Cola a much smaller stretch of 145 meters. Being undiscovered by most tourists, this beach remains empty throughout the year. So, it is a perfect choice to leave the crowded beaches behind along with the hustle-bustle of the city.
Things to do: Relaxation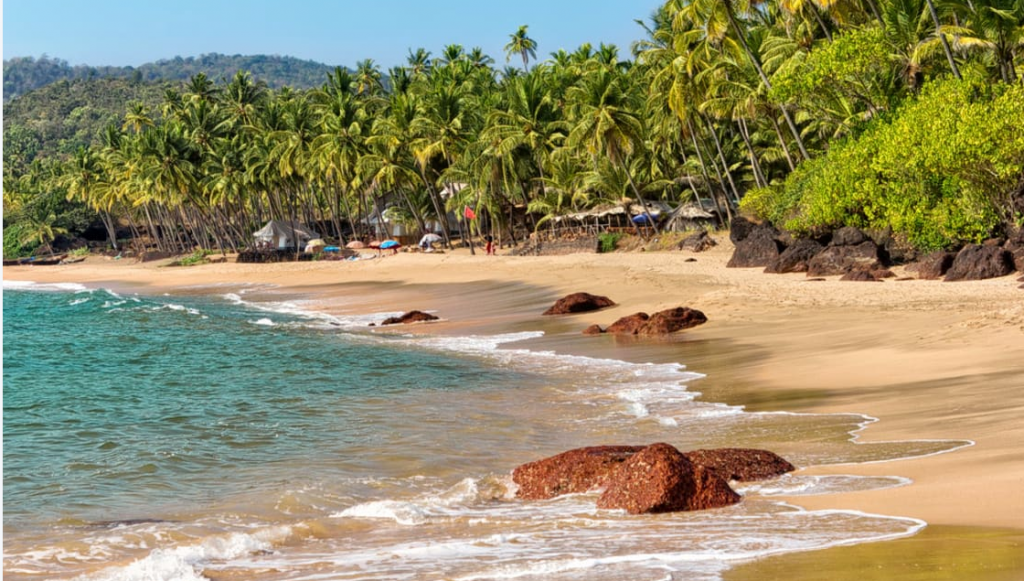 Arossim Beach
About:
This is a hidden beach after Majorda and an awesome one. White sand and aqua blue waters. Hardly find any tourists here apart from a handful of fishermen. It is a quiet and clean beach with very less people on the beach. This beach has some options for water sports . Also some shacks providing you with amazing local cuisines and a blend of drinks.
Things to do: Water sports, Sunset view, relaxation